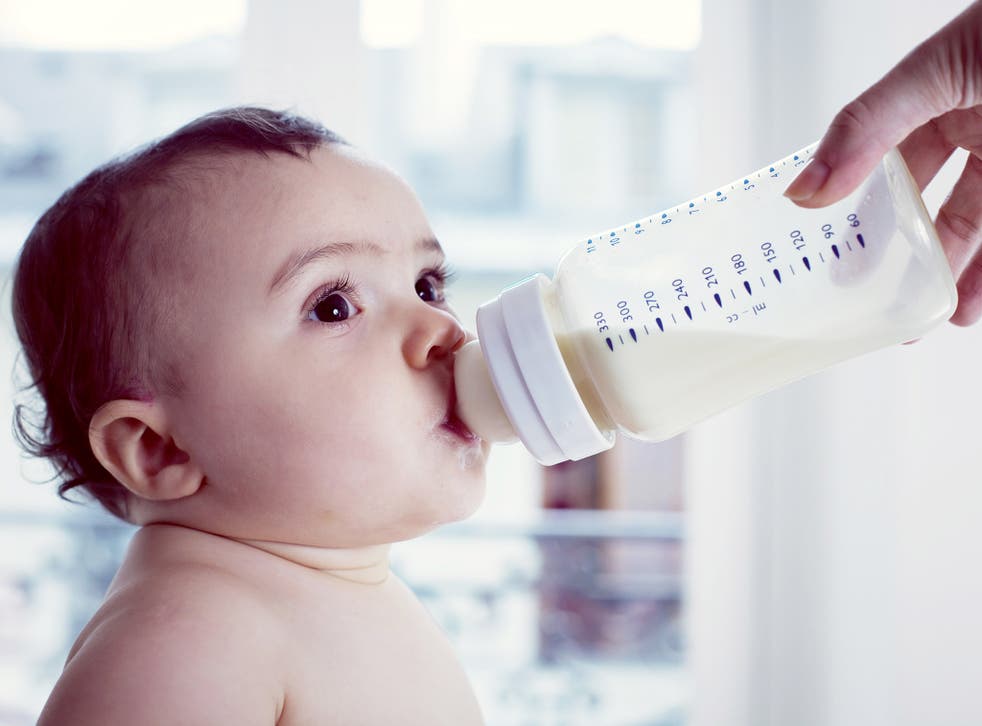 Baby formula does not reduce risk of eczema and allergies, research says
Previous research claimed this formula can reduce the chance of infants developing the conditions
Paul Gallagher
Wednesday 09 March 2016 00:30 Comments
Popular infant milk formula found in British supermarkets does not reduce risk of eczema and allergies according to new research that also reveals conflicts of interest in many previous studies claiming otherwise - due to financial links with manufacturers.
The study, led by Imperial College London, reviewed data from dozens of different trials into hydrolysed baby formula - a type of formula treated with heat to break down the milk proteins.
Previous research has claimed that giving this formula to children at risk of conditions such as milk allergy and eczema, instead of standard formula, can reduce the chance of infants developing the conditions.
There is no official guidance in the UK recommending the formulas but the European Academy of Allergy and Clinical Immunology - whose advice is noted by British clinicians - says infants at high risk of developing an allergy "can be recommended a hypoallergenic formula" for the first four months of life.
A review of the evidence published by the Cochrane Library also suggests that hydrolysed formula reduced the risk of allergy, including milk allergy.
However the new research, published in the BMJ today/on Wednesday, showed there was no statistically significant reduction in risk of these conditions amongst babies using hydrolysed formula.
The scientists said there was also a risk of bias in most past studies investigating the link to allergies, as manufacturers of the milk formula contributed funding. Of the 52 studies they reviewed looking at allergies, conflict of interest was "high" in 30 per cent, "unclear" in 51 per cent.
Health news in pictures

Show all 40
"Overall there was no consistent evidence that partially or extensively hydrolysed formulas reduce risk of allergic or autoimmune outcomes in infants at high pre-existing risk of these outcomes," they write.
Dr Robert Boyle, senior author of the study from the Department of Medicine at ICL, said: "Despite parents being advised these hydrolysed milk formulas may reduce the risk of conditions such as milk allergy and eczema, we found no evidence to support these claims."
In the paper, funded by the Food Standards Agency, the team analysed studies that included over 19,000 participants. The trials compared hydrolysed formula to standard formula, and some trials made comparisons with breast milk or between two different hydrolysed formulas.
Dr Boyle said: "Not only did we find no evidence of reduced risk from hydrolysed formula, but we found very few studies which were methodologically sound and without a conflict of interest.
"For instance, in some of the studies all babies were started on the formula at birth, or a few days after. This raises questions about whether enough was done to promote breastfeeding to the mothers in those studies."
The authors suggest that any future trials on hydrolysed formula should be independently funded, and include adequate oversight to ensure that they do not negatively impact on breastfeeding in study participants.
Register for free to continue reading
Registration is a free and easy way to support our truly independent journalism
By registering, you will also enjoy limited access to Premium articles, exclusive newsletters, commenting, and virtual events with our leading journalists
Already have an account? sign in
Join our new commenting forum
Join thought-provoking conversations, follow other Independent readers and see their replies