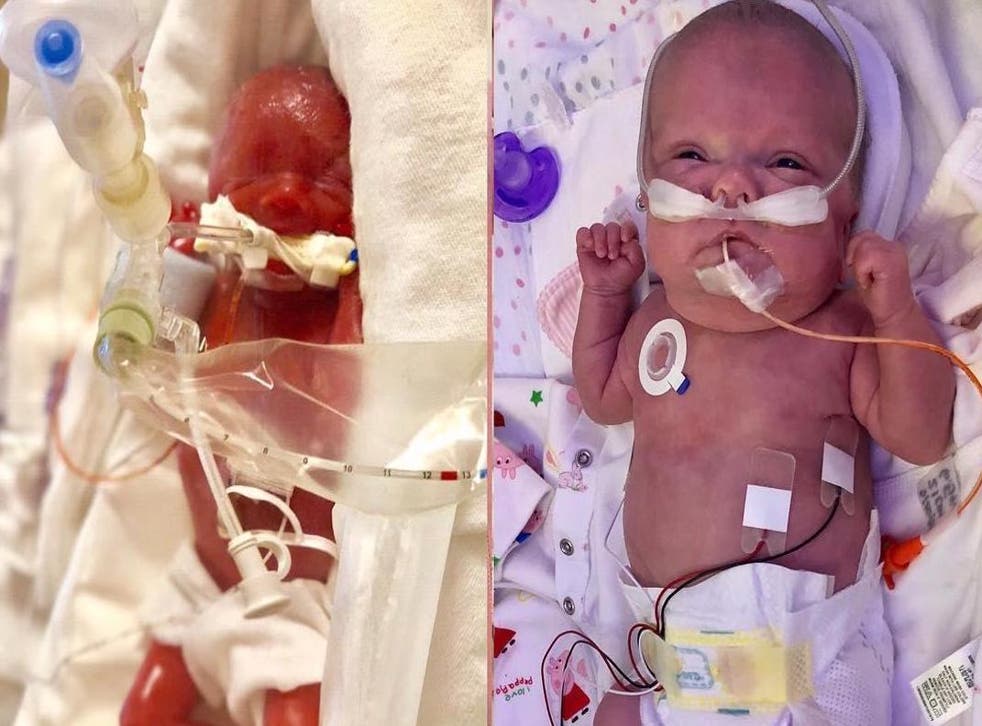 Photos show incredible transformation of premature baby born at 23 weeks
Grace has already undergone multiple surgeries and blood transfusions 
Chelsea Ritschel
Thursday 05 April 2018 09:38 Comments
A mum has posted an incredible progress photo of her premature baby daughter Grace - who has undergone an amazing transformation in just three months.
When Mary Parkins gave birth to her daughter at 23 weeks, the impossibly-tiny infant weighed just one pound.
But three months later, the miracle baby now weighs five pounds - and Parkins celebrated with a post dedicated to her daughter's transformation.
"Happy three-month birthday to this little one! I can't believe how much she has grown in such a short time!" the new mum wrote. "We are so lucky to be your parents!"
The post has received over a 1,000 likes since it was uploaded a day ago - and people cannot stop gushing over Grace's progress.
"So cute, she is a miracle," one person commented.
According to the NHS, premature babies born before 24 weeks typically do not survive as their lungs and other vital organs have not developed enough.
Fortunately, recent medical advances in neonatal care mean babies born prematurely can make it, with the help of intensive medical intervention - however, the risks are still high as there is an increased risk of disability.
For babies born at 23 weeks, there is only about a 13 per cent chance of survival without neurological impairment, according to a study published in the New England Journal of Medicine.
But it is possible - as proven by Grace, whose mum has posted pictures of her daughter's journey since she entered the world on New Year's Eve.
However, the journey has been anything but smooth.
In one Instagram post, Parkins describes the "bad days in the NICU" which "come fast and hit us like a ton of bricks," alongside a photo of Grace post-operation for a perforated bowel.
Little Grace has also had to endure numerous blood transfusions, so many that her mum has "lost count," jaundice, and multiple surgeries in the three months she has been alive.
Despite the odds, Grace is recovering - and growing stronger each day.
No longer confined to an incubator or IVs, the little baby still has a "few more hurdles" according to Instagram - but her mum is hopeful that she will be able to come home in the next few weeks.
And Grace doesn't seem to mind - as she's already shown her parents her first smile.
Register for free to continue reading
Registration is a free and easy way to support our truly independent journalism
By registering, you will also enjoy limited access to Premium articles, exclusive newsletters, commenting, and virtual events with our leading journalists
Already have an account? sign in
Join our new commenting forum
Join thought-provoking conversations, follow other Independent readers and see their replies