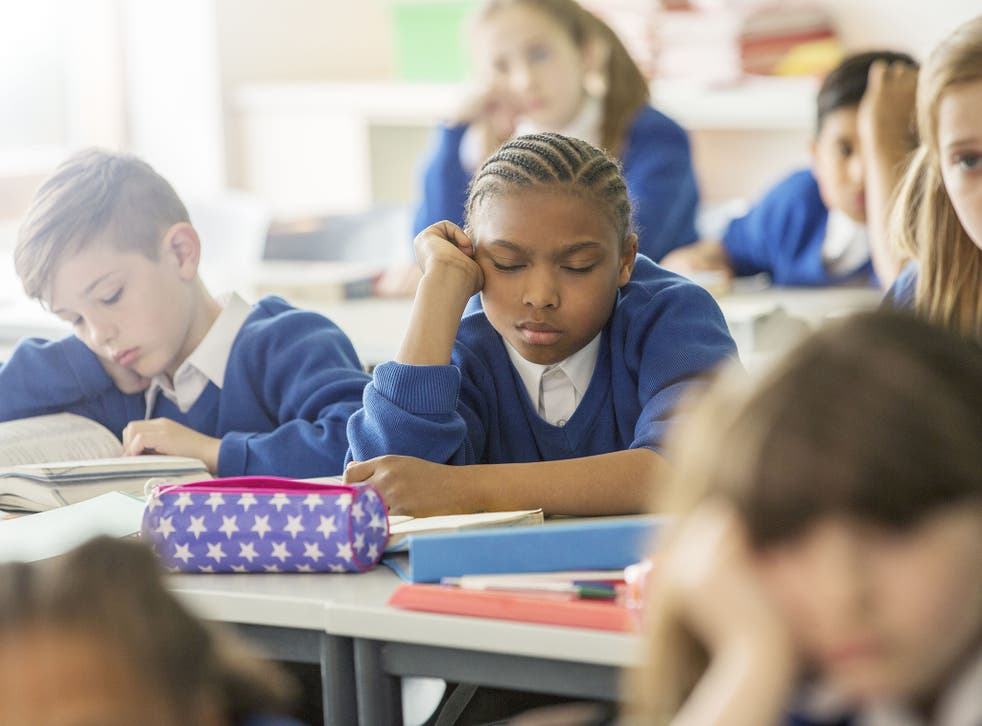 Bedroom tax is 'hurting children's sleep and their ability to learn'
Children having to share bedrooms and therefore struggle to find a quiet place to do homework
Richard Garner
Education Editor
Tuesday 08 December 2015 01:07 Comments
Children are arriving at school hungry, stressed and less able to learn as a result of the Government's "bedroom tax", according to new research.
The study, carried out by academics at the University of Manchester, is the first to look at the educational impact of the tax – under which families lose benefits if they are deemed to have a spare bedroom in their house.
One of the problems is that children are having to share bedrooms – often with siblings of a very different age group – and therefore struggle to find a quiet place to do homework. Some also report struggling to get a good night's sleep.
"I saw a young woman yesterday and she has two daughters sharing a bedroom," researchers were told by a housing director in the Manchester area. "One is two and one's 14 and she says it doesn't work and the two-year-old is in with her because the 14-year-old throws her out. She can't do her school work."
Researchers studied the impact of the tax on a group of 14 parents in the Manchester area over a 16-month period.
"Headteachers drew attention to the way that material hardship was affecting children's ability to learn, both at school and at in the home," their report said.
The "bedroom tax" was described as "the straw that broke the camel's back" – adding to the cumulative impact of other welfare cuts and leaving some families unable to afford healthy food.
"Hungry children were finding it harder to concentrate, which sometimes led to classroom unrest and aggressive behaviour," the academics found. "Some schools reported parents were increasingly unable to buy uniforms, coats and shoes.
"School staff and some parents also described how children were emotionally affected by the financial and psychological effects of poverty. These ranged from a lack of money to buy food, new clothes or regularly run a washing machine, to the distress children were experiencing." School staff also said children were showing signs of emotional stress caused by poverty, impeding their capacity to learn.
Professor Ruth Lipton, of the study team, said: "The pressure put on families by this cut in benefits may also be working contrary to other policies that are intended to support child wellbeing and educational achievement, diminishing their effectiveness. The Government should review its policy."
UK news in pictures

Show all 50
As a result of the cut in benefits, some schools are using their "pupil premium" money – given to them for every disadvantaged pupil they take to improve their educational performance – to buy uniforms or shoes for those from hard-up families. Breakfast clubs have been expanded to take in parents as well as their children.
Under the "spare bedroom" tax, those assessed as having a spare room lose an average of £11 a week in benefits. Families have been told that two children under the age of 10 should share a bedroom – and children of the same sex should share until the age of 16.
The aim of the tax is to save money and encourage families with spare rooms to "downsize" their accommodation. The researchers argue it is not achieving these ends.
The DWP dismissed the research as a "small, unrepresentative study", adding: "It is misleading to generalise from such a tiny sample." A spokesman said: "Removing the spare-room subsidy has restored fairness to the system."
Register for free to continue reading
Registration is a free and easy way to support our truly independent journalism
By registering, you will also enjoy limited access to Premium articles, exclusive newsletters, commenting, and virtual events with our leading journalists
Already have an account? sign in
Join our new commenting forum
Join thought-provoking conversations, follow other Independent readers and see their replies