Birth photography contest unveils incredible images from around the world
Birth is beautiful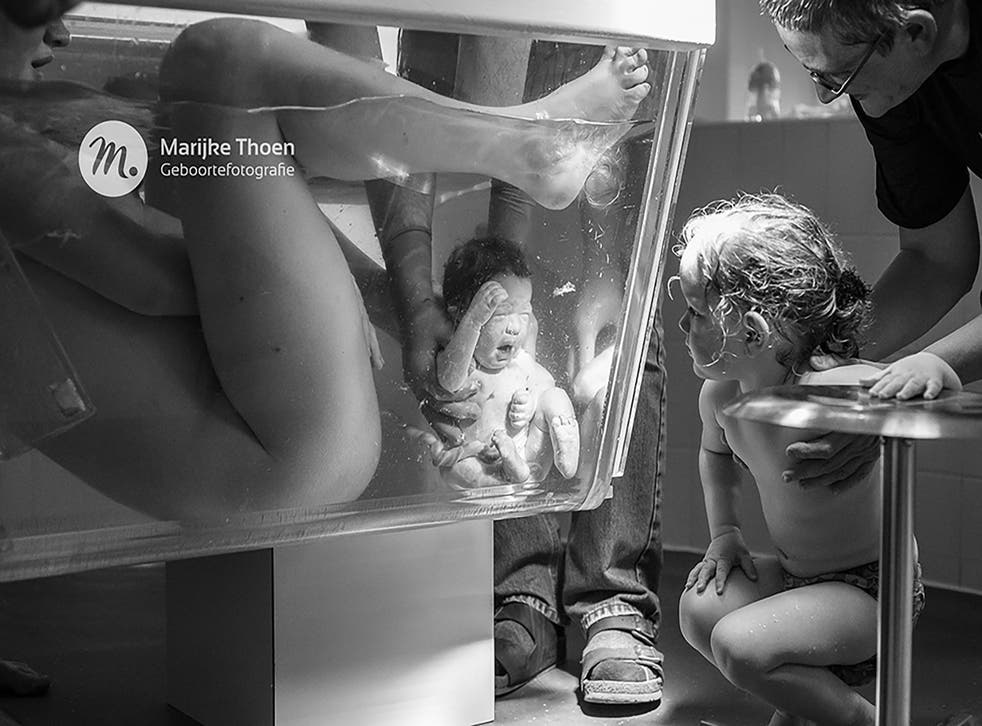 The act of giving birth is extraordinary and completely unique for every individual who experiences it.
Whether a birth takes place at home or at hospital, via Caesarean or in a pool of water, there's no doubt that bringing a baby into the world is one life's most treasured miracles.
Birth Becomes Her, an online resource for birth photographers, carry out an annual contest to not only show the world how profound giving birth is, but also to shed a light on the power of photography.
They received around 1,000 submissions this year with more than 20,000 people voting for their People's Choice winners.
:: Graphic images of childbirth below
Rare video shows baby born inside amniotic sac
The overall winner of the competition was a photograph taken by Marijke Thoen in black and white.
It depicts a child meeting their younger sibling for the very first time, peering through the glass as the newborn is submerged in water.
This photograph taken by Esther Edith won the People's Choice Award for labour.
Titled "Three Souls Labour As One," it shows a husband soothing his wife as she appears exhausted lying in a pool of water.
One photograph takes its viewers behind the scenes, delving into the true nature of Caesarean births.
Captured by Neely Ker-Fox, a newborn baby can be seen behind a sheet of plastic covered in blood, giving its mother a fist bump as the father looks on.
You know a photograph is potent when you can almost hear the subjects of the image just from looking at it.
"Half Born and Already Reaching for Mama", taken by Selena Rollason, shows a woman screaming as she gives birth to her baby. The newborn's arms can be seen outstretched under the water in the bath.
The photography contest featured several categories, including maternity, labour, breastfeeding and postpartum.
Jen Conway has portrayed the serenity and beauty of pregnancy in her photograph, aptly named: "This is what a Goddess Looks Like."
The photograph, which won first place in the maternity category, shows a heavily pregnant woman cradling her stomach against a backdrop of water and trees.
Having skin-to-skin contact with your baby after birth is very important in order to help steady the baby's breathing and keep it warm.
The photograph below taken by Christina Benton perfectly demonstrates the way in which a mother masters the art of multitasking from the very early stages of parenthood.
Holding a bowl of stir fry for herself in one hand, the mother simultaneously holds the baby in her other arm as it suckles on her breast.
The images of pregnancy and birth featured in the Birth Becomes Her contest were submitted by photographers from across the globe.
The entries came from locations including Belgium, Australia, Canada, America, Uganda, Uruguay and many more.
"We believe that images of birth are inspiring and life-changing," wrote Birth Becomes Her co-founders Jennifer Rainey Mason and Monet Nicole Moutrie.
Register for free to continue reading
Registration is a free and easy way to support our truly independent journalism
By registering, you will also enjoy limited access to Premium articles, exclusive newsletters, commenting, and virtual events with our leading journalists
Already have an account? sign in
Register for free to continue reading
Registration is a free and easy way to support our truly independent journalism
By registering, you will also enjoy limited access to Premium articles, exclusive newsletters, commenting, and virtual events with our leading journalists
Already have an account? sign in
Join our new commenting forum
Join thought-provoking conversations, follow other Independent readers and see their replies