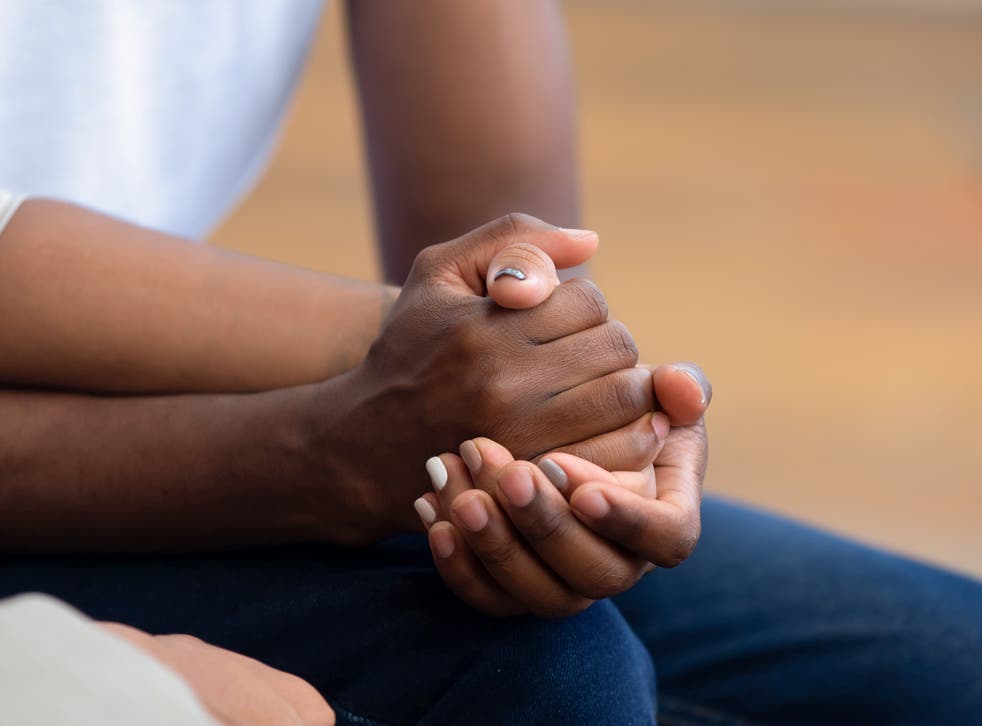 Black mental health organisations to reach out to for support
'Living in a state of anxiety and chronic stress is exhausting for the body's nervous system and mental health,' therapist explains
Over the past month, thousands of people across the globe have taken part in historic protests in support of the Black Lives Matter movement.
In the aftermath of George Floyd's death in Minneapolis, US on 25 May, protesters have taken part in mass demonstrations demanding an end to racism and police brutality against black people, sparking much-needed conversations about the prevalence of systemic racism in society.
All the while, the ongoing coronavirus pandemic has continued, with recent findings revealing that black Britons are almost twice as likely than white Britons to die from the virus.
Sharnade George, therapist and founder of CultureMinds Therapy, explains that the recent crises may have taken a significant toll on black people when it comes to their mental health.
"With what's been going on lately with racism, police brutality and Covid-19, black people are feeling more vulnerable every day both physically and mentally," George tells The Independent.
"Living in a state of anxiety and chronic stress is exhausting for the body's nervous system and mental health, which can cause both mental and physical health issues."
A report recently published by the Centre for Mental Health warned that mental health inequalities faced by certain groups of individuals due to the pandemic, including black people, could become "exacerbated and entrenched for years".
If you have been finding the current news cycle particularly difficult, there are several organisations you can turn to for support. Here are some options.
The aim of Black Minds Matter is to ensure that black people in the UK are able to better access mental health support.
The organisation does this by helping black people and families across the nation to find professional mental health services, in addition to raising money to help cover the cost of such services.
"Finding a therapist and starting your journey towards improved mental health is as easy as browsing the website, choosing a therapist based on your needs, arranging a session and we will cover the cost," Black Minds Matter states.
For more information, click here.
The Black LGBTQIA+ Therapy Fund was created at the beginning of June on GoFundMe to help pay for therapy sessions for black members of the LGBT+ community.
Organised by Rose Frimpong, one of the hosts of the Two Twos Podcast, the fundraiser's description explains that in the midst of the coronavirus pandemic, "black people are fighting for the right to live and black LGBTQIA+ people are having to explain that we exist".
The fundraiser outlines that many black members of the LGBT+ community are isolated from their families, homeless or have not been able to reveal their true selves to their families, all of which can take a "huge toll on the mental health of a number of us".
The fundraiser has surpassed its target of raising £65,000.
For more information about the fund, you can email rose@blacklgbtfund.com or click here.
Formerly a charity set up in 2017, Black Learning Achievement and Mental Health is now a not-for-profit organisation that provides both education and mental health support.
Among its list of aims, the organisation explains it is committed to improving the "mental health and wellbeing of peoples of African descent", of delivering a "comprehensive and decolonised education" and supporting the "social inclusion of the black British community".
BLAM UK hosts community outreach projects, including workshops for black children so they can "see and learn about their unique and important history".
For more information, click here.
Based in Lambeth, South London, Black Thrive is an organisation dedicated to combating the "inequality and injustices experienced by black people in mental health services".
The organisation explains on its website that it is a partnership made up of several organisations, including communities, statutory bodies, voluntary organisations and firms in the private sector.
Black Thrive explains that while the black community in Lambeth has made significant contributions to society in the UK since the mid-20th century, "Lambeth continues to be a borough faced with growing socio-economic inequality which disproportionately affects black African and Caribbean people".
These inequalities can consequently have a detrimental impact on the physical and mental wellbeing of the black community in the borough, the organisation stresses.
For more information, click here.
The Black, African and Asian Therapy Network offers a range of therapists in the UK of black, African, South Asian and Caribbean descent.
On the organisation's website, it offers information for finding a therapist you can contact for mental health support, attending public events, participating in forums and training to become a therapist.
The site also includes links to mentoring programmes you can apply to if you have applied to become a therapist, in addition to student support groups.
For more information, click here.
First launched in the early 1990s, the Sandwell African Caribbean Mental Health Foundation provides mental health services for black people in Sandwell in the West Midlands and West Birmingham.
The organisation also collaborates with other organisations on a local and national scale in order to make a positive impact on official mental health policy "to reduce the levels of structural racism which continues to impede the life chances of black people in the UK".
It explains on its website its objective is to offer "culturally responsive mental health services" for people of African and Caribbean descent, while also "promoting sustainable recovery and wellbeing".
For more information, click here.
In 2019, mental health charity Mind launched a programme through which it works specifically with young black men aged between 11 and 30 years old.
"Evidence shows that black men are far more likely than others to be diagnosed with severe mental health problems and are also far more likely to be sectioned under the Mental Health Act. However, up until 11 years old, black boys don't have poorer mental health than others of their age," Mind explains.
The programme, which runs for a three-year period, offers tailored local services for participants, in order to "increase understanding of mental health problems, reduce the stigma surrounding it and learn about how and where to seek help when you need it".
While the programme is still in the "early stages of development", you can find out more about getting involved by emailing equality@mind.org.uk.
For more information, click here.
Situated in the London borough of Southwark, Kindred Minds is a "user-led project" for people from black and minority ethnic communities, it states on Southwark Wellbeing Hub.
The organisation, which is free to join, runs peer support groups on a fortnightly basis, which are run by two "experienced facilitators with experience of mental distress".
There are also women-only support groups you can join, in addition to group outings you can take part in.
For more information, click here.
The Peckham Befrienders Group is a service offered to people currently receiving mental health support from the South London and Maudsley NHS Foundation Trust.
The service is targeted towards black and minority ethnic people aged between 18 and 65 who have or have had a mental health issue, and offers the opportunity to take part in social activities and conduct conversations about mental health issues so as to connect with fellow members of the community.
For more information, click here.
Join our new commenting forum
Join thought-provoking conversations, follow other Independent readers and see their replies