Woman diagnosed with breast cancer after trip to Sainsbury's
Helen Bullen, 55, received a letter regarding a routine mammogram in June 2021, but was unsure whether she should go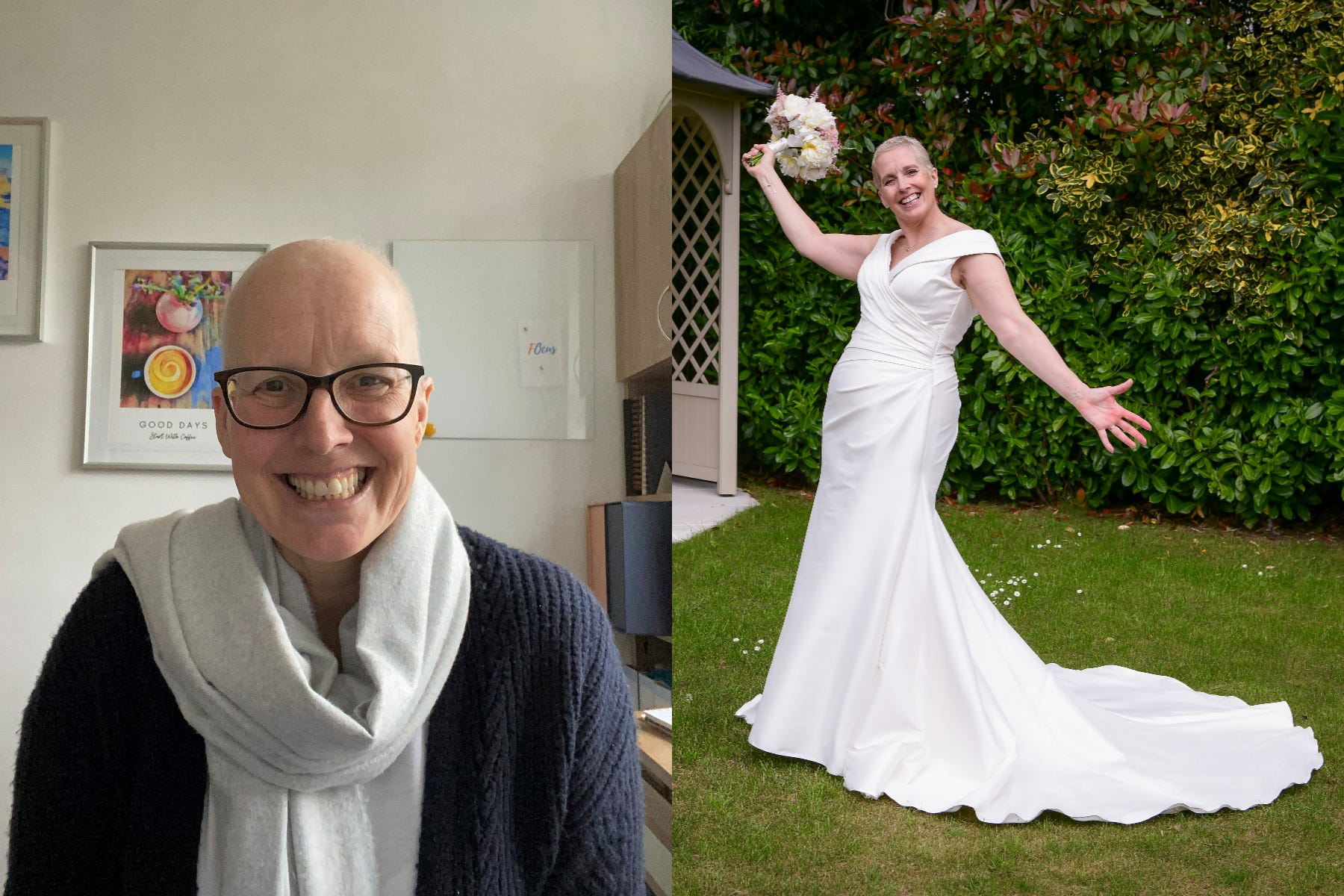 A bride who was diagnosed with, and recovered from, breast cancer in between trying her wedding dress on in 2019 and wearing it three years later has said she is ready to "live life to the full" with her new husband.
Helen Bullen, 55, a business mentor from Fetcham in Surrey, married retiree Eddie Sinden, 61, in 2022 after Covid delayed their wedding.
In the time that passed between getting engaged and having their wedding however, Helen – who has two children, Louise, 31, and Joe, 28, and one step-daughter, Scarlett, 25 – was diagnosed with stage three triple negative breast cancer.
She says both she and her husband are "lucky to be alive" after Eddie had testicular cancer in his twenties.
Now, to help others cope and raise awareness, she has written a book based on a diary she kept from the day she got her diagnosis.
Helen met her husband in 2005 through online dating, and the pair got engaged on New Year's Day in 2018 before quickly starting on the wedding plans.
The pair set a date for May 2020, but lockdown struck and they were forced to postpone the big day – however, Helen decided to have an alternative celebration to mark the occasion.
Helen said: "It wasn't the be-all and end-all for our friends and me.
"So one of my friends is a registrar who was going to marry us anyway. We had an unofficial wedding ceremony, all our friends got together on Zoom, and I walked down my garden path instead of the aisle."
They were married legally on July 18 2020, rotating guests in the garden and saving the dressing up, and the big occasion, for another day.
However, nearly a year later, Helen received the devastating news of her cancer diagnosis.
In June 2021, she received a letter regarding a routine mammogram, but was unsure whether to go, as her daughter was moving house that day.
She said: "I almost postponed it, but I thought I should go, as it was only in the local Sainsbury's car park.
"I didn't think anything of it at the time until I got a call back from the Jarvis Screening Centre in Guildford.
"They told me it's very rare that it's cancer.
"I didn't think anything was wrong because I'm never ill and had no signs."
However, on 24 June 2021 Helen was told she had cancer, and after taking biopsies, the oncologists could see she had it in three places.
After having PET and MRI scans, she was diagnosed with stage three triple negative breast cancer.
She said: "I don't remember hearing much else after I got told that."
Helen's husband, who had testicular cancer in 1989 when he was 27, was with her when she got the diagnosis.
She said: "We joke now that he has one ball, and I only have one boob, so we're like a matching pair.
"But, when I got the diagnosis, he understood the journey, as it were.
"So I was fortunate that he was like my superhero straightaway. He got it and realised if I was crying, why I was crying, he understood what chemo was like."
Helen began chemotherapy in August 2021 and said one of the hardest parts was losing her hair, saying: "I hated losing my hair, and it was part of me.
"It wasn't my choice to have my hair short, and I felt out of control at that point.
"My husband shaved all my hair off, and that was a really difficult day. That's when I tear up.
"The chemo also made me put on weight – I was heavier than I was when I was pregnant with the kids."
Helen had her final round of chemo on Christmas Eve 2021, and in February 2022, she had a mastectomy, saying: "It wasn't the nicest thing in the world. But now I've got a great scar, and I'm very proud of it."
A month later, Helen finally received the news she and her family were hoping for – she was cancer free.
She said: "We drank champagne, I think, for most of that day. It was brilliant, really good news.
"There was just such a relief for my family because that's the awful thing – you put your friends and family through it.
"That's when I start to tear up. A mother shouldn't make their kids worried."
Throughout Helen's cancer journey, the wedding remained at the back of her mind, and she always knew she had to get back into her dress.
When having chemotherapy, she and Eddie set a date for their wedding day for 7 May 2022, in the Mandolay Hotel in Guildford with around 90 guests.
The pair booked their honeymoon while Helen had her second to last chemotherapy session, to have something to look forward to and spoil themselves.
She joked: "When I tried the dress on, I had two boobs, and now I only have one boob.
"It was great, though, because I got a cone shape built into the dress, and I could keep my lip gloss in there. And so it all worked out quite well."
She added: "I wasn't as slim as I wanted to be, but I was alive, and I bleached my hair blonde around three days before the wedding.
"I thought I'm not going in this mousy brown colour, and I wanted to make a bit of an impression.
"It was fantastic to celebrate both our wedding and me being a cancer survivor. It was a very happy day."
When Helen was diagnosed with cancer, she kept a diary to help her manage her emotions, and has since turned it into a book called Agnes, Bea, Cancer and Me – Agnes referring to her right breast, and Bea her left. The book will be coming out on March 28.
She said: "I wanted to get across the message of how to deal with somebody with cancer, or how not to worry when somebody's got cancer, as in what to say, because most people don't know what to do with that news.
"I think it's inspiring and motivational. It'll be sad in places but funny in others."
Helen explained how the last few years had changed her and her husband's perspective on life, saying: "After getting the all clear, we both just said we were going to live life to the full, and that's what we've been doing ever since.
"We're both just so lucky to be alive."