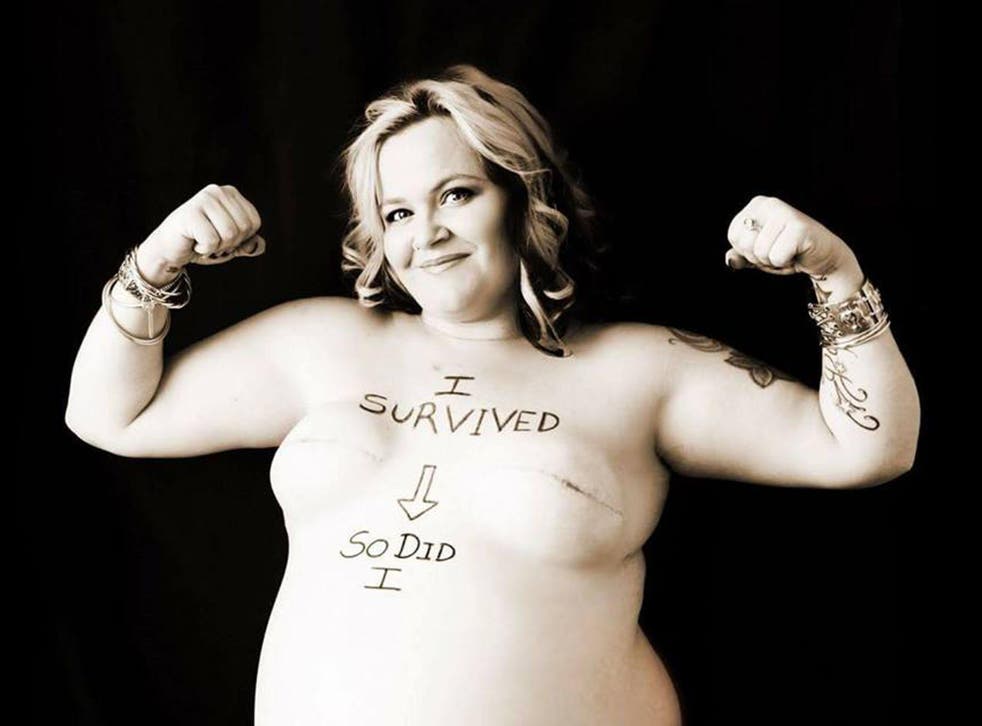 'I survived, and so did I': Mother's raw photos show what it's like to have breast cancer while pregnant
She hoped that sharing the photos would help raise awareness 
Sarah Young
Tuesday 08 November 2016 12:18 Comments
Kimi Maxwell from Perth Australia was diagnosed with breast cancer in 2013 while pregnant with her second child.
After having a double mastectomy while still expecting she decided to pose for a commemorative photoshoot to celebrate beating cancer.
The brave mother posed with her biceps flexed and the words 'I survived' written on her chest while an arrow pointed down towards her pregnant belly reading, 'So did I.'
Kimi shared the raw and intimate photos of herself in the hopes of bringing awareness to the impact of breast cancer, specifically during pregnany.
The images were taken by photographer Nikki Fisher Holmes, who decided to post the pictures on Facebook via Australian mummy blogger Constance Hall's page in a bid to share Kimi's story.
She wrote, 'I think Kimi is your kind of queen and deserves the recognition…I took this photo of Kimi when she was pregnant and had been battling breast cancer...she wanted to bare all to raise awareness.'
Breast cancer survivor gets double-mastectomy tattoos

Show all 6
After seeing the post, Kimi who has almost finished reconstructive surgery and is in remission commented saying, 'You had me almost naked and feeling safe, respected and beautifully captured my message. The ultimate in professional photography I feel. Anything you do from your gorgeous heart is a masterpiece.'
Speaking to the Mail, the photographer spoke of Kimi's 'feisty attitude' when they met.
'She faced her battle head on and I never heard her whinge and she just showed so much strength which showed through in the photos. Kimi's goal was to raise awareness and she certainly succeeded in that with the photos being shared around the world, I was really proud of her and honored to play a part in that,' she said.
Now running a business etching memorial portraits, Nikki is donating $10 from every sale to Breast Cancer Research.
Register for free to continue reading
Registration is a free and easy way to support our truly independent journalism
By registering, you will also enjoy limited access to Premium articles, exclusive newsletters, commenting, and virtual events with our leading journalists
Already have an account? sign in
Join our new commenting forum
Join thought-provoking conversations, follow other Independent readers and see their replies