Lifestyle features
'Like Carrie Symonds I gave birth during lockdown. Here's what it feels like'
'My baby son Samuel was wrenched into a world as unfamiliar to me as it was to him,' says Cathy Adams, who gave birth during the UK coronavirus lockdown
Wednesday 29 April 2020 18:45 Comments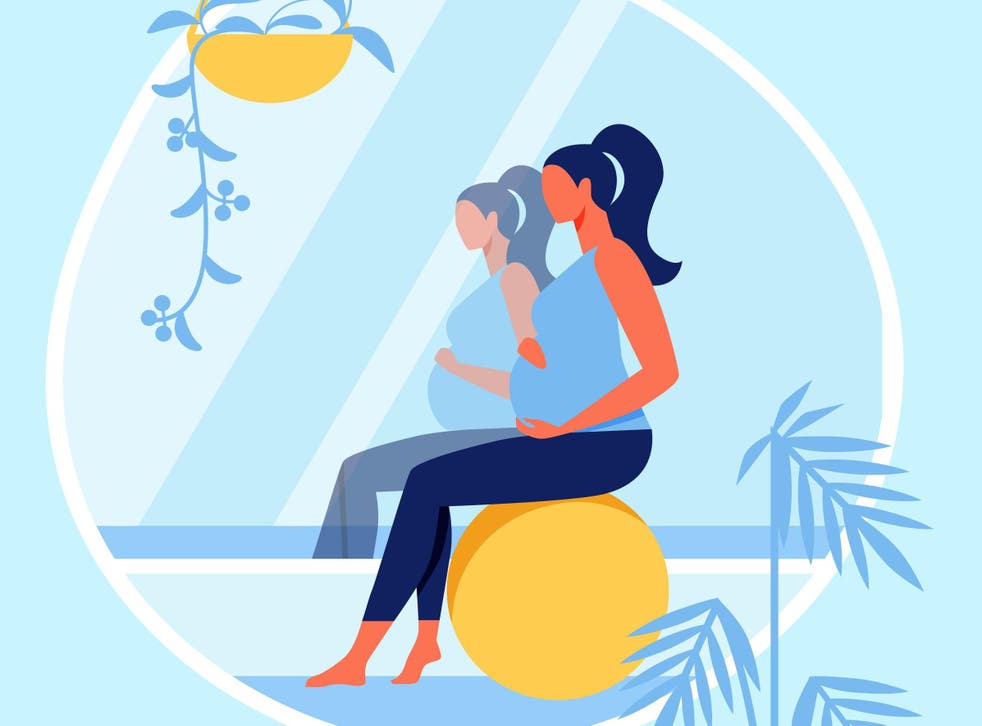 On the morning of 19 March, my baby son Samuel was wrenched into a world as unfamiliar to me as it was to him.
This new order was frightening, but blurry. A few days earlier, Britons were advised against all "non-essential travel" and there were vague suggestions that we should start "social distancing". My colleagues took their laptops home while I bounced aggressively on a birth ball.
Things had become increasingly jittery during those early weeks of March. Pregnant women were warned to self-isolate. Passengers on the Underground were wearing face masks. People jumped out the way in supermarket queues, desperate not to graze other shoppers. Eleven days before my son was born, when I was admitted the hospital for bleeding and told it was safest to induce the baby at 39 weeks, there were looks shared among the doctors: "It's better we get him out now."
Countries all around the world were shutting borders and isolating their citizens. Friends in Asia cautioned that it wouldn't be long before the UK was locked down itself. I came to realise that perhaps he was better out than in.
Continuing to incubate only meant increasing uncertainty. Hospital guidance would change daily. One birth partner only; partners could stay for the birth only; then no birth partners. Cafes inside the hospital slowly shut down. The poster hung on the labour ward door that stated "if you've travelled from Hubei province in the past 14 days, do not enter" aged very badly. Hand sanitiser bottles were ripped from hospital walls – and when we did find one, our hands were red raw from slathering it on so frequently. Kind, ever-professional midwives still showed up for work, having not been ordered to wear personal protective equipment yet. The maternity ward became a little bubble from which I was reluctant to leave.
Inside US hospital: A day fighting the coronavirus

Show all 13
20 March. Pubs and restaurants were ordered to shut and the nation panic-bought toilet roll as I struggled to breastfeed my son and swing my legs out of the plasticky bed of the postnatal ward to inch to the toilet.
23 March. Four days later, we finally left hospital (a caesarean section meant I would be kept in for longer, being unable to walk for the first two days) in an Uber. We opened doors with jumpers pulled over our hands and swung our heads out the window on the 10-minute ride home. The streets were creepily empty. Three hours later, Boris addressed the nation: we were being officially locked down.
Six weeks in, life with a newborn and coronavirus quarantine aren't too dissimilar. I can only manage one government-sanctioned trip outside per day – a slow walk around the nearby park, on account of my still-tweaky body – and the hours seem to drift past in a relentless haze of feeding, changing and coaxing my child into slumber (ha!). These weeks of nothingness have given me and him both time to get used to one another, and for me to learn to love him.
The days are long but the weeks are short. Milestones such as his eyes slowly changing from blue to hazel green; a gape turning into an approximation of a smile; his mouth finally widening around my nipples are all testament to the fact that time is still passing, however fluid this new world seems.
Of course, these early weeks of his life are nothing like I'd imagined. It's heartbreaking that he can't meet his grandparents, or aunts and uncles, or family friends. Zoom calls, WhatsApps and even hastily arranged photo cards full of newborn pictures aren't a replacement for smelling a newborn in the flesh. My meticulously planned months of maternity leave – baby classes, gentle activities like coffee with friends – have evaporated as fast as memories of his birth. Most postnatal care has been done over the phone, except for one appointment which involved him being weighed on the doorstep by a health visitor in full PPE. All birth registrations have been cancelled, so he isn't even an official person yet.
I think about how I will explain to my son that he was born during the most extraordinary months of a generation. I'll tell him that my husband and I aren't the only people in this world. That the streets of south London aren't the only roads he'll ever walk. That I'll be begrudgingly grateful for this lockdown for teaching me how to become a parent.
Register for free to continue reading
Registration is a free and easy way to support our truly independent journalism
By registering, you will also enjoy limited access to Premium articles, exclusive newsletters, commenting, and virtual events with our leading journalists
Already have an account? sign in
Join our new commenting forum
Join thought-provoking conversations, follow other Independent readers and see their replies