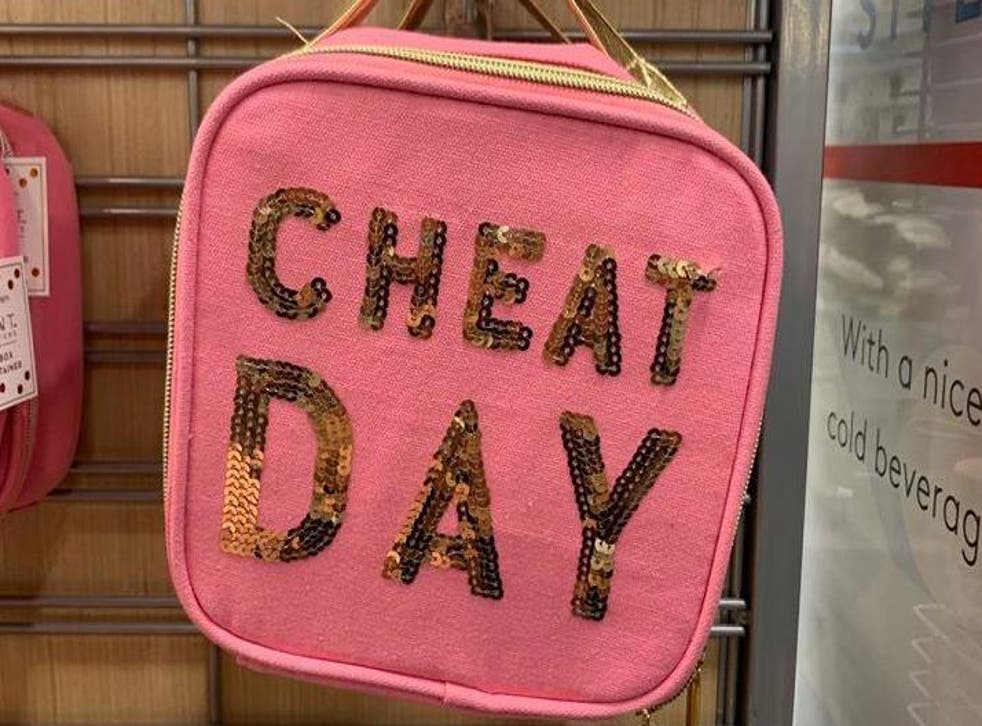 'Cheat day' lunchbox accused of promoting diet culture to children
'I am SICKENED that this phrase is on a lunch box'
Olivia Petter
Tuesday 12 February 2019 12:30 Comments
A lunchbox with the words "cheat day" written on it has been accused of marketing diet culture to children.
Writer Sonni Abatta posted an image of the lunchbox on Facebook after she came across it in an unnamed department store.
She explained that she was "sickened" by the item, which she believes was intended for young girls given its pink colour and sequin embellishments, because it would exacerbate young women's body image insecurities.
"Our world is telling our girls that it's 'cheating' if they eat something that's not 100 per cent fat-free and perfectly healthy," she wrote.
"In turn, that tells them that self-control and denying herself is to be valued above all. And that if she dares to step outside of the foods that will keep her perfectly slim and trim, then she is by default 'cheating' and needs to feel some sense of remorse."
Inspiring body positivity quotes

Show all 12
Abatta went on to say that a diet consisting purely of sugary foods is not right either, but that sending a message like this to young girls is only going to add to their "already-fragile senses of self" by making them feel shameful for eating something that isn't deemed healthy.
She also argued that the message on the lunch box was implicitly sexist.
"Can you imagine a similar message directed toward little boys? For the record, I'd be equally offended… but I haven't seen anything that is aimed at making our boys feel bad about what they eat, or how they look."
Abatta concluded her post with an empowering note to young girls, urging them to think beyond their diets and their appearances.
"Girls – you are not 'cheating' when you enjoy good food," she wrote before listing indulgent foods, such as pizza and cookies, and using them as examples of things that are perfectly fine to eat in moderation.
"You are MORE than your bodies," she added.
"More than your faces. More than your complexions. More than the clothes you wear and the things you buys and the other girls you hang out with.
"You are beautiful, worthy, intelligent, and whole beings – whole beings who are worthy of so much love and respect, no matter what anyone, or anyTHING, says."
The post has been widely shared, garnering more than 60 comments from people concurring with Abatta.
Women running London Marathon in sports underwear to raise awareness of body positivity
"So well said," wrote one person. "No one should feel like this with a lunchbox that has a message like this. Girls shouldn't, boys shouldn't, women shouldn't and Men shouldn't. The company should be held accountable for producing such a product that would want to send that message and the shop where they are been sold should take them off their shelves."
Another added: "Feel sorry for girls today. Having a daughter myself I focus conversations on healthy choices instead of negative like 'cheat' day. I don't always get it right and certainly am not the icon of health myself. It's a journey of progress not perfection!"
Register for free to continue reading
Registration is a free and easy way to support our truly independent journalism
By registering, you will also enjoy limited access to Premium articles, exclusive newsletters, commenting, and virtual events with our leading journalists
Already have an account? sign in
Join our new commenting forum
Join thought-provoking conversations, follow other Independent readers and see their replies