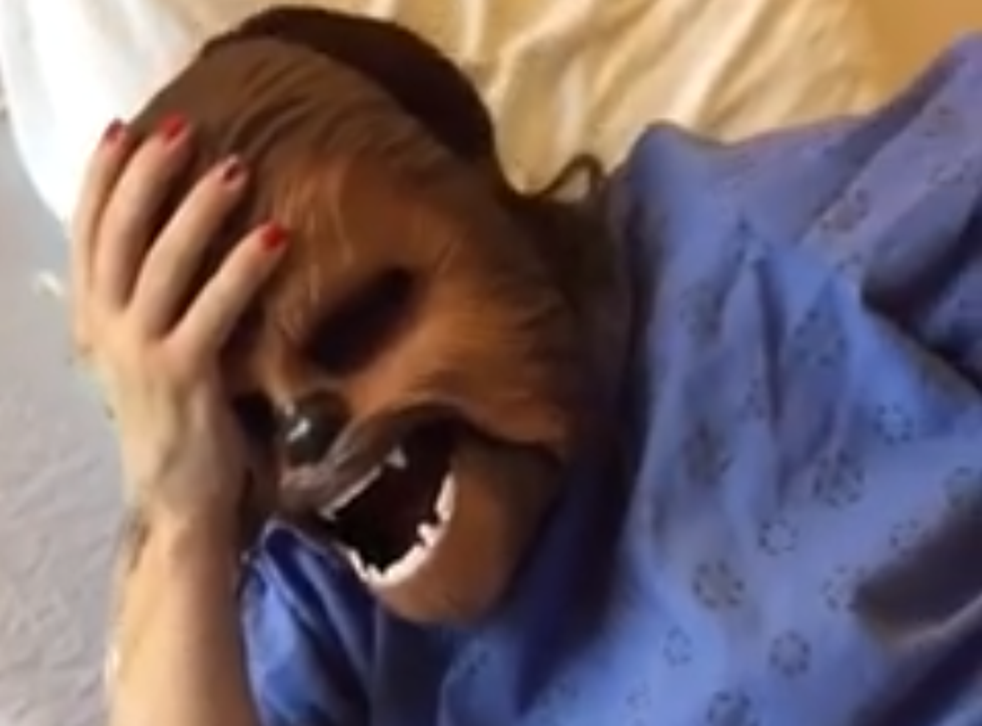 Woman posts video of herself giving birth wearing a Chewbacca mask
The hilarious clip quickly went viral
Most mothers would agree that giving birth is not a fun experience - it's painful, stressful and scary.
But one woman decided to inject some humour into her labour by wearing a Chewbacca mask.
Katie Stricker Curtis donned a mask with an in-built voice changer to make her sound like the legendary Star Wars character and uploaded a short clip to her Facebook page.
The clip shows the mother-to-be from Detroit groaning on her hospital bed, with her cries of pain translated into Shyriiwook, the Wookie language from Star Wars.
"Just because I'm about to be a mom doesn't mean I have to grow up!" wrote the new mother. "Bwahahahahs never take life too seriously! Best Christmas gift ever!"
The hilarious video is just 12 seconds long but it has provoked a huge reaction and has now been viewed over 91,000 times.
It wasn't long before the clip had gone viral, sparking off hundreds of shares and comments across social media.
"This is awesome, congrats and enjoy your new little one," wrote one fan on Facebook.
"Idk [I don't know] you but damn you are awesome gonna make an amazing mom," added another.
Some expectant mothers revealed the clip had inspired them to get a mask for their own labours.
"I'm getting a hulk mask for delivery day," commented one.
It is perhaps the message to never take life too seriously that has caused so many people to react to positively to the video.
The clip inevitably drew comparisons with the viral video of Texan Candace Payne who posted a Facebook Live wearing a Chewbacca mask in 2016 and became an internet sensation.
Stricker Curtis gave birth to a baby boy called Jayden, who probably won't understand for years to come that he became famous before he was even born.
Join our new commenting forum
Join thought-provoking conversations, follow other Independent readers and see their replies