Children riding slides while on a parent's lap increases risk of injury, finds study
A young child is at risk of breaking their leg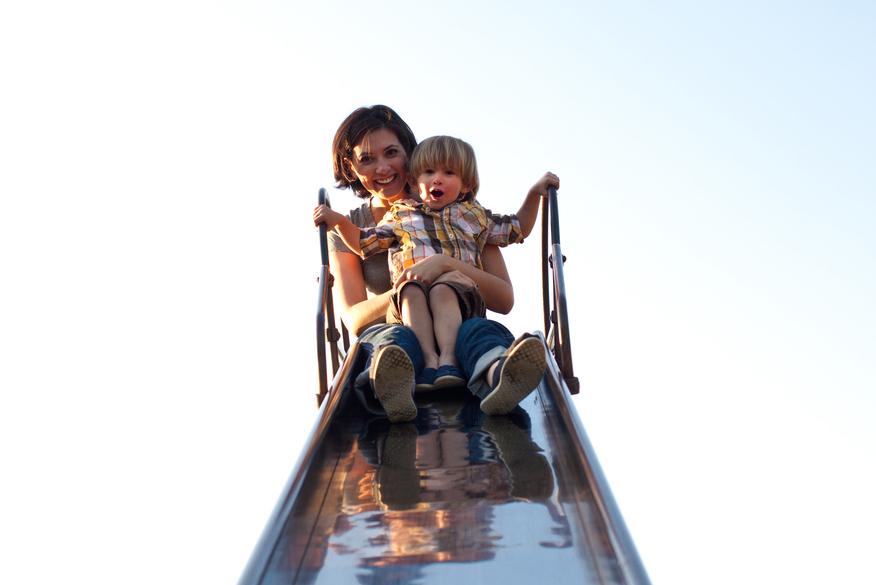 It's not uncommon to see a child whizzing down a playground slide on an adult's lap. But according to a new study, this could be far more dangerous than most people think.
Sitting on a parent's lap while going down a slide can lead to a broken leg for young children.
If a child's foot catches the slide while sliding by themselves, the potential for injury is small due to the relatively low forces involved.
When riding with an adult, however, there's more forward momentum and speed due to the weight of the adult, meaning a child can easily break a bone if their foot gets caught on the slide.
This often happens when the child's foot catches the edge or bottom of the slide then twists and bends backwards while sitting on an adult's lap.
An estimated 352,698 children under the age of six were injured on slides in the United States between 2002 and 2015, and many of those injuries were leg fractures.
In the UK, an estimated 40,000 children are brought to A&E every year due to a playground injury, and more than 20 per cent of those are caused by slides.
The researchers studied children under six years of age and found that toddlers aged between 12 and 23 months had the most injuries.
The most common injury was a fracture, making up 36 per cent of cases and usually involving the lower leg.
"Many parents and caregivers go down a slide with a young child on their lap without giving it a second thought," states lead researcher Charles Jennissen, MD, Clinical Professor and Pediatric Emergency Medicine Staff Physician, University of Iowa Carver College of Medicine.
"And in most cases I have seen, the parents had no idea that doing so could possibly give their child such a significant injury. They often say they would never have done it had they known."
As such, the researchers advise that adults do not go down slides with a small child on their lap, and if you do, do so with extreme caution.
Join our commenting forum
Join thought-provoking conversations, follow other Independent readers and see their replies