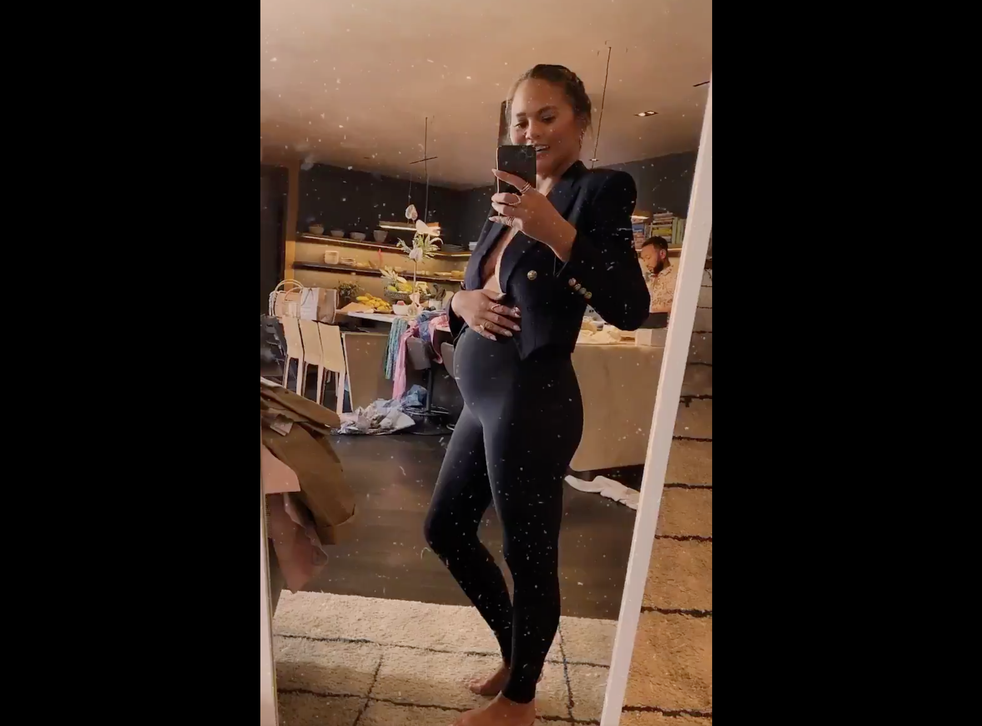 Chrissy Teigen says she was 'terrified' on learning she was pregnant after breast surgery
'I did the routine pregnancy test you do before surgery. It said negative. It was not negative,' Teigen says 
Chrissy Teigen has spoken about how "terrified" she felt on discovering she was pregnant after she underwent breast surgery.
In May this year, Teigen revealed she was having her breast implants removed.
The surgery took place shortly afterwards, with the model sharing a card her daughter made her that read: "Have fun pulling your boobies out."
This week, Teigen, who is married to singer John Legend, announced she was pregnant for the third time. She and her husband have two children together: their daughter Luna, who is four, and their son Miles, who is two.
A Twitter user recently asked Teigen on the social media platform whether she was pregnant when she had her breast implant removal procedure.
The Lip Sync Battle co-host responded by stating: "Oh, it's quite a story. Lol."
"I did the routine pregnancy test you do before surgery. It said negative. It was not negative," she said.
"A few weeks after surgery, I took a test. And for many years now, I've taken pregnancy tests almost every month, praying to see a positive one day. Just wishful thinking. I never had a positive before."
On the day Legend released his latest album Bigger Love in June, he and Teigen woke up in the early hours of the morning, as the singer had an appearance scheduled on Good Morning America.
"I woke up with him and was like man, should take my monthly test to be disappointed..." Teigen said.
"...I was not disappointed. But I was scared s***less. Was pretty positive you shouldn't get your boobs out while pregnant? Pretty sure."
The 34-year-old continued, saying that "we prayed to the boob surgery gods that everything would be okay".
"Went to every appointment terrified. Even without the surgery, I didn't think I could get pregnant naturally anyway. So the odds just felt... bad," she said.
"But what they say so often can be true. When you give up on trying, life has a way of surprising you. In summary, my boobs hurt."
Both Luna and Miles were conceived through IVF (in vitro fertilisation).
In June 2018, Teigen discussed undergoing IVF with her fans, saying that "hearing success stories gives people hope".
Join our new commenting forum
Join thought-provoking conversations, follow other Independent readers and see their replies