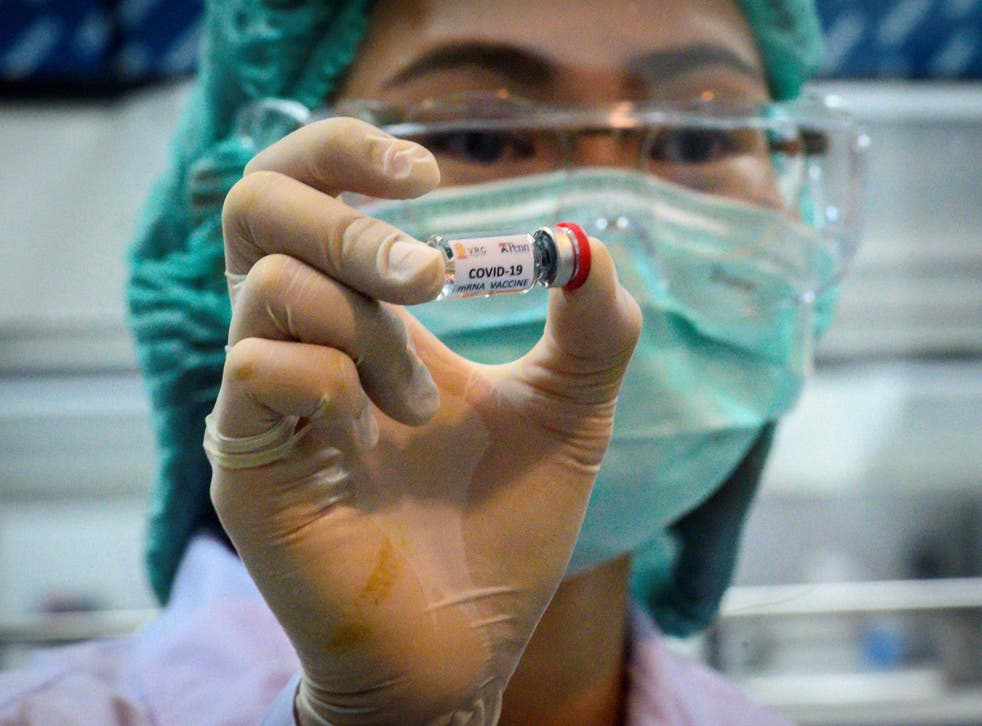 Almost a third of Britons would refuse coronavirus vaccine 'or are unsure', survey finds
'There is simply no responsible justification for publishing lies and conspiracy theories about vaccines,' research group states
Sabrina Barr
Tuesday 07 July 2020 12:00 Comments
Almost a third of people in the UK would definitely not have a coronavirus vaccine or are not sure whether they would, a new poll has found.
Between 24 and 25 June, YouGov conducted a survey of 1,663 people in Britain, on behalf of research group Centre for Countering Digital Hate (CCDH).
The participants were questioned over how inclined they would feel to take up a vaccine for Covid-19 if one became available.
Six per cent of the respondents said they would definitely not get vaccinated, while 10 per cent said they would "probably not".
Meanwhile, 15 per cent said they weren't certain, meaning that the total percentage who may not undergo vaccinations came to just under a third.
However, a majority said they were in favour of being vaccinated.
Just under four in 10 stated that they would "definitely" have vaccinations, while 31 per cent said they "probably" would.
In late June, the second human trial of the coronavirus vaccine began in the UK, with 300 volunteers taking part in the study.
If the vaccine is safe and shows promising results, 6,000 more people are expected to take part in another study in October.
When a vaccine is distributed for public use, a majority of the population will need to have been vaccinated in order to make a significant impact on reducing the spread of the coronavirus, scientists have said.
UK news in pictures

Show all 50
Therefore, the percentage of the population who would refuse the vaccine, or aren't sure whether they would take it, could be cause for concern.
The CCDH has published a report highlighting the scope of anti-vaccine pages and channels on social media platforms.
According to the research group, since the beginning of the coronavirus pandemic, 7.7 million more people have been following said accounts on social media.
The research carried out by YouGov and commissioned by the CCDH found that people who used social media more than traditional media for news were more likely to not be in favour of being vaccinated.
In a report published by the organisation titled "The Anti-Vaxx Industry", it stated that 57 million people in the US and the UK follow anti-vax accounts on social media, on platforms including Facebook, YouTube, Twitter and Instagram.
The report outlined that among the posts shared on social media, the accounts were publishing false conspiracy theories, such as the claim that Bill Gates is behind the Covid-19 outbreak and that vaccines cause the virus.
Imran Ahmed, chief executive of CCDH, stated: "Our hope for a return to normal life rests with scientists developing a successful vaccine for coronavirus."
Mr Ahmed added that the "irresponsible decision" of social media firms "to continue to publish anti-vaccine propaganda means a vaccine may not be effective in containing the virus".
"The price for their greed is a cost paid in lives," he said. "There is simply no responsible justification for publishing lies and conspiracy theories about vaccines."
Jo Stevens, shadow culture secretary for Labour, said that the YouGov poll "lays bare just how dangerous disinformation online can be".
A spokesperson for Facebook stated: "We are working to shop harmful misinformation from spreading on our platforms and have removed hundreds of thousands of pieces of Covid-19-related misinformation.
"We reduce vaccine misinformation in News Feed, we don't show it in search results or recommend it to you on Facebook or Instagram, we don't allow it in ads, and we connect people with authoritative information from recognised health experts."
Register for free to continue reading
Registration is a free and easy way to support our truly independent journalism
By registering, you will also enjoy limited access to Premium articles, exclusive newsletters, commenting, and virtual events with our leading journalists
Already have an account? sign in
Join our new commenting forum
Join thought-provoking conversations, follow other Independent readers and see their replies