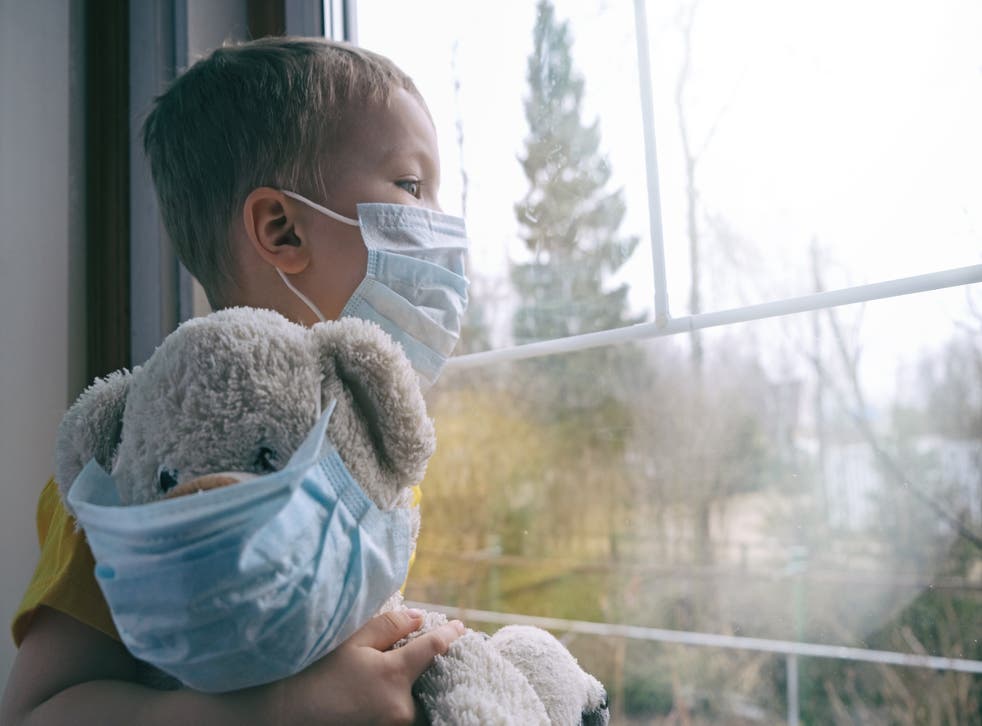 The coronavirus symptoms to watch out for in children
Cough and loss of taste or smell are far less common in children than in adults, according to research
Natasha Preskey
Thursday 21 January 2021 13:11 Comments
Leer en Español
Masks, social distancing and hand-washing have all become parts of daily lives now, and most of us no longer think consciously about many of our safety practices. But, as any parent or teacher will tell you, keeping kids two metres away from each other can, at times, verge on impossible. Children under five in Scotland, under 11 in England and Wales, and under 13 in Northern Ireland are also not required to wear a mask by law.
Thankfully, research suggests that kids are both less likely to contract Covid than adults, and far less likely to become seriously ill. Last year, a study from UCL confirmed that those under the age of 12-14 are "significantly less likely" to catch Covid from someone who's infected. 
According to the Harvard Medical School, many children won't experience any symptoms if they do get the virus and those who do are more likely than adults to have them mildly.
While instances of children becoming seriously ill are rare, the virus isn't without risk for kids. Last year, six children without known underlying health conditions died from coronavirus, according to NHS data.
Children are also at risk of developing rare but potentially dangerous disease called paediatric multi-system inflammatory syndrome (PIMS) after contracting Covid.  
Symptoms for PIMS are wide-ranging and the condition can affect children differently. However, according to the Royal College of Paediatrics and Child Health, all children diagnosed have had a temperature for more than three days. Some kids may have a rash, and some may experience abdominal symptoms like a stomach ache, diarrhoea or vomiting. The RCPCH said that the syndrome is "very rare" and most kids who get it will not be seriously affected.
These are the coronavirus symptoms to look out for in children.
The three classic Covid symptoms
Just like in adults, children can experience the three most common coronavirus symptoms - a high temperature, a new, continuous cough, and a loss or change to sense of smell or taste.
The NHS advises that, if your children has any of these symptoms, you should get them tested and you, and anyone in your support bubble, should stay at home and not have visitors until you get the result.    
Research from the Covid Symptom Study App found that cough and loss of taste and smell are less common in children than in adults, and that other symptoms were reported in kids more frequently. Fever was the one classic Covid symptom that was often seen in children, with almost half of cases in kids recording it as a symptom.
Fatigue
According to data from the Covid Symptom Study App, fatigue is the most common symptom kids experience with the virus. Of the 198 children among the 16,000 people whose symptom data was collected, 55 per cent had experienced fatigue with coronavirus.
Prof Tim Spector, of King's College London, who led the research, told The Guardian: "We need to start telling people what are the key symptoms at different ages rather than this blanket obsession with fever, cough and lack of smell."  
Headaches
Headaches were the second most common symptom found in children, according to the Covid Symptom Study App. Of the 198 cases recorded, 54 per cent included headaches.
A study of almost a thousand children of healthcare workers, published in the British Medical Journal (BMJ), echoed the fact that headaches are common in children with Covid. Of the 68 kids from the cohort who tested positive for Covid, 12 (18 per cent) reported a headache.  
An upset stomach
The same study in the BMJ found that gastrointestinal symptoms like diarrhoea, vomiting, and abdominal cramps were common among kids who tested positive for coronavirus. Of the 68 kids from the study who tested positive for Covid, 21 (31 per cent) had an upset stomach.
The Covid symptom study app also linked diarrhoea to the virus in children, with 13 per cent of 198 children reporting it.
Register for free to continue reading
Registration is a free and easy way to support our truly independent journalism
By registering, you will also enjoy limited access to Premium articles, exclusive newsletters, commenting, and virtual events with our leading journalists
Already have an account? sign in
Join our new commenting forum
Join thought-provoking conversations, follow other Independent readers and see their replies