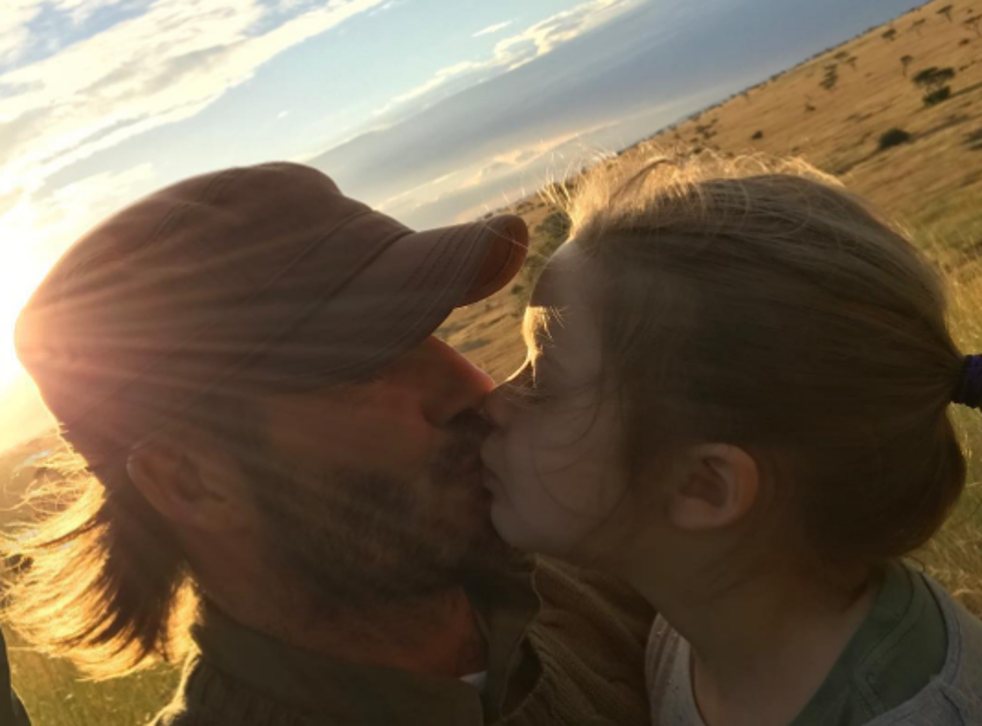 David Beckham defends kissing daughter Harper, 5, on the lips
It's his natural affectionate nature, he told fans on a Facebook Live broadcast
Dave Maclean
Monday 03 July 2017 11:54 Comments
David Beckham has defended kissing his daughter Harper on the lips – after a photo of the pair sparked a debate about boundaries in parenting.
The veteran football star posted a photograph of him kissing his five-year-old daughter on a beach last month, but some of his followers responded by calling it "inappropriate".
But in a discussion on Facebook Live, Beckham insisted he is "very affectionate" with his kids because that is how he was brought up.
He said: "I got actually criticised for kissing my daughter on the lips the other day. I kiss all my kids on the lips.
"Brooklyn, maybe not. Brooklyn's 18, he might find that a little bit strange. But I'm very affectionate with the kids. It's how I was brought up and Victoria, and it's how we are with our children.
"We want to show our kids love and we protect them, look after them, and support them, and we're very affectionate with them."
One doctor previously provoked anger after suggesting that parents should not kiss their child on the lips because it could be "confusing".
Dr Charlotte Reznick, a child and educational psychologist at Californian university UCLA, said: "If you start kissing your kids on the lips, when do you stop? It gets very confusing."
But child psychologist Dr Fiona Martin disagreed, saying: "It's beautiful. Anything that promotes emotional connectivity is good. It's certainly not inappropriate to kiss your child."
Beckham's initial post appeared on his Instagram account, on which he had 38 million followers. It was captioned with the words: "Kiss for daddy", alongside a heart emoji.
The highs and lows of David Beckham

Show all 25
It received 2 million likes, but some of the comments included: "David, to kiss lips of your daughter that's wrong," and "to be honest kissing your daughter on the lips is a little weird."
But other fans sprung to his defence, with one writing: "A father having a bond with his child is nothing less than beautiful." His wife Victoria was the subject of a similar debate in July last year, when she posted a photo of her kissing Harper on the lips in a pool.
Register for free to continue reading
Registration is a free and easy way to support our truly independent journalism
By registering, you will also enjoy limited access to Premium articles, exclusive newsletters, commenting, and virtual events with our leading journalists
Already have an account? sign in
Register for free to continue reading
Registration is a free and easy way to support our truly independent journalism
By registering, you will also enjoy limited access to Premium articles, exclusive newsletters, commenting, and virtual events with our leading journalists
Already have an account? sign in
Join our new commenting forum
Join thought-provoking conversations, follow other Independent readers and see their replies