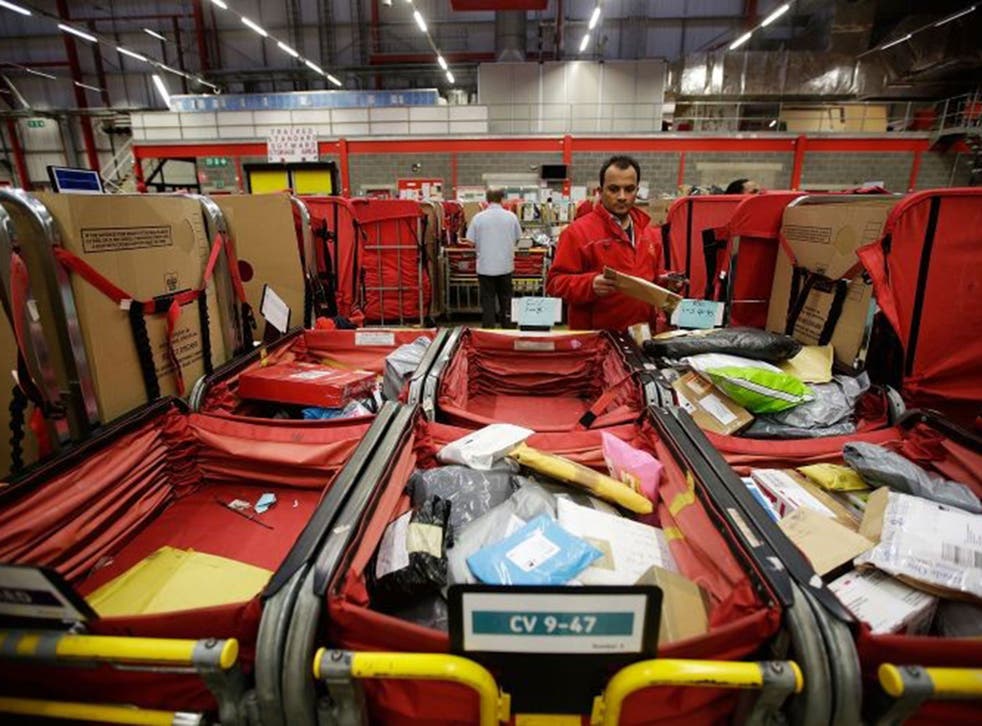 40th anniversary of the postcode: How it evolved to form part of our identities
As Royal Mail marks the postcode's 40th anniversary, Rhodri Marsden looks at how the administrative irritant that gave Royal Mail a staggering boost to productivity
If you're ever looking for a way to wind people up, just inform them that the neighbourhood in which they live isn't quite as good as the neighbourhood just up the road. If they don't respond with sufficient outrage, tell them again, but back it up with a few statistics.
This theory was proven yesterday as Royal Mail drew our attention to a study, undertaken with help from the Centre for Economics and Business Research, which revealed the "most desirable" postcodes in the UK, based on data relating to employment, health, education, crime, affordability of housing and so on. Those of us languishing in BD4 or TN34 imagined the smug faces of those dwelling in the three postcodes deemed "best" – SP9 (Tidworth), GU46 (Yateley) and CA27 (St Bees) – and wondered what on earth made them so damned special.
"Look, TD12 (Coldstream) has the lowest crime rate," we noted, enviously, while pondering the factors that might bestow BH18 (Broadstone) with the highest proportion of married couples. Having pitched customer against customer, community against community, Royal Mail then skulked off to celebrate the 40th anniversary of the postcode, the peg on which said study was hung.
Four decades ago we needed constant reminders to use the postcode, an administrative irritant that gave Royal Mail a staggering boost to productivity. Today, however, postcodes form part of our identities. These six or seven characters, establishing the location of our home down to a few hundred yards, are so easily stored, searched and analysed that they have come to define our access to services (both public and private), the provision of healthcare and education, our insurance premiums and the value of our homes.
And as Royal Mail continues to license its extremely useful Postcode Address File (PAF) to third parties, our postcode becomes more significant than even the borough in which we live. We also know that postcodes are the result of pretty arbitrary administrative decisions made in the 1960s, seemingly based on nothing more significant than the location of mail-sorting offices. So we rail against any misclassification that appears to negatively affect us.
Some of said resentment could be seen as snobbery – say, a wish to be upgraded to Greenwich (SE10) from Deptford (SE8) – but there are undeniable real-world effects. Wick, on the Scottish mainland, has a KW1 postcode. KW stands for Kirkwall, in the Orkneys, and consequently delivery charges to Wick can be excessive. "Postcode boundaries do not necessarily reflect geographical or administrative boundaries," is the stock Royal Mail response when people complain of being in the "wrong" one of 121 main postcode areas. They only ever redraw them for "operational reasons". Complaints are futile.
Of course, if postcodes didn't exist we'd still denigrate those who live around us, whether it's the stuck-up sods who live over the river, the gang that roams the other side of the main road, the hipsters in the high-rise or the errant children on the local estate. Postcodes merely allow us to channel that resentment more accurately.
If you fancy exercising your loathing in an even more granular way, check out the study released last week which ranks the UK's 7,137 Middle Layer Super Output Areas (MSOAs) according to some kind of "quality of life" index. My street is 5100th.
Walk a few streets away and I'm magically transported 2,000 places up the list. On one level I'm outraged, but on another I know that it's meaningless; quality of life often has more to do with unmeasurables such as a sense of community.
But for many, these coloured areas on a sociologist's map are a trap, one where they're less likely to get a university degree or access to decent healthcare. Royal Mail didn't create the postcode lottery, but by releasing studies that encourage us versus them thinking, they're helping to saddle their beloved postcodes with a burden that they were never intended to bear.
Register for free to continue reading
Registration is a free and easy way to support our truly independent journalism
By registering, you will also enjoy limited access to Premium articles, exclusive newsletters, commenting, and virtual events with our leading journalists
Already have an account? sign in
Register for free to continue reading
Registration is a free and easy way to support our truly independent journalism
By registering, you will also enjoy limited access to Premium articles, exclusive newsletters, commenting, and virtual events with our leading journalists
Already have an account? sign in
Join our new commenting forum
Join thought-provoking conversations, follow other Independent readers and see their replies