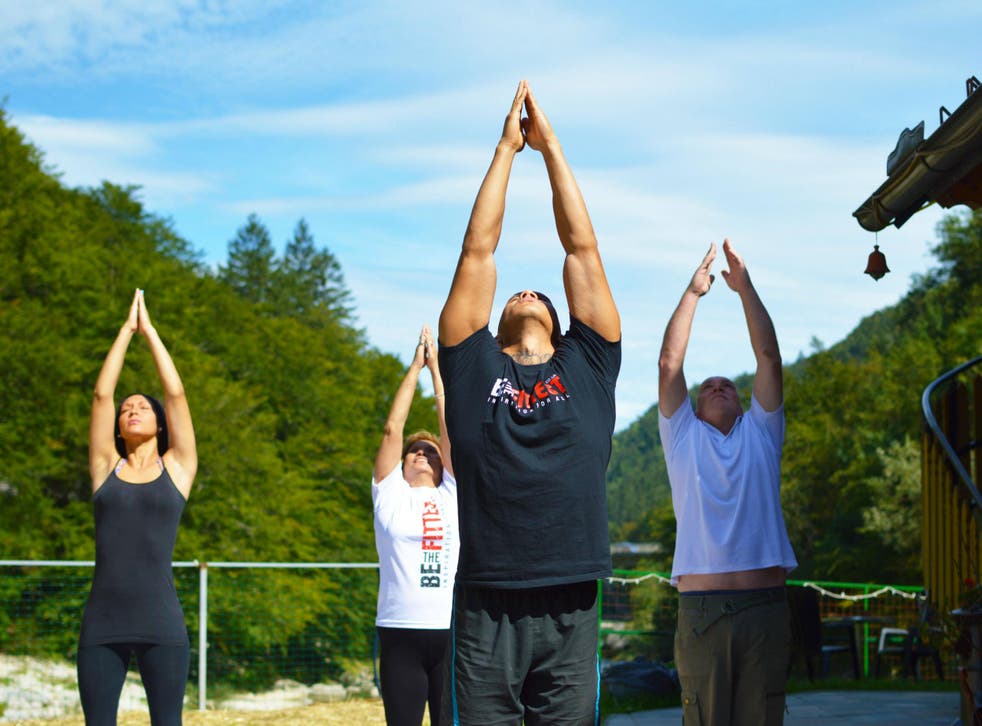 8 tips for getting fit and staying healthy throughout the year - without becoming obsessed
Celebrity personal trainer Tyrone Brennand shows Linda Sharkey how it's possible to get fit without fad diets and gruelling training 
The holiday season is long gone and you've probably started to regret the food comas and binge drinking, and have pledged to get to the gym.
But with orthoexia nervosa - the obsession with healthy eating and fitness - hitting headlines, how can you adopt a truly healthy lifestyle without becoming obsessed?
In the last four months of 2015, I tried to find out with the help of a fitness expert and celebrity personal trainer who revealed the most important ways to find the right balance for your body.
I learned that the key to a healthy lifestyle is staying motivated without getting hooked on fitness routines and strict diets.
London-based personal trainer and founder of the Be The Fittest service, Tyrone Brennand, warns me against the risks of falling for so-called "Hollywood health trends" and desiring to copy unrealistic bodies seen on magazines and social media.
"Becoming too obsessed with training and dieting can become detrimental for your health. It's important to remember that we all should exercise regularly and eat healthy to have a fit, healthy body and mind, to also feel good, but once we start becoming obsessed this can be a trigger to an adverse effect," he says.
He explains that getting hooked on being healthy might trigger addiction to performance enhancing supplements, hormones, unhealthy diets and cause eating disorders. The routines and diets you see online and on magazines might simply not be for you.
During my training sessions with Brennant, I begin to understand that it's all about finding the right balance, resting and recovering, and "listening to your body".
Watch Brennant put me through my paces below:
"Everyone has a routine that will suit them best but I think the best way of doing it is all about balance," he explains. "There are different sessions, intensities and volumes."
But on top of not abusing your body with workouts, it is important to stay balanced with what you eat.
"I think many people follow certain diets trying to achieve certain results but they do not know what their body needs or lacks and how it reacts to specific foods," he says.
"Trying to eat as clean and balanced (non processed foods, low sugars, not too much carbohydrates if not needed in your lifestyle, if so good carbs, low fatty foods). So eat the healthier types of foods in restaurants. Also eat in moderation - don't over fill yourself.
"Try and add good fruits and vegetables into your diet, making sure your diet is balanced so also having fibre and giving your body all the nutrients it needs.
So, combining exercises with a good diet is the formula for fitness - but what's the best way of getting back to training in the New Year?
"Listen to your body if you need a rest, and so rest your body. You are the best person who understands your body and what it needs," says Brennant.
"I think training from three to five days a week is enough to keep a healthy lifestyle. Whether you exercise for 20 minutes or an hour. If someone does train up to five days a week or more they must remember to keep it balanced with the type of training, volume and intensity to keep from over reaching and being at risk of injury."
He also recommends practising yoga inbetween training sessions. "The improvements and internal feelings I have got from yoga have been unbelievable, and have also helped me improve my other aspects of training."
All this sounds good in writing, of course, but putting it into pratice can be a bit challenging at the beginning, so if you're sweating already at the idea, I hear you. But, once you get the flow and realise what you can achieve, you will feel stronger, healthier and balanced: you will feel good.
And that's where personal training comes into action: with motivation and guidance while you're exercising.
"Energy", "no pain, no gain"… you've heard them all, but it really means something when you're breaking the sweat, your heart is beating so fast that you feel you're about to faint and you can barely catch your breath. Brennant motivated me with these words during his hour-long sessions - despite the phrases sounding cliched, they kept me going strong. He just wouldn't let me slack off.
But every drop sweat was worth it. I challenged myself in different routines, from circuits to boxing. In four months of training I realised I was capable of doing so much more than I thought. It's all about that feeling rather than trying to copy unrealistic, ripped bodies.
How Much Energy You Need To Burn Off 8 Junk Foods - in pictures

Show all 8
So, now we're all motivated, right. It's January after all. "New year, new you…" But how to keep yourself motivated thoughout the year?
"Instead of just trying to get fit for January, try and set yourself a two or three month goal at first," Brenant advises.
"Then set small target markers to reach and aim for per month or fought night, so you can see progression and keep on track but still have an end goal to aim for.
"Once you have reached the three month period and successfully completed that challenge then set another two or three month goal and follow same process. If you fail within this time then perhaps set smaller marker goals like every week for a month or so."
Join our new commenting forum
Join thought-provoking conversations, follow other Independent readers and see their replies