A terrifying encounter with the brutal world of dog-fighting

Show all 2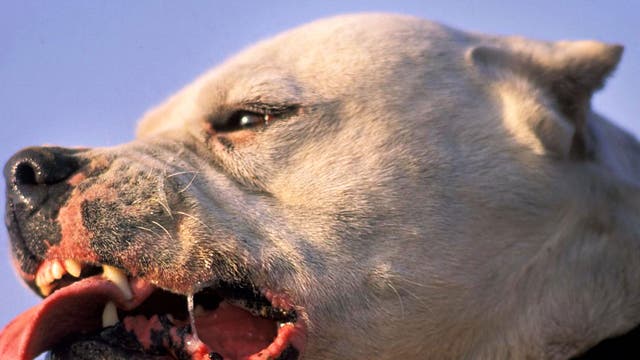 A terrifying encounter with the brutal world of dog-fighting
Young men are increasingly using dangerous breeds as weapons to settle disputes, earn money – and protect themselves
Chloe Combi
Monday 18 November 2013 21:00 Comments
The first thing that hits me is the smell. It's blood, unmistakably, despite the accompanying stench of disinfectant. It clings to the back of my throat and nose for a long time after, as if I'd spent the day sucking on an ancient penny.
There is also a tang of excrement and something else I can't place. Maybe the testosterone that has run so high in this room has seeped into the pocked walls as a permanent reminder of what has gone on here. When we leave, I spit and spit, hands on knees, and do that thing footballers and boxers do of pressing on one nostril and expelling the offending snot. No one seems to object to my unladylike behaviour. They do the same, but in a more practised manner.
"You should smell it fresh," Jake says sympathetically, kneeling slightly to be nearer my bent-double ear level. He hands me some gum. He then turns to his friends. "Wanna get some chicken?" he asks. They all agree and I want to laugh crazily at what seems, in the context, a vulgar suggestion.
You might say my being here today is the result of tumbling down a pretty nasty rabbit hole. I was curious about one thing and found quite another. I wanted to take a closer look at the ownership of unsafe dogs by young men. I expected to write an article on swagger and masculinity protected by furry, four-legged bouncers. I found something much darker where dog ownership was concerned, which is why I ended up outside a grim warehouse in east London expelling bodily fluids in front of strange young men. The only thing that would make this experience more grim would be to witness one of the dog fights held in the warehouse – which is illegal under the Animal Welfare Act 2006.
Another piece of legislation, The Dangerous Dogs Act 1991, explicitly prohibits the breeding of dogs for fighting or profit and particularly bans the ownership of four types – the pit bull terrier, Japanese tosa, dogo Argentino and the fila Brasileiro – without specific court exemption. It was passed in response to a spate of injuries and deaths caused by dogs, but there have, nevertheless, been 16 fatalities due to dog attacks since 2005 and the law is currently being updated.
For the boys aged 14 to 17 with whom I am now crammed around a fast-food table, dogs like these are symbols of so much: what they are (silly, irresponsible, sometimes violent) and what they wish to be (rich, powerful, higher up the food chain on the street). But owning vicious dogs is a trend that is potentially disastrous. Reported dog attacks have gone up 94 per cent in the past decade, with more than 6,000 injuries by the end of 2011. Dog-fighting is illegal and hidden, so there are no reliable statistics as to its prevalence – but it is a problem largely identified with built-up, urban areas, particularly housing estates.
As an RSPCA spokesman points out, "there is a pretty big divide between kids using dogs in an irresponsible manner for personal grievances and the organised fights occurring in the UK." However, he went on to say that the incidence of dogs being utilised for violence was growing alarmingly year on year. Indeed, it seems no coincidence that 50 per cent of the 6,125 dogs taken into Battersea Dogs Home in 2011 were bull breeds – legal and illegal – and the charity reports that many show signs of having been involved in dog-fighting.
My companions are consuming box after box of stuff that I doubt would qualify as chicken under the Trade Descriptions Act. I am still too nauseated, so stick to Pepsi and bewildered questions. The boys are all amenable to my questions. I've known them for quite a while now and, as is the way of all humans, they like a sympathetic, interested ear. Our relationship resembles something almost sibling-like, with all the teasing and taunting. When I casually mention a silly personal problem a bit later, they all offer– I believe quite seriously – to "burn down" the house of the person in question.
They all laugh uproariously, one of them slapping the steamed window in mirth and leaving a smear. "Are you fucking with me?" Jake asks. "Of course that's what the attraction of the mad dogs are. It's protection, innit. I'm not keeping Ali to fetch me no paper."
He makes short work of a chicken wing and considers me critically. "We've known you for a bit, right? You've been on our estate. You see many fucking Labradors?"
They laugh again, banging the table and the windows, and implore me to eat some chicken. "It smells better than the warehouse," Omar says cheefully. The smell of grease is settling delightfully with the rusty taste in the back of my mouth.
I ask what actually goes on at the warehouse and the mood changes. "Shut up," Jake says, looking around. "Not in here."
"OK," I say. "Can I ask, respectfully, if this is at all influenced by race? Is it more of a black or white thing?"
A lot of the (more simplistic) literature on the subject suggests that dangerous dog ownership – and especially dog fighting – is an import of African Americans. The most high-profile prosecution to date over a dog-fighting ring was of the American football player Michael Vick in 2007; he served 21 months in prison.
They don't all laugh this time, but look thoughtful. "It is and it isn't," says Gareth, who is white. "I'd actually say it's getting more popular with the white boys. You see a lot of them, especially with 'Rotties' [Rottweilers]. Black boys like the Staffs (Staffordshire bull terrier). East Europeans are cheap: they buy the shit dogs."
"Bullshit," Leon mutters, drawing weird patterns on the window. "Everyone wants Staffs. Even the Russians." He looks around. "That's where the money is... you know what I'm saying?" They all nod in agreement.
"So what are these dogs worth in monetary terms?" I ask. "Hypothetically, of course?"
"A lot," they chime.
"It's a proper business," Omar says. "I know men making enough money from dog breeding and it's all scientific and shit. When they're puppies, they get better fed than we do."
"But why?" I ask. He shrugs and looks at me like I'm mentally challenged.
"My brother just dropped two G [£2,000] on his animal. Why do you think?"
I look at him in astonishment. "What's it made out of? Platinum?"
This question provokes yelps of chicken-fumed laughter. "Only its collar," he says. "Nah, it's a mastiff bred with, er, two other things. Can't remember which. It's going to be deadly. It's not made out of platinum, it's made out of... death."
"Lovely," I say. "But why on earth would you want something like that in your house?"
Omar leans back and fiddles with his straw. "Look around you, sweetheart. This ain't fucking, er, holiday camp. That dog might save his life. Worth every penny."
"From whom?" I ask, knowing it's a dumb question. Every element of these young mens' lives is delineated by hostility: where they go, what they wear, who they meet, who they "roll with" and what pets they choose. It is a life so fraught that it's stressful even walking next to it for a few hours. It becomes a bit easier to understand the temptation to own a pet that provides you with a sense of security.
"How many of you own dogs like that?" I ask. Six out of 11 of them indicate that they do.
"Are they all legal?" I ask. There is a low murmur of laughter. "Eat some chicken, you nosy bitch," Jake says, winking.
A few days later, I am walking with Jake next to the river in Richmond, an area so middle-class and affluent that people here still associate the word "gang" with the Famous Five. Getting him here took some coaxing. He slid down in the passenger seat of my car as if I were a cop taking him off for questioning, rather than a reporter taking him for an ice cream.
"Damn," Jake mutters. "Playing 'spot another brother' could take a while here." I laugh, but have to concede – again – the wonder of a city that can be such a different place in just over 20 stops on the same Tube line.
We walk in companionable silence for a while. He seems deep in thought, but he's probably just enjoying the silence. The low, constant din of hostility – the insults, swagger and bravado – of his everyday life must sometimes be deafening.
"It's getting colder, man," he says, zipping up his jacket and gently pulling on Ali's lead. Ali, who trots by his side, is a stout Staffordshire terrier who, like his owner, seems to have a friendly but wary nature. Jake seems touchingly fond of him and named him after "his hero", Muhammad Ali. Even Ali seems quiet and content despite wary glances from other dogs and dog walkers. "I fucking hate the winter," Jake says. "Things mellow a bit in the summer. The hassle gets worse in the winter."
"Tell me about the warehouse," I say.
He shrugs and sighs. "It's all about the same thing. Whether it's shifting girls, drugs, guns or whatever, it's about power and the green [money]. Dogs are a massive part of road culture. They're used in drug deals, to pay off debts, to hurt people, for protection, to make money. The little kids want them. There's this eight-year-old two down from me who goes about with his own mastiff." He shakes his head. "That warehouse is long past use. If it was still operational, I couldn't have taken you anywhere near it, unless I wanted us both dead."
"So is dog fighting common?"
"Increasingly, yeah. It makes the organisers a lot of money. Of course it's gonna be."
"Is it a gang thing?"
He bounces his head from side to side. "Not exclusively. A lot of gambling, too. It's definitely a rival thing, but it's more sometimes when opposites sides come together and fight out differences with their animals. But it's not exactly about gangs. Its more about opposite sides. Could be colour, could be affiliation, but it's about the winning."
"And what's it like?"
He laughs humourlessly, kicking a stone. "The worst thing you've ever seen... nah, actually not the worst. That involved a person. But it's hell. Those dogs rip each other apart. Skin, bone, eye sockets, skull. And everyone screams and goes like fucking animal mental. You have to get out pretty quickly after, because there's always trouble between the owners and shit."
"So why on earth do you go?"
"Can't be seen to be weak," he says with a shrug. "If someone you have a beef with goes, you have to go, too."
"Do you have anything to do with the organisation of these, er, events?" I ask.
"No, I like animals."
"What would you do if someone hurt or took your dog?"
"That happens a lot," Jake says. "People taking other people's dogs. For debts, to settle scores, to fuck with people. My Dad gave me Ali. No one would fuck with Ali." He says it ferociously, like a mother protectively discussing her child. Later, back in Jake's area, we join his friends again. We sit on a wall and watch their world go by. Presently, we see a boy so small that he is being walked by a hideous-looking dog on a leash. If the dog decided to bolt or turn on its small owner, the child would have as much power to stop it as a grown man would a lion.
"Leroy," Omar yells. "What the fuck you doing with that animal?"
"My brother gave it to me. I'm gonna train it to be a killer," Leroy says, cheerily trying to keep up with the animal.
"It looks like you, you little shit," Jake shouts at the boy's retreating back and Leroy jauntily raises a finger without turning around.
The scene reminds me of one in Richmond. Jake is somehow managing to balance an ice cream, a cigarette and a leash in one hand while texting with the other. Something on his phone bothers him. He sighs and looks up, momentarily dazzled by the winter sun. An expensively dressed woman passes with a Dalmatian on a leash. "That's her kind of dog and Ali's mine," he says, then laughs and tosses away the cigarette.
"This ice cream is wicked. Ice-cream vans don't come to our area," he says, and gives the remainder of his cone to Ali.
All names have been changed
Register for free to continue reading
Registration is a free and easy way to support our truly independent journalism
By registering, you will also enjoy limited access to Premium articles, exclusive newsletters, commenting, and virtual events with our leading journalists
Already have an account? sign in
Join our new commenting forum
Join thought-provoking conversations, follow other Independent readers and see their replies