A tribute to Viagra and the sexual and social revolution that it ushered in
Pfizer's chemists stumbled upon it by accident. A happy chance that promised the earth for millions of men ... and delivered. This week, the brand loses its British patent, opening the door to rival providers, so Simon Usborne pays homage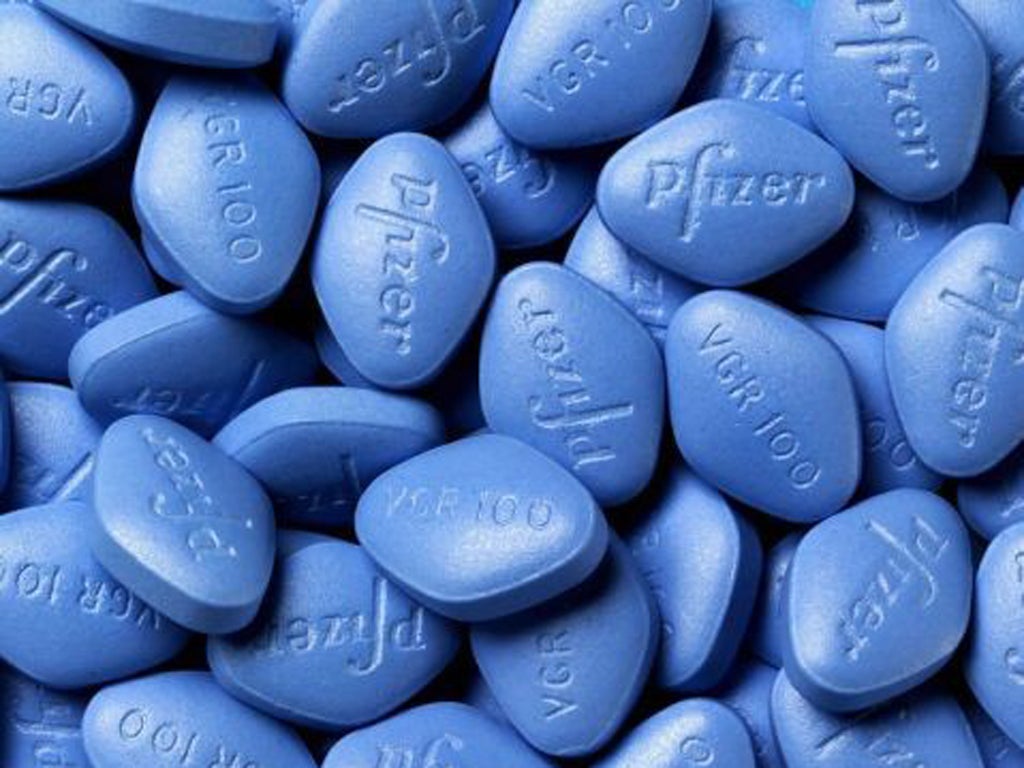 In 1991, something stirred in Swansea – and the earth moved. Volunteers at a hospital in the city were undergoing trials of a drug called sildenafil citrate. It had been formulated by chemists in Kent to treat angina, but patients reported an unexpected side effect: "marked penile erections".
The chemists worked for Pfizer, the pharmaceutical giant. It abandoned its heart research, which had been flagging, to create new trials involving pornography and a measuring device called the RigiScan. The results were startling – and the rest is history – but on Friday Pfizer's UK patent for Viagra will expire.
The drug will live on as "Sildenafil Pfizer" and a host of generic competitors. But as one of the world's most potent brands all but disappears, what has been the true impact of the blue pill that untapped a torrent of hype, hope and hysteria – and an unprecedented outbreak of schoolboy humour?
A trawl of newspaper archives reveals part of answer. The launch of Viagra in 1998 was as big a gift to editors and headline writers as it was men of a certain age with penis problems. Newspapers of all sizes went crazy for a sex story given urgency and currency by its links to big pharma, and an unfamiliar national conversation about impotence.
In the previous year, there was one mention of Viagra in The Independent and its Sunday sister – an introductory report of Pfizer's application for a licence, headlined: "A secret weapon to swell the male ego". In 1998, there were 318 such articles, or almost one a day.
Papers bulged with stories about celebrity pill poppers (Pelé, Michael Douglas, Jack Nicholson); heart attacks among older men adjusting to a new pace of life; a strike at Pfizer's French plant ("Viagra men down tools"); and a controversial experiment on ITV's This Morning (Judy: "The pills have gone down and now we will see what comes up." Richard: "Apparently it starts with a tingling sensation and ends in carpet burns.")
Viagra burst into popular culture, earning a storyline in EastEnders and becoming a synonym for potency everywhere. Charles Spencer, the Daily Telegraph's stage critic, described a bottom-baring turn by Nicole Kidman in a 1998 play as "pure theatrical Viagra". Sex did not even need to feature. In his 2000 book about the craft of writing, Stephen King said the effect of "judicious cutting" of text "is immediate and often amazing – literary Viagra".
But behind the headlines, euphemisms and sniggering at the back there were reasons why an accidental cure for impotence – the first that could be taken orally – could not have come at a better time. The effects of the sexual revolution caused by that other pill were starting to fade for many men. As early baby boomers became senior droopers, up popped Viagra.
"It suited the existential anxieties of 20th-century man," says Phillip Hodson, the psychotherapist and broadcaster known as "Britain's first agony uncle". "Out of his natural environment, his stress levels raised, working 24/7 while struggling to cope with the loss of the male-chauvinist empire. Viagra couldn't fail."
It was licensed in what this newspaper would declare "the year of sex", when the American series Sex and the City first hit TV screens, and three men made news thanks to their indiscretions (George Michael in an LA lavatory, Ron Davies, the cabinet minister, on Clapham Common, and Bill Clinton, in the Oval Office). Moralists tried and largely failed to resist the tide. As erections – real or elusive – became an everyday topic for dinner party conversation, nobody seemed to care where they went as long as they could get one.
"We are reaching the state of affairs predicted 60 years ago by Aldous Huxley in Brave New World," the author Henry Porter wrote in The Independent, citing a description in that book of Soma, its drug of universal happiness: "Old men in the bad old days used to renounce, retire, take to religion, spend their time reading, thinking. Now – such is progress – the old men work, the old men copulate, the old men have no time, no leisure from pleasure."
Viagra to the late Nineties was what Valium and Prozac had been in previous decades. "We have gone from searching for serenity to searching for stiffness," said Erica Jong, the American writer. And while most men admitted their problems to a GP in exchange for a prescription, the coincidental rise of online retail fuelled a black market free of any awkward questions at all.
The drug survived the hype because it worked (by inhibiting an enzyme that controls blood flow to the penis, by the way). According to Pfizer, more than 37 million men worldwide have been prescribed Viagra. And while its profile has faded slightly, it still made the company more than £1.3bn last year.
Carl Shakespeare is a consultant cardiologist based in London, who says it changed the way men think about health. Erectile dysfunction, he explains, can be the first sign of more serious problems. Studies show how patients have been diagnosed with hypertension, diabetes – even cancers – after first seeking a prescription for Viagra. "It unlocked the ability of men to communicate with a doctor because it offered them hope," Shakespeare says.
But the drug's reception has been far from uniquely positive. As Maureen Dowd wrote prophetically in The New York Times in 1998: "For each woman who celebrates Viagra, there's another who has nightmares about her 62-year-old husband undergoing a satyric transformation and chasing 21-year-old interns."
Viagra has enabled the affairs of countless married men with younger women, including the journalist Rod Liddle and the comedian Vic Reeves, who were both later divorced (Reeves after a tabloid exposed his fling with a 16-year-old stable girl). The wife of a 70-year-old millionaire in New York threatened to sue Pfizer during a palimony suit prompted by her husband's infidelity after four years of impotence. He had told her before leaving: "It's time for me to be a stud again."
Tracey Cox, a sex therapist, says Viagra has done little to benefit many women, whatever the testimony of Kim Cattrall, the Sex and the City actress, who has enjoyed its effects herself in and out of character. "It's frustrating in a lot of senses," Cox says. "When will companies run by men invest as much researching female arousal?"
Cox also believes the drug gave the impression that sexual dysfunction in men had been totally cured, ignoring the need for arousal (Viagra will do nothing without it) and other complaints such as premature ejaculation. "Suddenly, men thought anything could be solved by a pill," she says. "If only that were true."
Viagra has also been abused, by a vast global counterfeiting industry as well as by young, virile men and women, who take it recreationally, often in combination with other drugs such as cocaine or ecstasy. It was so expensive, at up to £10 per tablet, that soon after its launch, Frank Dobson, the health secretary, rationed its prescription amid fears it could bankrupt the NHS.
Its drawbacks and satyric philanders notwithstanding, Viagra often works in the way those fortunate chemists in Kent intended. Phillip Hodson recalls counselling a just-married couple in their early seventies who were worried not about dysfunction, but the effects of Viagra. "They asked if it was dangerous for her to be having multiple orgasms," he says. "That sums it up for me. They were overjoyed."
Goodbye Viagra, hello sildenafil
More than 20 Viagra alternatives from seven different countries will appear on the market within weeks of the blockbuster drug losing its UK patent next Friday.
The collapse of Viagra's monopoly will herald the arrival of copies under the drug's chemical name, sildenafil. Some will reportedly be available for as little as 85p per pill, although details are under wraps until after the patent, held since Viagra first went on sale in 1998, expires.
The Medicines and Healthcare Products Regulatory Agency has granted licences for sildenafil products to 19 companies from countries including India, South Africa, Germany and Greece, amid hopes that the new open season will cut prices and undermine the extensive black market for potentially dangerous Viagra imitators.
The regulator closed 18,000 websites selling illegal medication last year and has seized more than £19m worth of unlicensed drugs in the past three years – most of them erectile-dysfunction drugs.
Viagra maker Pfizer will retain a presence with its cut-price Sildenafil Pfizer. An MHRA spokesman said: "The introduction of generic sildenafil will hopefully decrease the influence of those involved in illicit supply of erectile-dysfunction medicines. The MHRA will continue to pursue these individuals."
Charlie Cooper
Join our commenting forum
Join thought-provoking conversations, follow other Independent readers and see their replies