An unusual love story: boy (formerly girl) meets girl (formerly boy)

Show all 3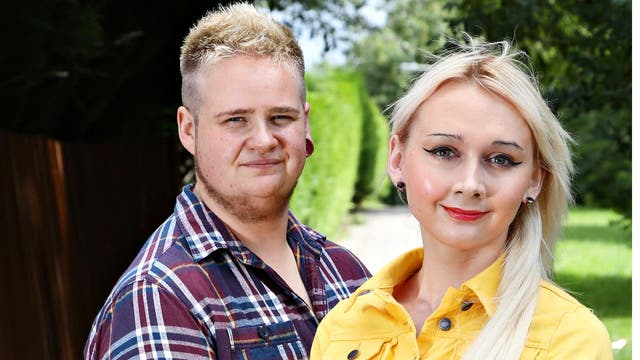 An unusual love story: boy (formerly girl) meets girl (formerly boy)
They look like any other happy couple – but each is going through gender reassignment
Kate Hilpern
Tuesday 20 August 2013 10:54 Comments
I first met Jamie Eagle and Louis Davies by chance and if, after the hour I chatted to them for, you'd asked me to describe them, I'd probably have just said they were a nice young couple, besotted with each other and warm and witty to talk to. What I would never have guessed was that they are both in the process of undergoing gender reassignment. Jamie, 20, who was born a boy, plans to marry her fiancé, Louis, 25, who was born a girl, although not before they've finished their respective operations.
I gasped when they told me. "Did I hear that right?" one twentysomething man said to me later. "But, but… she's gorgeous," he said, looking confused and uncomfortable, though also impressed. "No way!" his friend said, as if waiting for me to say I was joking.
The next time I met the couple, they'd gone public with their story, appearing on ITV's This Morning and talking to tabloids including The Sun. They have paid a heavy price, particularly Jamie, who has since received daily threats. "I can't go out alone," says Jamie, who is a student who lives with Louis in Bridgend in south Wales. "I mean, it's not new, me getting nasty comments, because I live in a small town. I've always suffered hate crime and have often been followed. But since the publicity, it can feel like someone shouts something from almost every car that drives past and I've had my fair share of internet trolls. I'm on antidepressants."
Yet they don't regret going public. "It's like gay people, black people and women," Jamie says. "None of these groups would have the rights they do if they hadn't fought to change negative stereotypes and perceptions. By going public, I feel like I'm doing my bit to help change history."
In any case, she adds, it hasn't all been negative. "So many people have told me I've inspired them and loads of people have come to me for advice, including parents of young children."
As young as three years old, Jamie remembers being attracted to girls' clothes and dolls. By 16, she was wearing girls' uniform and make-up to school, along with hair extensions. "People, including my family, assumed I was gay. But I knew I wasn't because even though I liked men, I saw myself as a girl."
Many transgender people say they were born in the wrong body. "But that's not how I feel," Jamie insists. "It's not the wrong body I've got, just the wrong parts. I literally hate my parts and tried to cut them off as a teenager. But with surgery hopefully happening within the next 12 months, that will change."
Also helping is the fact that in the past six months, Jamie has been on hormones preparing her for surgery. It's got rid of her facial hair and given her breasts, thicker and longer hair, and more curves.
Jamie's parents have found it all rather hard to stomach, she admits. "When I first transitioned, they found it very difficult. But they are in a better place than they were four years ago. My twin brother still struggles with it, although my sisters have been great. In fact, the first person I told when I had just turned 16 was my sister."
Louis also confided in his sister first. "I was 22, and had recently gone to see my GP to check I'd be supported to have surgery. I wanted to be sure of that before I told anyone. My sister was shocked, but really supportive."
Louis, who was named Samantha by his parents, can't remember a time he didn't feel like a boy. He loathed being called "pretty" or "beautiful" and he joined a men's rugby team, loved wrestling and skateboarding, and lived in shorts and T-shirts. "I was considered a tomboy, which I was happy with because it had the word boy at the end," he laughs.
But the bubble burst when he turned nine. "I was at basketball camp and most of the girls were teenagers. I remember seeing all their pubic hair and breasts in the changing room and bursting into tears. 'Don't worry,' they said. 'It will happen to you, too.' But that's what was making me cry. It was a defining moment."
Sure enough, puberty was the nightmare he'd anticipated and between 13 and 18, he resorted to drugs – everything from cocaine to magic mushrooms. Around the same time, Louis heard the word transgender for the first time. "I'd heard the word transsexual before because I'd grown up with Jerry Springer. But here was a word that didn't seem to describe sexual deviance, but how I felt as a person. It was also the first time I realised it was possible for someone born a biological female to change to male. It was both scary and liberating."
By 21, Louis had summoned up the courage to visit his GP and having told his sister of his plan, he then found it easier to tell others that he was going to change his name by deed poll to Louis. Only after two years of this so-called "real living experience" (of presenting yourself to the world in the other gender) can you have hormone treatment and eventually surgery, provided the relevant clinicians agree.
"My brother wasn't surprised. 'You've always been a brother to me,' he said, which was nice. My mother, on the other hand, had brought up a daughter for 21 years, so it was like a bereavement for her. But now she says she has lost a daughter but gained a son."
Turning up to work as female one day and male the next was the hardest part, he says. "One or two colleagues said, 'Good for you,' but most people didn't speak to me, I think because they were afraid of saying the wrong thing, and a few were unpleasant."
In 2011, aged 23, he decided to go back to college to study for a degree in business studies. "It was great – nobody knew me as anything other than a man. Even better news was that I got the go-ahead to start taking my hormones."
The physical changes were dramatic, including a change in his jawline, a more prominent Adam's apple, facial hair, body hair, and a deeper voice. "I realised I'd have to tell people at college what was happening, so I asked a friend who ran diversity workshops to give a talk at college."
The friend suggested that someone she knew who was also transitioning – Jamie – come along too. Louis recalls: "My friend and I were in the car when she said, 'Here comes Jamie.' I said, 'The one behind the blonde girl?' and she said, 'No, Jamie is the blonde girl.' I was stunned because she was so beautiful. Nervously, I asked her out afterwards to the cinema. When she turned up and said, 'Is this a date?' I realised that she felt the same as me."
Almost a year later, Louis and Jamie haven't spent a day apart and in March this year, they got engaged. "It's hard to be intimate yet because we are not yet comfortable with our bodies," Louis admits.
The couple are under no illusion that even highly educated people are not always accepting of them. Feminists including Germaine Greer have been quick to criticise transgender people for aiming to be masculine men and feminine women, thereby failing to challenge the social construction of gender. "The insistence that man-made women be accepted as women is the institutional expression of the mistaken conviction that women are defective males," she wrote in The Whole Woman.
But Jamie and Louis stand firm. "There's a lot of confusion about us and what we're about, but to put it simply, I'm a girl and Louis is a boy," Jamie says. Which is exactly what I thought when we first met.
Register for free to continue reading
Registration is a free and easy way to support our truly independent journalism
By registering, you will also enjoy limited access to Premium articles, exclusive newsletters, commenting, and virtual events with our leading journalists
Already have an account? sign in
Join our new commenting forum
Join thought-provoking conversations, follow other Independent readers and see their replies