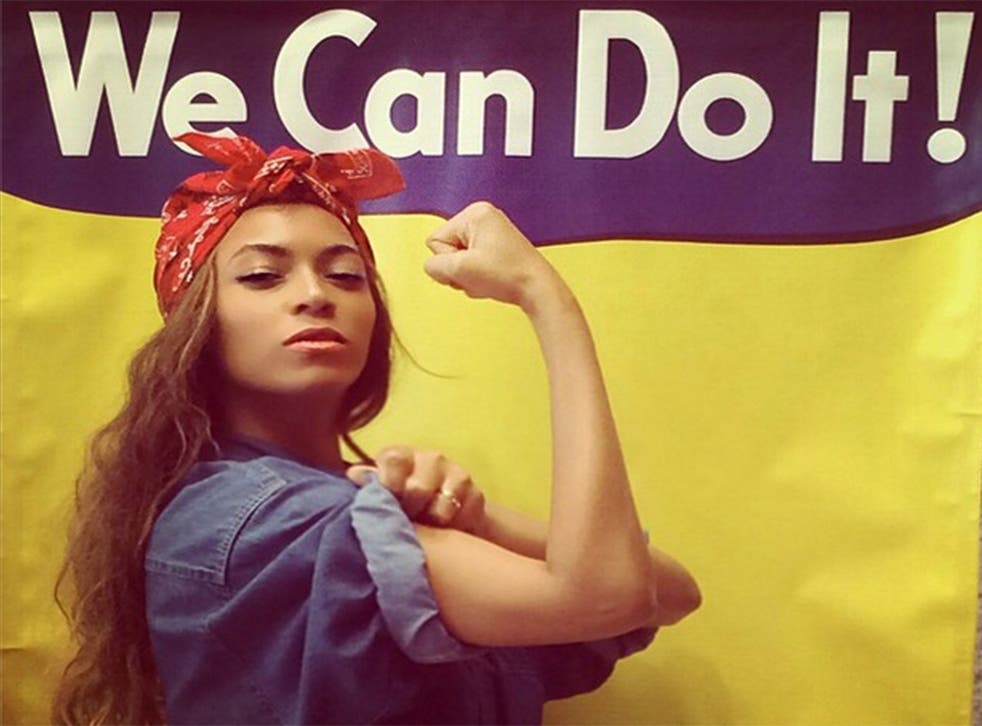 Beyoncé poses as Rosie the Riveter: the wartime poster girl who became a feminist pin-up
Beyoncé's picture of the ultimate American symbol of female empowerment quickly became the most popular photo on her Instagram account to date, amassing more than a million "likes"
Gillian Orr
Thursday 24 July 2014 10:19 Comments
With her red headscarf, brown curl and determined expression, Rosie the Riveter is the ultimate American symbol of female empowerment. Now Beyoncé has posted a picture to Instagram of herself dressed up as the Second World War poster girl. It quickly became the most popular photo on her account to date, amassing more than a million "likes".
Rosie emerged in the Forties to cheer on women who replaced male workers who had gone to war, and has captivated us ever since.
The term "Rosie the Riveter" first appeared in a 1942 song about an energetic female assembly worker, and any number of Roses, Rosies and Rosalinds who worked at aircraft manufacturers at the time have been attributed as the inspiration for the writers.
The famous picture, however, is said to be of Geraldine Doyle, who was working as a metal presser in Ann Arbor when a photographer visited and snapped some of the women. The image made its way to the graphic artist J Howard Miller, who reimagined it as a poster for Westinghouse Electric Company. Contrary to popular opinion, the image was not commissioned by the American government, and it was never intended for public view. It was only ever displayed on the walls of Westinghouse's Midwest plants in 1943 to boost morale.
Doyle discovered that she had appeared in the posters only in the Eighties, when they started to be used in connection with women's equality in the workplace. They subsequently became associated with feminism, and the image was incorrectly referred to as Rosie the Riveter. It has stuck ever since.
"It's become such an important image," says Deborah Coughlin, a former editor of the Feminist Times. "It shows a woman who is powerful, strong and working in a man's world. I'm not surprised that Beyoncé wants to embody all the aspects of that image because that's what she's trying to get across in her music and her career."
Bey joins a number of other women who have dressed up as Rosie in recent years. Pink, Parks and Recreation's Leslie Knope (Amy Poehler), and Marge Simpson have all donned the denim shirt and raised their arm in solidarity with female struggle.
Today, you can buy Rosie costumes in fancy-dress shops. Escapade in London's Camden does a nice line in Rosie outfits complete with denim shirt, wig, and knotted headscarf (bulging bicep not included). The store's manager, Luke Potter, says: "It's one of the more popular costumes. People really like Blitz parties and so a lot of women go as Rosie."
Emily Reynolds, who runs the feminist blog Diet of Broken Biscuits, was so taken with Rosie that she recently had her tattooed alongside the word "feminist" on her thigh.
"I thought that she was a beautiful way to represent my feminist beliefs," says Reynolds. "I love the 'power stance' she's doing; I feel like it really communicates something basic about feminism, even to someone who might not know who Rosie is. For me, feminism is about fighting. I know a little bit about her but it's less the specifics and more what she symbolises."
Coughlin agrees it's a shame that Rosie's story isn't better known, despite her image being widely associated with female strength. "It's great we have something iconic, but how iconic is it really? I didn't get taught about women like Rosie at school or university. But there aren't many female heroes so I suppose we're holding on to this one. Maybe Beyoncé will bring the image to a new generation. And maybe this time the next generation will know more about her than we do."
Register for free to continue reading
Registration is a free and easy way to support our truly independent journalism
By registering, you will also enjoy limited access to Premium articles, exclusive newsletters, commenting, and virtual events with our leading journalists
Already have an account? sign in
Join our new commenting forum
Join thought-provoking conversations, follow other Independent readers and see their replies