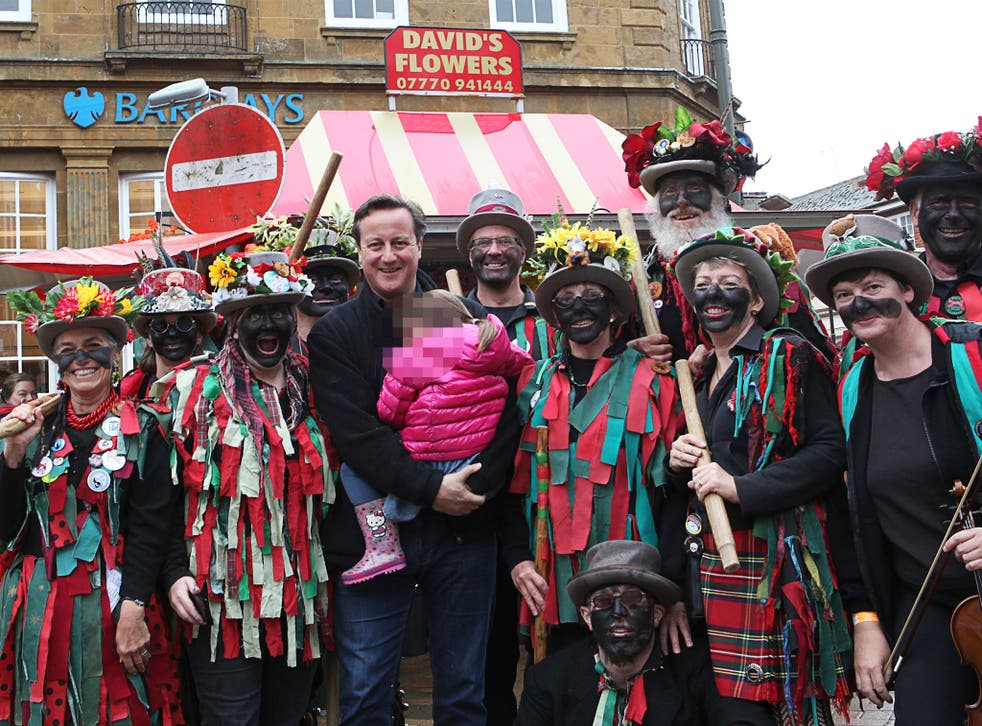 Black-faced morris dancers: Traditional disguise or simply racist?
David Cameron's photo with black-faced morris dancers sparked controversy this week, but its practitioners deny that the tradition is rooted in racism
Mike Finn is remarkably relaxed about his unexpected appearance in almost every newspaper yesterday, including in a photo on the front page of the Daily Mirror.
He isn't mentioned in any caption but tells me that he is the tall guy whose large, white beard contrasts with his blacked-up face as he smiles alongside the Prime Minister. "All credit to David Cameron for being such a good sport," Finn, 63, says from his home outside Worcester, alongside his wife, Ann, who had asked the Prime Minister to pose with the morris dancers during the Banbury Folk Festival in Oxfordshire on Saturday.
"No doubt he had had a busy week and had gone out with his family with the intention, I presume, of seeing a bit of normality, and quite happily seeing morris dancers, he accepted an invitation to have his photo taken with us. That's the real story here."
Yet the headlines printed yesterday were not "Busy PM takes time to pose with morris dancers" but "Cameron and black-faced morris men" and "Race row over morris dancers". Because, let's face it, blacked-up white people cut striking figures in modern Britain. So why do they do it, and why are Mike and Ann, who sound really nice, so sanguine about the photos?
First, some background. The Finns are part of Foxs Morris, a mixed group (or side) of dancers founded in 1999 in the Worcestershire village of Cookley. Finn is the side's secretary and unofficial photographer. Foxs is part of the Border Morris tradition also followed in Herefordshire and Shropshire, and in neighbouring Wales. Other regional morris traditions include "Cotswold" and "North-west".
Border Morris, as well as the East Anglian Molly dancers, and the Britannia Coconut clog dancers of Lancashire, use blackface. "From time to time, we do get people asking why, and they're always very happy with the explanation and we smile and move on," Finn says. "Sometimes we direct them to the available text, like the Border Morris page on Wikipedia."
But that page reveals an unclear history and various explanations. "The most popular one is that it is a disguise that allowed impoverished 16th-century farm workers who were unable to earn money during harsh winters to go out and do a bit of begging and not be recognised for who they were," Finn says.
But the other theories are more problematic. One traces the word "morris" to Moorish, and suggests the earliest performers were mimicking North African dancers. Studies of varying academic weight separately link the rise of Border Morris to that of American minstrel shows that launched the blacking-up-for-laughs craze of the 19th century.
According to these accounts, the minstrel shows that became ubiquitous in village halls across Britain began to influence other traditions. Morris dancers adopted "Not for Joe," a song that mentioned "niggers" and the Wild West, while morris dancing is recorded to have been referred to colloquially as "going niggering".
These accounts also suggest that minstrels gave morris dancing its enduring blackface tradition, but Finn prefers the disguise theory. "Talk to any morris dancer and nobody carries that feeling," he says. He also recalls occasions – a mixed-race wedding and a citizenship ceremony in Dudley – when his side has performed without causing any offence. "Border dancing is healthy and good fun, and brings joy to dancers," he says. "Trying to make an issue of some sort of minstrel past is tenuous, erroneous and unhelpful in celebrating this wonderful culture."
But the Finns are aware of how others could potentially mistake their motives. Finn, who has danced for 40 years, uses water-based make-up to cover the bits of his face that aren't beard. Other Border Morris dancers, including Ann, prefer a strip of black across the middle of the face.
Why less? "In deference to my daughter-in-law," Ann says. "She's very sensitive because she's a black American and is a bit confused by it because it's not an American tradition.
"I hate the way people leap to conclusions which are misguided. Among our audience on Saturday were a father and his three mixed-race children. They were really enjoying the dancing like everyone else. There was no offence, and if I thought for a moment there would be then I wouldn't do it."
Join our new commenting forum
Join thought-provoking conversations, follow other Independent readers and see their replies