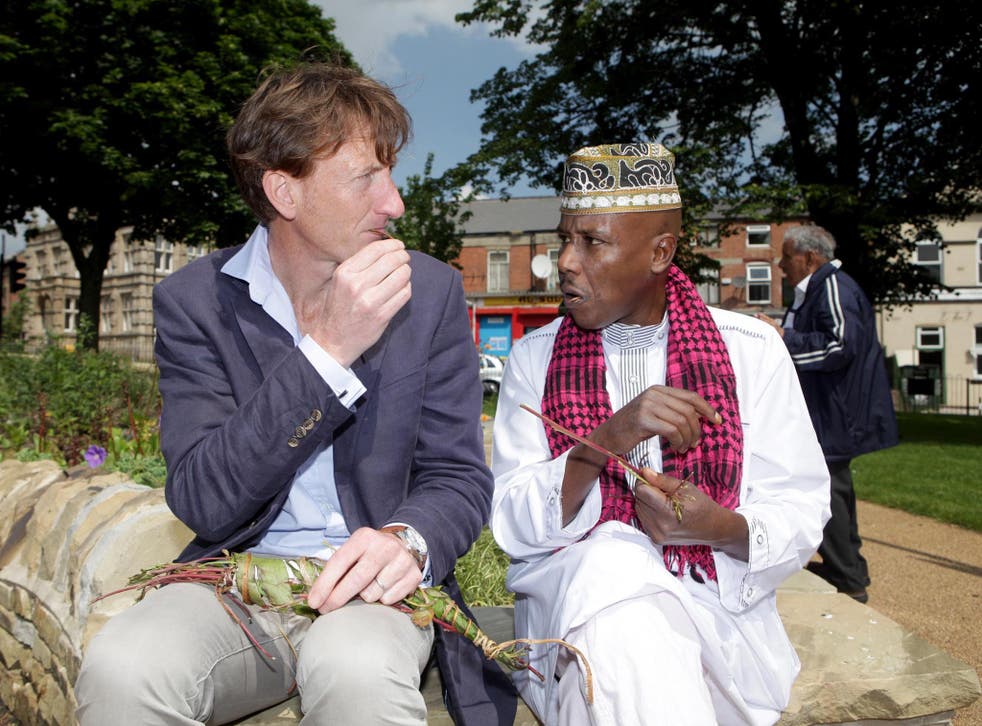 Chewing the khat: Sheffield's Somali community comes to terms with the ban of its favourite drug
Jonathan Brown gets high while he can with members of Sheffield's Somali community
Jonathan Brown
Friday 20 June 2014 17:17 Comments
With trembling fingers Abdul Fatah unties the banana skin holding the red-green stalks of khat and steadily pulls away the soft new shoots, discarding the leaves before folding them into a wad and starting to chew.
It is a busy Friday morning in a pretty public garden in Sheffield's Burngreave area at the heart of the city's Somali and Yemeni community, the largest outside London. Around a dozen men are stretched out on the grass, others sit on the benches chatting, or simply basking in the sunshine.
After about an hour the effects of the khat start to cut in – it is a subtle combination not unlike a gin and tonic mixed with a double espresso.
Occasionally a police car passes by. No one pays any attention. It will be a different story next week.
From next Tuesday the chewing of khat, a recreational drug consumed almost exclusively by Britain's immigrant populations from east Africa and Yemen, becomes illegal.
Whilst those caught in possession will first receive a warning then for a second offence a fine starting at £60, the ultimate sanction of supplying the newly designated class C drug could be 14 years in prison.
The communities are divided over whether the ban, implemented by Home Secretary Theresa May despite experts on the Advisory Council on the Misuse of Drugs concluding there was little social or medical harm resulting from its use. MPs have raised concerns that outlawing it could drive the trade into the hands of al-Shabaab. The Government, however, had feared Britain was out of step with similar bans in Europe.
But the chewers in Sheffield say whatever the rights and wrongs of prohibition, little has been done to prepare the way for many who will be forced to break the habit of a lifetime.
Mr Fatah, 38, unemployed, who suffers from depression, says he has been an "addict" for the past 20 years, spending around £9 day on three bundles which he buys from a local shop.
"Plenty of people chew it. To us it's exactly like coffee. It makes me feel nice and comfortable. It is not really a big problem but when it is banned people will start to drink and take other drugs and come out on to the street and there will be a big problem," he warns.
It is estimated that 10,000 bunches of khat are flown in from Kenya to London four times each week.
From there they are sent out communities in Liverpool, Birmingham, Leicester and Sheffield. One more delivery is expected on Sunday. "I'm going to buy a big box. This is the last time," shouts one women good-naturedly as she walks across the gardens.
On most afternoons local men gather above a restaurant to chew and talk about politics, watch satellite television and listen to music. For many it is the focal point of a disadvantaged community which first arrived in Sheffield in the 1950s to work in the steel mills, but which has increased in number with those fleeing the conflict in Somalia in the 1990s.
"You can spend 20 hours just sitting and chewing," says Farhan Jama, 29. "A single mother with five children, every night she is chewing until maybe five o'clock in the morning, but she doesn't wake up and the children miss school.
"It makes you paranoid and makes pressure on you; you can hear voices," he adds.
Ali, 46, a local bus driver and father of four, is on his way to work but stops off to join the discussion. He insists there is no problem with once a week use which he compares to going to the pub.
"I don't drink alcohol. I work six days a week – all my money goes to my children. I like to be happy on one day so I like to have a chew. It gives me energy, I clean the house, I take my children to the park, sit and talk with my wife. If I lose that day what will I do?"
Mohamed Hasan, 32, arrived in Britain from Somalia, aged 13. He started chewing khat when he was a teenager.
"I am hoping I will do better when I am not chewing. I used to play for Sheffield United under-16s but I fucked off my chances [because of khat] and since then my work has been on and off," he says.
"This is good for us. I will stop it," he adds.
Register for free to continue reading
Registration is a free and easy way to support our truly independent journalism
By registering, you will also enjoy limited access to Premium articles, exclusive newsletters, commenting, and virtual events with our leading journalists
Already have an account? sign in
Join our new commenting forum
Join thought-provoking conversations, follow other Independent readers and see their replies