Edwyn Collins: How I refound my voice following a stroke
Three years ago, indie music legend Edwyn Collins suffered two strokes which left him unable to walk, talk or sing. Here, he describes his dramatic renaissance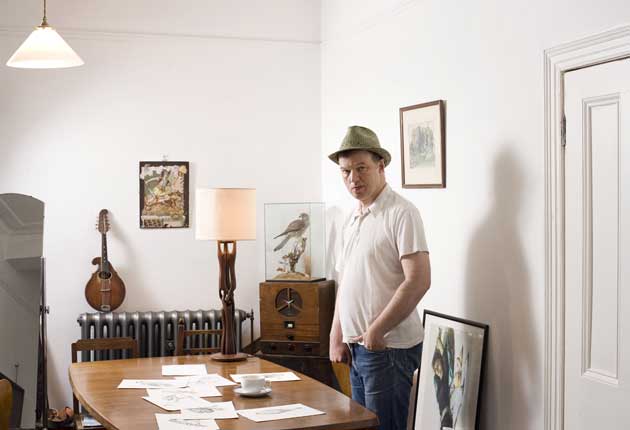 "What an experience. I love talking about my life," says Edwyn Collins. "It's been so thrilling." Perched on a sofa in his north London living-room, cup of coffee in hand and jaunty straw hat on his head, the musician is wading through the murky depths of his memory. More than anything, Collins seems excited by the fact that he can still remember his life at all. Three years ago, it was a different story: in 2005, two strokes – caused by haemorrhages in his brain, due to high blood pressure – left the Scottish singer dazed and confused in hospital, unable to walk, talk, or sing. And he was still only 45 years old.
"It was horrible," he says. "Humiliating and dehumanising. I was stuck in the hospital for six months recovering my dignity. And my nurse didn't like me. She was like Nurse Ratched." Slipping out of his fractured speech – a hangover from his illness – Collins mimics her: "'You be quiet, you hear? Be quiet!'" Both he and his wife Grace [Maxwell, see box, right] erupt into fits of giggles – something they do constantly throughout our interview. Laughing in the face of bad luck seems to be their coping mechanism of choice – and it has worked.
Edwyn Collins is nothing less than an indie legend. To most people, he's better known for his 1994 solo super-hit, "A Girl Like You" ("It changed my life," he admits), but he was also the frontman of the hugely influential cult 1980s Glaswegian post-punk group Orange Juice. But that was the "old Edwyn", as Grace calls it. Traces of him remain, but much has changed.
"New Edwyn" has dysphasia, meaning he talks in slow, disjointed phrases, with each word seeming to pop into his head as if by surprise. His grasp of tenses is muddled, but his comprehension seems razor-sharp. His right hand is permanently clenched into a fist, so his left hand has had to be coaxed into action (he is naturally right-handed).
Yet Collins couldn't be happier. He laughs jovially at recollections of his terrible time in hospital, shushes his wife when he thinks she's talking too much and talks with child-like wonder at his new-found lust for life. It's been something of a rebirth for the amiable singer, who admits he was "quite arrogant" in the 1990s. "Not any more," he says. "I'm quite simple now. I'm a nice guy, I think..." He pauses, smiling. "And an extraordinary guy," he jokes. "And masterful. Simple and masterful at the same time." Once again, husband and wife dissolve into laughter.
Collins suffered his first brain haemorrhage on Sunday 20 February 2005, at home in London. A few days later, he had another. After undergoing a life-threatening operation, he contracted MRSA and needed further surgery. It would have been easy for him to disappear quietly into the ether after his ordeal – a footnote in indie-music history that went terribly awry. For a time, Collins considered this future, going so far as to tell his wife he had retired. Instead, he underwent a dramatic renaissance. His sixth album, Home Again – recorded before his stroke – was released to acclaim in September 2007. The NME hailed it as a celebration of "an indomitable spirit and a huge old talent". A month later he achieved the seemingly impossible, by returning to the live stage with an intimate show at Dingwalls in north London. Although Collins has trouble speaking, singing is a breeze. He illustrates this several times, bursting from laboured speech to liquid song at the drop of a hat. "I have no idea why. Different thought processes, I guess."
Getting to that tiny stage in Camden took a lot of work. Apart from the various therapies he has undergone to improve his speech and movement, Collins had to relearn his entire back catalogue. Earlier this year, he went on a seven-date UK tour, which he wrote about on his MySpace page with heartbreaking sincerity: "I'm going back on tour. It's amazing to me. What an adventure it is. On stage I sometimes feel overcome with emotion. I will celebrate it, with my band. And my audience! Corny, but true."
These days, Collins' good friend Roddy Frame (of Aztec Camera) has taken over guitar duties on tour, but at home, the musician has come up with an ingenious solution for his disabled right hand – his wife is his right hand. The couple demonstrate for me – Collins plays with his left hand, Grace strums with her right. "There's a way around everything," she shrugs.
Music might have reconnected Collins with "old Edwyn", but another art form has become his lifeline. As a young man, Collins had a job illustrating booklets for nature trails. Post-stroke, his passion for sketching British wildlife has returned – though he's had to start again at square one, with his left hand. "It was therapy to me, I suppose. I got bored. I persevered, slowly. I'm not finished yet." The only human being that Collins has drawn is a shady character with twisted arms that he calls "The man" – who he drew literally hundreds of times while in hospital. Once again, he can't help but laugh at himself. "I don't know what the man is all about," he says. "But I was mad!"
Flicking through stacks of his drawings, it is easy to see how far he has come – from simple scrawls to elegant black-and-white illustrations of birds and mammals. Indeed, he is even staging a small exhibition of his work at the Smithfield Gallery in London.
Speaking to Collins, I am reminded of another stroke victim who found good fortune in his bad luck – Ken Walters, a middle-aged engineer who developed artistic talent after a brain haemorrhage in 2005. Walters is now employed by software giant EA Games to design characters for videogames. Collins, too, can see the bright side of his situation. "I'm lucky to be alive," he says. "The singer Frankie Miller had a stroke also, but he can't say a word. I feel sad about the guy. But I'm singing and communicating once more."
And now, he's looking ahead to the future. As his need for constant therapy wanes and his passion for work resurfaces, Edwyn Collins is looking forward to getting back to his recording studio in Camden Town. But first, he's going to have to turf out his friend Bernard Butler, who has been using the premises of late. "Bernard's taking over my studio," he jokes. "I want in!" Retirement, it seems, will have to wait. n
British Birdlife, by Edwyn Collins, is at the Smithfield Gallery, London EC1 (www.thesmithfieldgallery.com) from Tuesday
My life with Edwyn by Grace Maxwell
"Edwyn can't remember the first few weeks, but it hit me like a ton of bricks. At first we were fighting for Edwyn's life. When that passed, we had to find out where his memory and speech were at – none of it was good news.
"The difficult thing was trying to stop myself thinking about the future, because it was such an unknown. You don't get many eureka moments – but you have infinitesimal gains all the time.
"Once, a friend came to visit who's a bit of a know-it-all. He was pontificating about stuff and I saw Edwyn look at our other friend and raise his eyebrows.I thought, 'Brilliant! He gets it!'
"Another time, I played him a CD of his favourite songs and watched him dissolve into tears. At moments like that, I think, 'That's Edwyn.' He has accepted his condition entirely; I find it harder. I still have days when I want it all to go away.
"For a while he was quite passive and I had to initiate everything. He used to have a mega-encyclopedic brain – he used to know things in ridiculous detail. Never mind. It's still pretty damn good.
"He's much more assertive now and his self-belief has come back. It can feel a bit lonely sometimes, but he cheers me up. He's also relentlessly upbeat, which is brilliant." LS
Join our commenting forum
Join thought-provoking conversations, follow other Independent readers and see their replies