Female face shaving: Is it a good idea?
Some beauty experts have said it could have anti-ageing benefits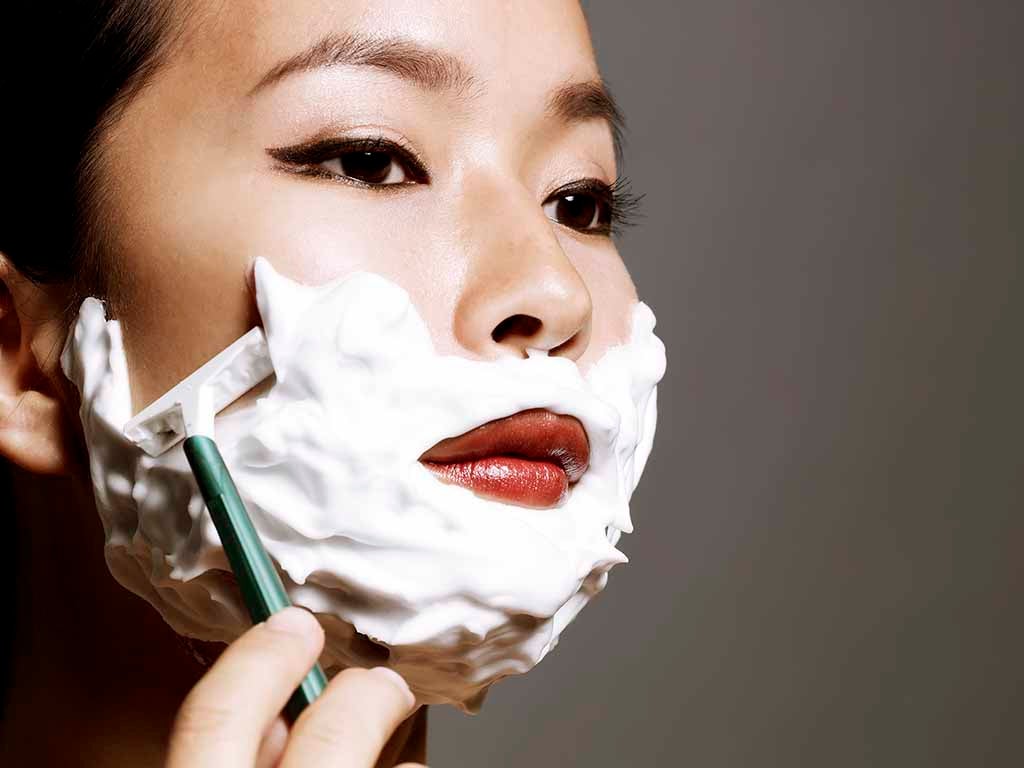 Let's face it, ladies have facial hair just like men do. But while most women have fair hair on their faces that is barely noticeable – usually short, light-coloured baby fine hair also known as vellus hair – many women with dark facial hair also seek ways to remove it by using the usual tried and tested hair removal methods of threading, waxing, and lasers.
According to recent reports, however, more women are shaving their faces, and some beauty experts even say it could have anti-ageing benefits.
Alexis Wolfer, editor of The Beauty Bean said on Byrdie: "It's definitely a thing, one reason men are thought to get fewer wrinkles is that they're constantly exfoliating their faces every time they shave, literally shaving away the outermost layers of skin and encouraging your skin to create new layers."
According to common beauty folklore, Elizabeth Taylor, Marilyn Monroe, and Cleopatra all shaved their faces. A quick online search reveals that many modern women do it too.
So should we start shaving our face to stop wrinkles? In an article for MailOnline this week, experts said women should shave their face, just as men do, because the daily ritual keeps skin youthful thanks to this exfoliating effect.
Dr Michael Prager, an aesthetic clinician with a practice in London explained to The Independent the benefits of shaving the facial area including exfoliation, skin growth and the slowing down of the aging process:
"Home shaving can stimulate collagen production in the skin due to the dermabrasive effect of the shaving action. This in turn has an anti-ageing effect as it is mainly the decline of skin collagen which makes the difference between younger and older looking skin."
"Fine hair can make the skin surface look less smooth as it obscures the skin texture and reduces skin translucency," he added. "Polished, porcelain looking skin is obviously desirable and a sign of youth and health. The added benefit of collagen stimulation will make fine lines and wrinkles disappear and reduce skin pore size".
Prager dismisses the idea that the hair will grow back thicker. "The hair growth is unaffected by the condition or length of the superficial, intrinsically dead hair. The hair producing follicle is in the dermis, under the skin's surface and whatever happens above skin level is of almost no consequence for the follicle. It might be the direction of growth or increased mechanical strength of the shortened hair which makes it feel thicker but that is not due to unregulated follicle action."
Website Popsugar pointed out a YouTube video by Michelle Money, a cosmetologist who demonstrates the method by shaving her own face. In the video she says "I don't care who you are ladies, you have hair on your face, and men don't like it, get rid of it".
Writer Kirbie Johnson said in response: "If you have facial hair and it doesn't bother you, get on with your bad self. Removing facial hair isn't mandatory. For me, it was something I wanted but didn't think was possible."
A different kind of razor is needed for the face to the body, however, such as micro razors, which are recommended.
According to New York mag The Cut, two of the best recommended micro razor brands are Shiseido and Tinkle razors. They have a sharp, notched edge, and they're meant to be used dry, as opposed to a standard razor, which requires shaving cream.
Dermaplaning, a method done in a professional dermatologist's clinic, is also known as blading. It is almost identical to regular shaving but is carried out by a specialist and can cost around £350. It removes some vellus hairs and can make the skin feel smoother.
Women with polycystic ovary syndrome (PCOS), which sometimes causes excessive hair growth – hirsutism – on the face, have also reported shaving in the past, before it became a fad.
Although doing it in the privacy of the home is reportedly growing more popular, shaving incorrectly can lead to cuts and wounds as well as Pseudofolliculitis, an inflammation caused by shaved hair growing back under the skin surface, known as razor bumps.
Speaking to The Independent, Dr Barbara Kubicka, aesthetic physician with the London's Belgravia clinic warned that: "Side effects such as razor burn can be quite unpleasant and the chances of shaving cuts and infection are high for those not accustomed to daily shaving."
So is shaving your face the new DIY chemical peel for achieving a younger looking face?
"For women, shaving the face arguably has some exfoliating benefits, but it is simply too harsh for female facial skin" explained Kubicka. "What's more, the top lip hair will appear to grow back thicker and coarser. This isn't actually the case, but the hair does look and feel rougher as it grows back blunt, rather than naturally thinner at the ends."
Kubicka suggested that with regards to the exfoliating benefits, for regular exfoliation at home, a basic natural scrub, designed for facial use, is a far more sensible alternative to shaving.
Join our commenting forum
Join thought-provoking conversations, follow other Independent readers and see their replies