Fitness trends 2015: Cardio tennis, foam rollers and shaking it like Beyoncé
Forget Zumba and spinning, Gillian Orr discovers how we'll be working out in 2015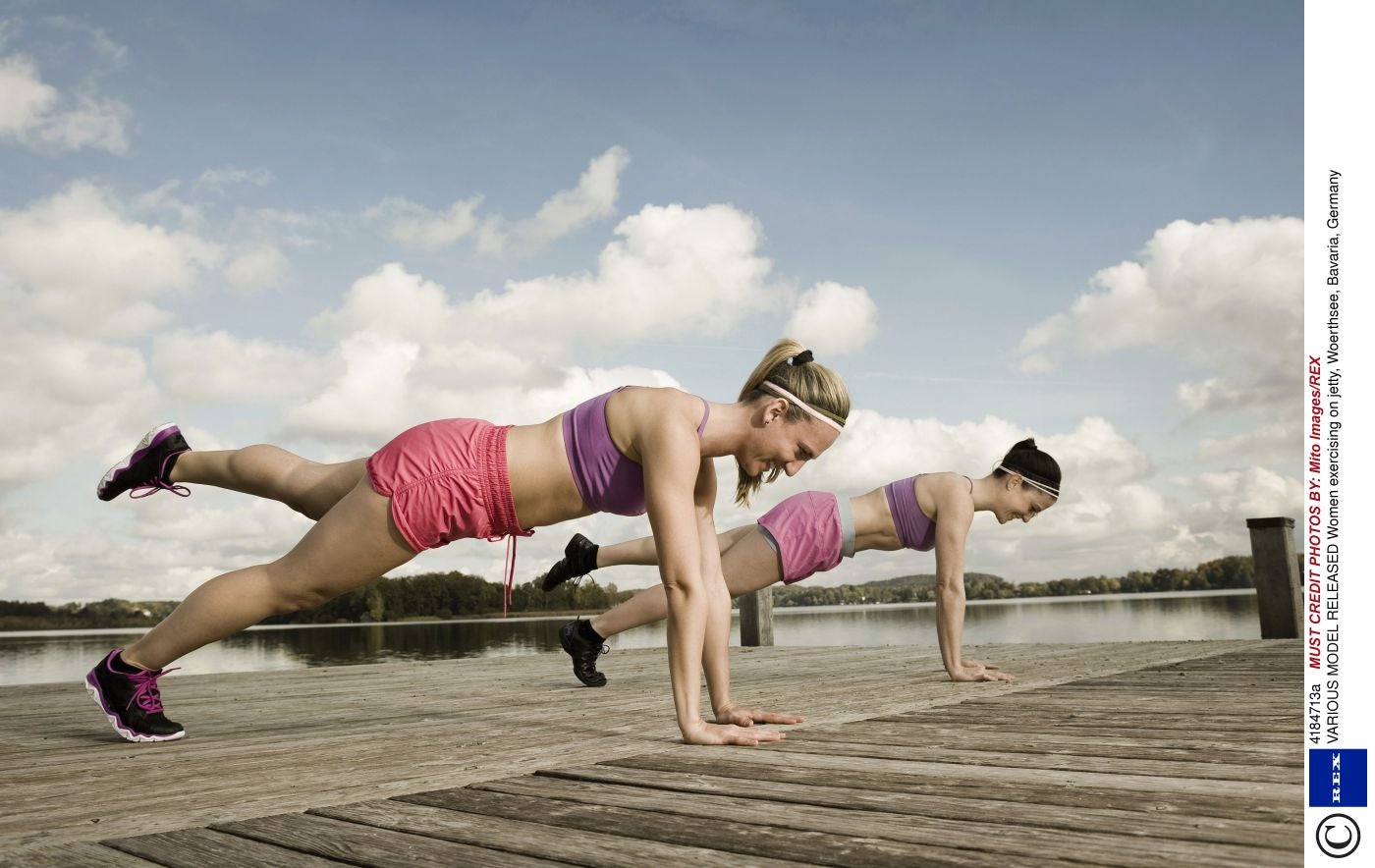 Bodyweight training
Good news for those whose bank accounts took a hammering over the festive period. Bodyweight training requires no fancy, expensive equipment, merely, well, your own body weight. The American College of Sports and Medicine's worldwide survey of fitness trends for 2015 has listed squats, lunges, push-ups, burpees and planks as the No 1 fitness trend for the coming year.
But just because no machines, dumbbells or weights are required does not mean it's easy. These movements are some of the most efficient ways to get in shape and strengthen muscles – so they are certainly intense.
"What's changed in the industry, in my opinion, is the rise of social media," says Mckenzi Sager, a London-based personal trainer. "Instagram, Twitter and Facebook are so prevalent that it's changed the average person's opinion of what a good body looks like. Five years ago, there was a standard of what looked good and now it's way higher as more people follow fitness accounts for inspiration.
"Because the standards are getting higher, people are on a quest to get better results. Bodyweight training is quite a general term but it's effective. Burpees, for instance, are exhausting."
Better still, this sort of training can be done practically anywhere from the living room to the park. Just make sure that you make some time for cardio for a full-range workout.
Shake it like a superstar
If you prefer your workout with a dollop of sass, then look no further than Seen on Screen. After realising that there were no classes that showed you how to shake it like your favourite pop stars, Bonnie Parsons, founder and former backing dancer, decided to start teaching classes in which you could learn the routines in famous music videos such as Beyoncé's "Crazy in Love" and Britney Spears's "I'm a Slave 4 U".
It proved a huge hit, and sign-ups for 2014's classes tripled. Due to high demand, they are opening a new centre in Manchester this month. But if you don't live there or in London, copycat programmes are popping up all over the country. Inspiring women to have self-assurance is Seen on Screen's calling card. This month they will also introduce their "Girlboss" classes in which women will learn the fierce routines seen in Destiny Child's "Independent Women" and a host of other bold tunes, while smoke machines, spotlights and wind machines inject some glamour.
"Women are bored and uninspired by the prospect of going to the gym and motivating themselves to run on a treadmill," says Parsons. "We're able to build self-esteem and confidence just as much as we are able to build dance technique. The fitness benefits from dance are a brilliant bonus to this, but really it's about having fun and feeling like a superstar."
Say yes to fat
Raise your arms and do a little dance because fat is back. While low-carb diets will remain popular this year, goodwill towards low fat is going sour, like a sad, little out-of-date 0 per cent yoghurt. The respected annual "What's Trending in Nutrition?" survey from Pollock Communications and Today's Dietitian magazine predicted that consumers will be welcoming back fat with open arms. It may be an American survey, but since our food and diet trends are so intertwined, you can bet on a similar outcome this side of the pond.
But let's not get ahead of ourselves and hold off on that celebratory jug of cream for now. Unlike the Atkins diet, which encouraged followers to wolf down enough cheese and butter to make Henry VIII squirm, this is all about choosing the right sort of fat. So you are looking at plenty of oils, avocados, eggs, and so-called fatty fish such as salmon and mackerel. And carbs are encouraged. People are simply growing bored with fad diets.
"We found that dieticians are making recommendations that align with current guidelines for reducing the risk of cardiovascular disease from the American Heart Association," explains Jenna Bell, the director of food and wellness at Pollock Communications.
Put down the goji berries and stock up on seeds and nuts, too, as most registered dieticians named these as the superfood that will reign supreme in 2015.
Let's get digital
Our lives are becoming further reliant on technology, and keeping fit is no exception. There are oodles of GPS fitness-tracking apps and more and more integrated ways to measure fitness, including biometric wristbands such as FitBit Flex and Nike Fuelband.
Gaming has also become popular among regular exercisers, so former gym bunnies have entered the world of points, levels and leaderboards, connected via technology, to raise competitiveness among users. It applies video-game mechanics to engage and motivate people to achieve their goals and has been spotted as a serious trend by the Sport and Recreation Alliance. Fitocracy, for instance, is an online game and social network that allows people to start following other users, comment on their sessions and even play against others, whether it's skateboarding, running or cycling.
Then programs such as BitGym for iPad will make the dreary cardio machine you are working out on a bit more interesting by showing interactive roads and trails from all over the world, which is surely a better view than a sweaty behind (if you're at the gym) or the bookshelf (if you're at home).
Meanwhile, many are logging on for fitness classes, whether it's simply through YouTube or via a website dedicated to offering lessons, such as Esther Ekhart's yoga website. So even if you're loathe to leave your house in the freezing weather, there's now no excuse to sit around watching Netflix.
Cardio tennis
Following the success of other hybrid classes such as boxercise and spinning, now comes cardio tennis, designed to be a workout rather than just improving your backstroke. Developed in the USA in 2005 as a result of a fall in interest in the sport, the Lawn Tennis Association launched it in the UK in 2013. Cardio Tennis is a series of tennis-based drills and activities played to up-tempo music on a tennis court. According to the Sports and Recreation Alliance, the classes now run weekly in 850 venues around the country with 10,000 participants and look set to grow this year. Not only is there a focus on social interaction and fun but participants can expect to burn more calories than playing a regular match, over 600 an hour.
Hiit
Why spend an hour working out when you can get it all over and done with in 20 minutes? Standing for high intensity interval training, Hiit is a series of short, intense exercises with a less intense recovery time, for instance sprinting for 100m then jogging for 200, or jumping rope for three minutes then resting for one, depending on how you like to work out your ratio. And Sager again suggests that its popularity is to do with people's obsession with Instagram accounts that showcase the perfect abs.
"People are going to more and more extreme methods to get super lean and conditioned and change their bodies and Hiit is one of the methods that a lot of people use because it's superior in terms of losing fat and getting leaner a lot quicker," says Sager. "Just about everyone who is in good shape in the industry is doing some form of Hiit. The downside is that it's tough on the body. But it is effective."
Hiit is not for everyone, though. "It's for those at a bit more of an advanced level," warns Sager. "I've seen out-of-shape people come in and try to do Hiit training straight away and it's just too tough."
Recovery
As the popularity of high-intensity workouts soars, people are also starting to get sore. The pressure of Hiit and its ilk can mean that people are more susceptible to injury. Which is why there is a new-found importance being placed on recovery – this year's buzzword – and there has been a rise in classes such as restorative yoga and self-myofascial release (soft-tissue therapy) methods that also include massage balls, foam rollers, ice baths and massage, all of which physical therapists and professional athletes will be familiar with.
"You can expect to see this trend in large gyms and smaller studios, with more classes that focus on stimulating flexibility, restoration, and myofascial release," says Carol Espel, senior global director of group fitness and pilates for Equinox.
"These techniques can help promote recovery and enhance overall sports performance and longevity in training, whatever your goals might be."
The recovery phase has long been an important (but too often ignored) part of a workout. But these strategies speed up and optimise recovery and rebuilding, meaning you are less likely to tear, pull or anger anything that might end up putting you out of your new-year regime altogether.
Join our commenting forum
Join thought-provoking conversations, follow other Independent readers and see their replies