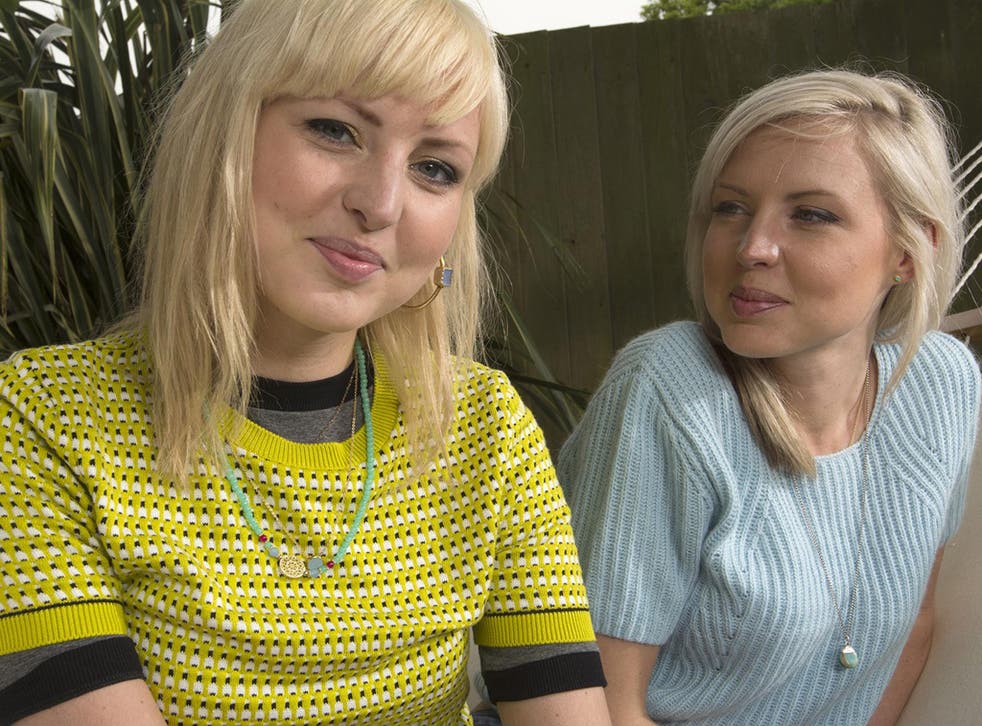 Founders of 'boob checking' charity Coppafeel aim to put cancer on the curriculum
Twin sisters Kris and Maren Hallenga set up the charity when Kris was diagnosed with incurable breast cancer at the age of 23
Chloe Hamilton
Thursday 05 June 2014 22:06 Comments
Like many identical twins, Kris and Maren Hallenga hold themselves in the same way, crossing their arms across their chests as though protecting their tiny frames from the slightest breeze. Their matching smiles are toothy but beaming as they welcome me at Truro station, where I meet them on a mild May afternoon.
A twin myself, I recognise instantly the subtle interactions between the two 28-year-olds. Kris greets me with a hug, while Maren hangs back next to the car, letting her sister take charge. As we drive to a quiet café, Kris is the first to strike up conversation, with Maren chipping in occasionally as she searches for a parking spot.
As similar as the sisters are, one enormous difference lurks beneath their bright blonde hair and bubbly enthusiasm. Kris, who is seven-minutes older than her sister, was diagnosed with breast cancer when she was 23. A week later, she learned her cancer was incurable. She has stage 4 cancer and, as she so frankly puts it in her forthcoming documentary, Kris: Dying to Live, there is no stage 5.
We settle down to chat and I quickly learn frankness is the norm with these two. The pair, who set up the charity CoppaFeel two months after Kris's diagnosis to encourage young girls to check their breasts for lumps, recently teamed up with The Sun to launch the "Check 'em Tuesday" campaign, using some of the most famous breasts in Britain to spread their boob-checking message.
It was a decision that led some charities and anti-Page Three campaigners to accuse the pair of sexualising the disease, trivialising the emotional and physical damage that breast cancer can wreak. I ask whether they ever worry about alienating charities that have backed them from the beginning. "We don't need everyone to agree with what we do," Kris says. "But if Page Three is here to stay, then we're going to use it for something good.
"We've had one lady come forward, an avid Sun reader, who because of the campaign has now been diagnosed with breast cancer. That's gold, right there, and should shut anyone up," she adds. As if to temper her sister's fiery response, Maren pipes up. "We talked to a lot of people, other breast cancer charities and our supporters," she says. "We didn't go into it lightly and we didn't make the decision overnight, but it was something that we couldn't not do given the huge audience we were going to be speaking to."
These girls don't take any crap, especially not from the disease that will one day claim Kris's life. They take their message to music festivals across the UK and have set up their own "FestiFeel" to show young people that "boob love rules". They're even off to Parliament at the end of the month to talk to MPs about putting cancer awareness on the school curriculum.
"It's a tough nut to crack but that's the ultimate aim," Kris says.
It is difficult to tell which twin is actually sick as they chatter animatedly about the charity, their childhood and the future. I'm initially wary about mentioning the dreaded F word. When you have stage 4 cancer, how far do you plan ahead? "We talk about exciting things that we have to look forward to, like holidays," Maren says. "But we don't tend to plan things too far in advance."
"But then we never have," Kris says. "We've never been like, 'so you're going to have five kids and I'm going to live in the granny flat in the garden'. That's never really been us, so we wouldn't change now."
But things are changing. In March, Maren got engaged to her partner of eight years, Graham. She stretches out her ring finger to reveal the new jewel, a smile spreading across her face. Unsurprisingly, Kris was the first person with whom she shared the good news.
"I was so excited, I thought I was engaged," says Kris, glancing at her sister and giggling. Kris isn't dating anyone at the moment ("I'm seeing my cat!") and I ask whether she finds it difficult to watch her biological double casually tick bullet points off the growing up To-Do list while she tussles with hospital appointments and hair loss.
"It's not really jealousy," Kris says. "There's never really a situation when you can hold these things against each other because it's just as tough for the other person – she's just not feeling the physical effect of it. It's more of a mental thing for her."
And when the treatment stops working? For the first time in our interview, they seem lost for words. "We never go 'what if', or discuss what would happen," Maren says.
"Because there isn't anything to discuss," Kris says. "It just happens. We're so conscious of it happening, that's enough."
Until then, clichéd as it sounds, the sisters seem determined to cram as much as they can into the time they have left together: planning Maren's wedding, furthering the charity, making sure every young girl checks her boobs, and having a hell of a lot of fun along the way. As Kris says, you can't polish a turd but you can roll it in glitter.
'Kris: Dying to Live' is on BBC 1 on Sunday at 10.55pm"
Register for free to continue reading
Registration is a free and easy way to support our truly independent journalism
By registering, you will also enjoy limited access to Premium articles, exclusive newsletters, commenting, and virtual events with our leading journalists
Already have an account? sign in
Join our new commenting forum
Join thought-provoking conversations, follow other Independent readers and see their replies