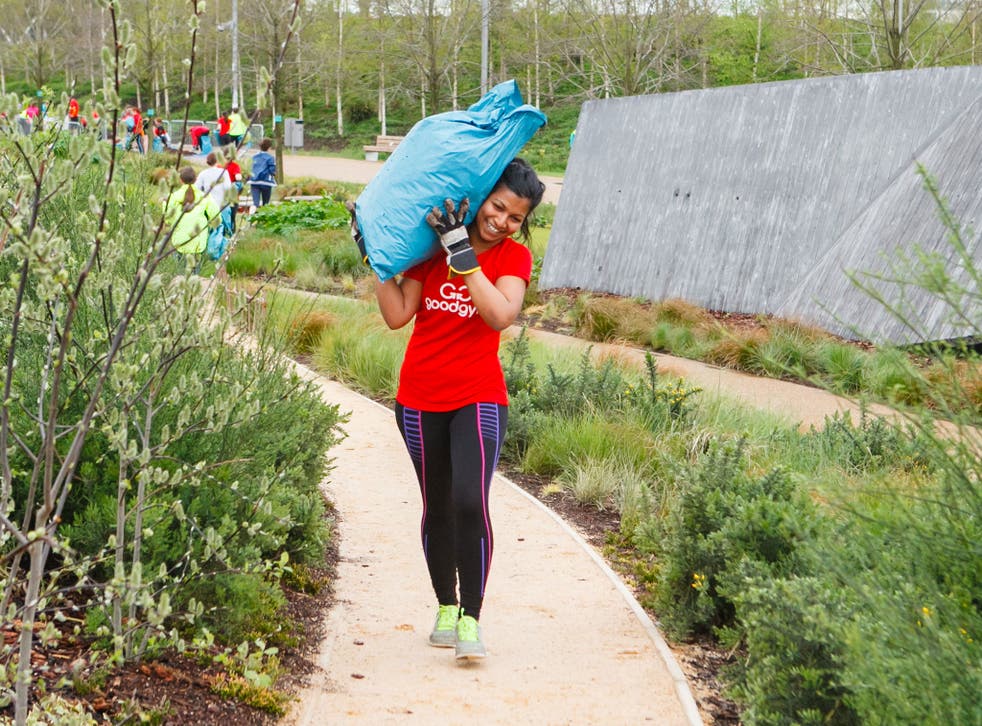 GoodGym helps members get fit while helping their community
Why burn energy in the gym when you could harness that effort to spruce up public spaces, or visit lonely pensioners? Charlie Gilmour joins a growing crew of sweaty do-gooders
A sweat-drenched crew of joggers advances on Hackney's Wilton Way estate, pickaxes and pitchforks in hand. They've come to clean up.
"These flowerbeds used to be notorious areas for hiding drugs and weapons," says Wilton Way resident Debbie Mitchener, 43, as the joggers set about them with their tools. "I personally found two meat cleavers and four chefs' knives at least 9in long. What this lot do is come in and clear an area, doing the donkey work for the community to build on."
The joggers, all Hackney locals, are part of an organisation called GoodGym – a running club with a difference. "When people are pounding a treadmill or lifting weights, all that energy is lost," explains Hackney co-ordinator Joel Wiles, 33. "Today, we're helping the community to grow and strive while doing essentially the same thing."
The GoodGym concept started in 2009, when filmmaker and social entrepreneur Ivo Gormley (who, incidentally, is also the son of the artist Sir Antony) decided to use his desire to get fit to reach out to the old and the lonely.
Health news in pictures

Show all 40
"I wasn't doing any exercise and didn't really like the idea of a gym," says Gormley, 33. "There are always people lifting loads of things that don't need lifting and running nowhere on treadmills. It seemed like a bit of a waste, so I started running to deliver the newspaper to an isolated older man called Terry."
Today, with 1,300 regular participants and 20,000 registered runners, GoodGym has grown to become one of the most popular running clubs in London. As well as visiting the old, its members form "running flash mobs for good" that boost local charity and community projects.
"It's so exciting to know that pretty much every night there's hundreds of runners running to do something that makes a difference to people's lives," says Gormley. "But there's so much more that needs to be done. A million people say that they are always' or 'often' lonely and we'd love to be able to reach more of them."
With a forthcoming collaboration with the Southbank Centre, Gormley hopes the GoodGym project will expand into the national consciousness.
"We're already in Bristol and Bath," says Gormley, "and we're aiming to be in every major city in Britain within the next two years. We've got 5,000 runners signed up in places where we haven't even started yet – there are people in Cardiff, Glasgow, Newcastle, all saying that they really want this to happen. It's not the solution to everything. We're not going to fix isolation and loneliness, but we really want to make a big contribution. We've got a model that works."
Intriguingly, the older people visited by the GoodGym-ers are referred to as "coaches".
"They're the ones getting you out running and inspiring you," says Kevin Nugent, 33. "So they're your coach. There was one day when it was snowing outside and I was like, 'Am I really going to go running in the snow?' But Connie was waiting for me, so I just had to man up and get out there. I wouldn't let her down lightly."
The question remains: do old people actually like having their homes invaded by sweaty do-gooders? "I did always turn up sweaty," admits Kevin, "but she said it made a huge difference for her. When I said I couldn't visit her any more, due to becoming a father, she was offered to go back on the list and be paired with another runner and she said it wouldn't be the same and that she was feeling a lot happier in general. She said she would like GoodGym to be able to help more people like her."
Back on Wilton Way, the community garden is starting to shape up. In just 30 minutes, a polytunnel has been cleared and no fewer than 47 slabs of concrete have been laid.
"It's a genuinely good use of your time," says Gormley. "You can exercise and help someone else at the same time. You get a double hit of endorphins and positivity."
GoodGym will be running from the Southbank Centre every week from 5 December; goodgym.org
Join our new commenting forum
Join thought-provoking conversations, follow other Independent readers and see their replies