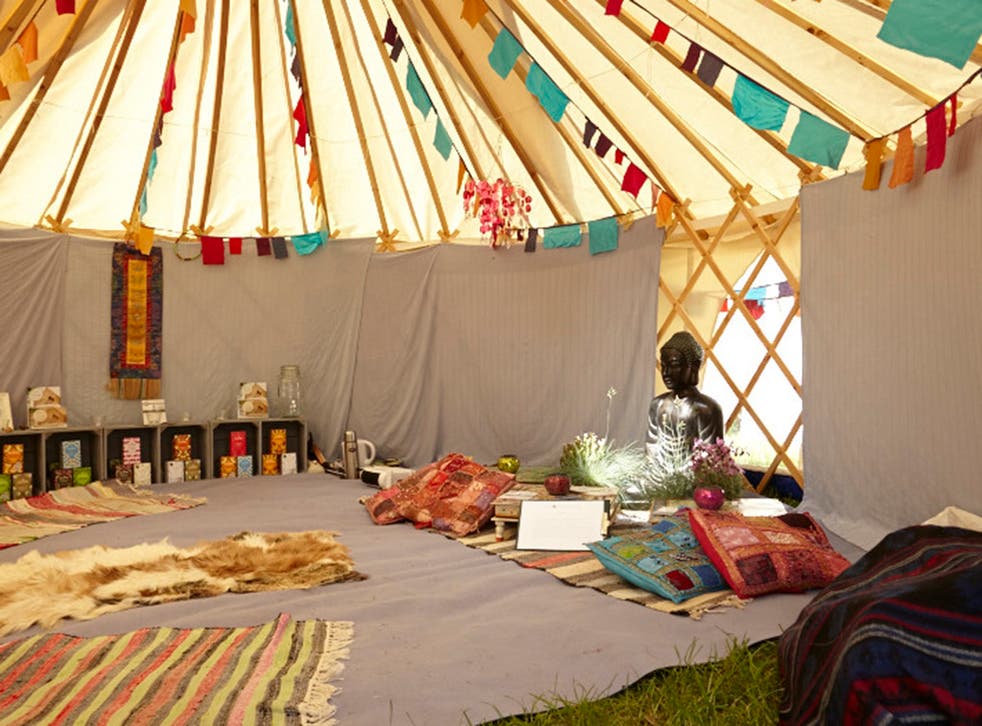 Happy Campers: Why this summer's festivals are focusing on wellness, not getting wasted
"We can't afford to go back to work feeling terrible anymore, we don't have time for that"
A festival should be the perfect way to get away from it all - a taste of the great outdoors, the ultimate escapism. But with hedonism inevitably comes a sore head, not to mention soggy wellies and a streaming cold on your return to the office on Monday morning. Many of us have long ago hung up our glowsticks, sure that there must be better ways to have fun than drinking cans of cider in a waterlogged field, and adamant that meat should NEVER be purchased from a van. But those in the know are returning from festivals tanned, happy and glowy, thanks to a shift towards wellness on the campsites.
There has always been an element of hippydom in the festival scene. We hark back to the days of Woodstock by literally donning rose-tinted specs, as well as kaftans, floral headbands and an indecent amount of fringing. The new wellness areas, however, are far slicker than their hemp-infused predecessors: think luxury spa products, gourmet salads and hot tubs.
Colette Crespin is the co-founder of Wild Wellbeing, which since its first appearance at the Secret Garden party 10 years ago has become a regular feature at boutique festivals. She met her business partner Claire Hamilton through the festival scene and hit it off, not least because of the desire to, as they put it, "create some magic, calm and beauty amidst the storm of life". "We saw a chance to take the hippy edge off of festival healing," says Crespin. "The Glasto generation has grown up, but many of them still want to go to festivals. We provide a more family oriented experience."
Whether flying solo or with the kids in tow, there is certainly a benign feeling to this corner of the campsite. At Somersault in North Devon, yoga classes are full of both women and men, some with heavier heads than others, while braver souls choose to chase away the cobwebs with wild runs or surfing lessons. "You would not believe the queues we see for 7.30am meditation sessions," says Crespin. "We get all sorts of people coming and trying it out, who perhaps wouldn't at home."
So has Generation Sensible overtaken the festival circuit? "Well, there are the sensibles and the cannibals," laughs Crespin. "I actually think nowadays the younger generation has more money and is much more likely to experiment." She also puts the popularity of the movement down to our increasing stressful day-to-day lives. "We can't afford to go back to work feeling terrible anymore, we don't have time for that," she says. "But what we love the most is that people here are less intimidated by the idea of a yoga class, or meditation, or even, say, circus skills than they would be at home. You have a kind of fearlessness at a festival, and discovering something new helps people to extend that fearlessness beyond a three-day weekend. It empowers people to cultivate their own wellbeing."
Festival-goers are even committing the cardinal sin of every lost reveller, and literally switching off. Innocent Unplugged in Kent takes people off the grid, with no 3G or Wi-Fi on site, or even traditional electricity (a human hamster-wheel is among the unorthodox ways of powering the campsite). At Wilderness, wild swimming is a big draw, as are yoga raving and a host of wellness workshops. And if that's all too conventional to you, head to Bestival, where you have the chance to hug a llama (apparently they invoke feelings of calmness).
For those who like their wellness with a hefty dollop of luxury, there's always the treatment areas. "It's far more than just a rubdown in a tent," says Crespin. "We have Neal's Yard products at Wilderness, and REN at Somersault - and you can enjoy a massage in a hand-decorated yurt."
A luxury massage may seem like a waste if it's followed up by a carton of soggy chips, but festivals have come a long way in that respect too. River Cottage is among the 'healthy' options at Somersault, and yogis can even dawdle after a session with a juice or matcha latte. Jamie Oliver's The Big Feastival in the Cotswolds has as many headliners in the kitchen as on the main stage - Deliciously Ella, the Hemsley sister and Livia's Kitchen are all on hand to help ensure your intake of fruit and veg goes beyond the apples in your cider.
Perhaps even the most cowed among us will give festivals another chance. Surely with all that zen going on, even the leaky tent shouldn't be a problem…
23-27 July, Castle Hill, North Devon
Headliners Laura Marling and Passenger set the folksy scene as you kick back in Devon. Feel the sand between your toes with beach yoga at sunrise, or join one of the morning meditation sessions. For the more active, join one of the organised wild runs or take some surf lessons, before a luxurious massage. You'll barely feel that giant rock you accidentally pitched your tent on top of.
http://somersaultfestival.com/
Wilderness
6-9 August, Cornbury Park, Oxfordshire
The cool kid of this summer's festivals, and it shows. Sweaty Betty and HotPod are running fitness classes on site, while The Sanctuary is just that, with holistic treatments and acupuncture. If you feel the external needs as much work as the internal, especially when you reach the point where dry shampoo just can't help you, there are also solar showers, spray tan booths and hair styling stations.
http://www.wildernessfestival.com/
Green Man
20-23 August, Brecon Beacons, Wales
Hot Chip meets hot tub at this trendy little festival - and yes, you really can soak under the stars, or sweat out the excesses of the night before in a sauna. With an area for the little folk and even kids' yoga, Green Man has a real family feel.
Bestival
10-13 September, Robin Hill Country Park, Isle of Wight
Why confine your raving to the main stage? Boutique fitness club Frame is in residency at Bestival this year, keeping you fit with rave dancing, or the best Jane Fonda tribute sessions. If that all sounds a bit too energetic, some Yin Yoga in the Slow Motion area will offset the sweat, as will a spot of reflexology or a radiance facial. And after stocking up on juice and raw food, you just might be able to brave one more beer...
Latitude
16-19 July, Henham Park, Southwold, Sussex
Latitude claims its Solas area will provide an oasis of calm by day and a colourful cocoon of meticulous merriment by night. Mesmeric light installations and seaweed baths are just some of the dreamy, trippy afternoon offerings, before night falls and the energy levels rise. And a range of holistic treatments and workshops will help to restore flagging festival spirits.
Register for free to continue reading
Registration is a free and easy way to support our truly independent journalism
By registering, you will also enjoy limited access to Premium articles, exclusive newsletters, commenting, and virtual events with our leading journalists
Already have an account? sign in
Register for free to continue reading
Registration is a free and easy way to support our truly independent journalism
By registering, you will also enjoy limited access to Premium articles, exclusive newsletters, commenting, and virtual events with our leading journalists
Already have an account? sign in
Join our new commenting forum
Join thought-provoking conversations, follow other Independent readers and see their replies