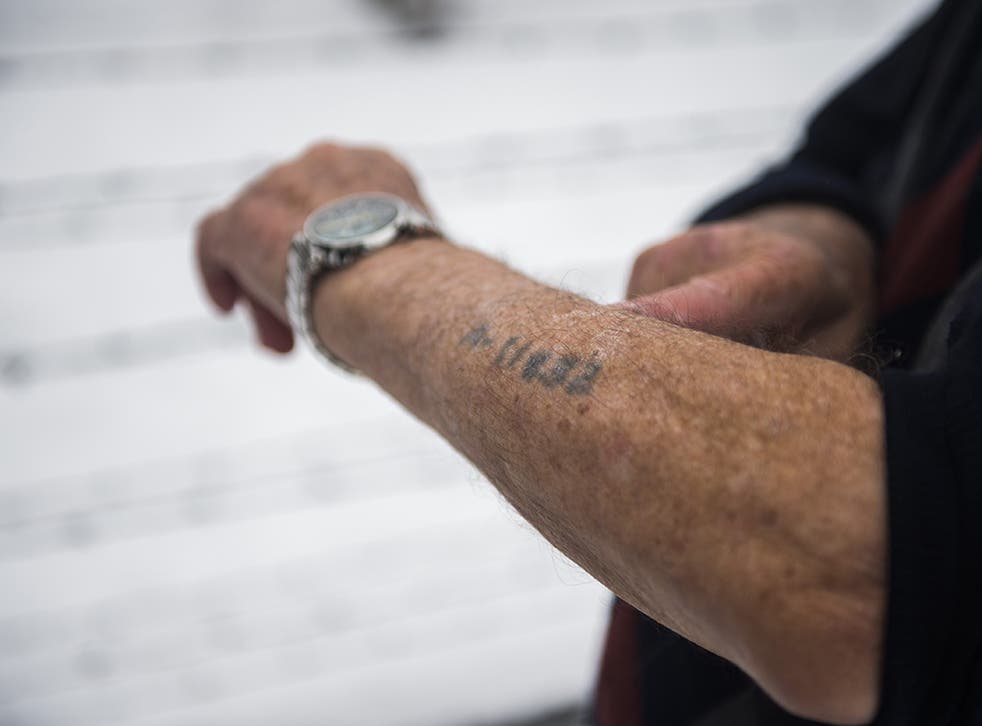 Holocaust Memorial Day: 70 years since Auschwitz liberation, these are the stories of survivors
The numbers have the power to shock, but forget the individual. As survivors visit Auschwitz, they remind us of all that was lost, and why we must combat the "hatred" spreading through Europe
"Suddenly we were woken and the shouting started. It was night, the light beaming down on us and the orders, 'move here', 'move there': it was just terror."
Susan Pollack, then 14, was ordered into line, standing with her elder brother and mother, under the harsh lights of Auschwitz in May, 1944. Born in 1930, a Hungarian Jew, she spent the next seven weeks in Auschwitz before she was forcibly marched to Bergen-Belsen and eventually liberated by the arrival of British troops on 15th April 1945.
Today, she is among roughly 100 survivors who have chosen to gather at the Death Gate of Auschwitz II-Birkenau on the 70th anniversary of the camp's liberation to remember those who died.
Auschwitz, unique among the Nazi's camps, is often spoken in numbers: 1.1 million died. The Jews that were murdered consisted of 438,000 Hungarians, 300,000 Polish; 69,114 French; 60,085 from the Netherlands; 55,000 Greeks; 46,099 Czechoslovakians and Moravians, 26,661 Slovakians; 24,904 Belgians; 23,000 Austrians and Germans; 10,000 Yugoslavians and 7,422 Italians. There were 70,000 Polish political prisoners, an estimated 20,000 gypsies and ten thousand Soviet prisoners killed.
These numbers hold power but forget the individual, individuals such as the survivors gathered in a Krakow hotel last night. In the melee elderly men and women picked their way through the crowd, as cameramen and reporters and family members jostled around them.
It was a strange atmosphere, neither happy or sad but charged with the memories of the gathered - and lost - men, women and children.
Mrs Pollack, who was moved to Sweden after the war before relocating to Canada where she met and married a fellow survivor, finally settling in 1962 in London, remembers those first moments following her arrival in the camp.
"It was just the quickness, the way they identified and the fear, the fear that deprived anyone's mind of any thoughts," she told The Independent.
"It was like being placed in some freezing water when you can't move and you can't do anything because you must not speak, you must not act, you must not respond. We were just dazed. That's what they had done to us."
A Hungarian prisoner, who had been in the camp for some time, whispered to her, telling her to lie and pretend she was 15 - the cut-off age. That action saved her from selection for the gas chambers and instead she was used as slave labour and sent to another camp, Gubben, in Germany.
She later survived the freezing death march in winter to Belsen-Bergen and was liberated by the arrival of British troops. "It wasn't a big jubilant day because I didn't have any energy by then. I couldn't even walk."
Although she and her brother survived they lost over 50 members of her family. "I think that the luck was that the British came on the 15th and not on the 16th of April," she said.
Ziggy, short for Zgymunt, Shipper says it was "pure luck" he made it through the Łódz Ghetto, Auschwitz, a camp in Danzig, and a death march before finally British troops appeared in the German port of Neustadt.
Born in Łódz, Poland, in 1930, he was cared for by his paternal grandparents after his parents' divorce. He remembers his father standing over his bed before he disappeared shortly before the arrival of the Germans. It was the last time he saw him.
"The day they came into our city everything changed," he told The Independent. He, his grandfather and grandmother were moved into the Łódz ghetto. His grandfather - already ill - died just weeks after their arrival.
"Can you imagine? The rations only lasted a two or three days and then we wouldn't have any food," he said. "People were dying from disease, from starvation."
Holocaust Memorial Day 2015: Haunting images of Auschwitz

Show all 20
Over 200,000 Jews were crowded into an area originally built for a fraction of that number. The situation did not last.
"One evening my grandmother says she is going into hiding. She said I should go too but I asked what for? I am 12 and I look about nine, they won't want me. She left and in the morning they came and they took me, they took me on to the lorry."
Thrown onto the lorry, alone, Mr Shipper saw it was full of "babies, young children, old people, disabled people." Taking an unbelievable risk he launched himself from the vehicle and managed to hide nearby before returning to his grandmother.
"If they had seen me they would have shot me. There was never a question of stop or I'll shoot, they would have just shot me."
Later, the Nazis did come for him and many others. In 1944 the ghetto was liquidised and, with his grandmother, he was placed on to one of the cattle trains. "You could not sit in, or hardly stand, there was no room."
Suddenly, Mr Shipper's 85 years show. "I feel tired," he tells me, taking off his glasses and moving his hands over his face.
"All my life I had something that has been worrying me and I feel so ashamed," he said. "I recently told my family, my daughters, and they asked what did you do?
"I said, I did nothing, but how can a 14-year-old boy hope people will die so that he will have more room to sit down? What has become of him?
"But after a few days I had room to sit down," he said. Six or seven days later, he isn't quite sure, the train stopped.
"Early morning, through the slits of the truck I saw the words Auschwitz. I didn't know what it meant."
They were uploaded from the trucks, Mr Shipper describing how the elderly and ill were often thrown from the trucks, falling, among the madness of bodies and shouting. He was separated from his grandmother, who also survived selection only to die in Theresienstadt Ghetto on the day it was liberated.
"There were other people, they had to go through a selection. There was a passage here," Mr Shipper spreads his hands over the table showing the lines. "Main officers standing at the bottom and German guards on both sides and we had to run through. All the time they were pointing right, left, right, all the people who went to the right were either old, disabled, children. And also women, holding children, babies.
"The Germans, the SS guards, came over and said to them: 'Put the baby down and go to the other side.' Can you imagine a mother doing it? He tried to rip the child out of their hands, he didn't succeed. They clung to each other."
"After all these years, still, I cannot understand how a human being can do that during the day and in the evening sit with his wife, and listen to music and eat his dinner. What kind of people were they?" He asks. "I'm getting older and older and I still cannot understand it.'
Mr Shipper, who now travels around the UK talking to children as part of the Holocaust Educational Trust, speaks about the moment he was stripped, his few remaining possessions taken from him, and given striped pyjamas to wear.
"I looked at myself and I said 'Now I have nobody, no grandmother, nobody. I've got nothing, no possessions, I haven't even got a name. All I've got is 84303.'"
Each morning the prisoners would be counted, but many were too weak to move or had died in the night. "They asked if anyone else wanted to go to hospital. The only problem was there was no hospital. The only hospital there was for Mengele."
One of the children taken by Dr. Josef Mengele for his horrific experiments was Menachem Bodner. Now in his 70s, not unusually for survivors, he cannot remember anything about the first years of his life.
He was just four years old when he was liberated and taken in by a fellow survivor, along with two young sisters. Mr Bodner would later marry one of the sisters and start his own family.
But he knew nothing about his family or past, until Israeli genealogist Ayana KimRon heard about his search for answers and offered her help.
"I was sceptical, but her entrance into my life was encouraging," he told The Independent. Painstakingly Mrs KimRon uncovered details about his life and reconnected him with distant family thought lost forever. His first name was Elias Gottesmann, and he had a twin brother: Jeno.
"It was difficult for me to cope with the facts she gave me about my identity."
In 2013, after pursing countless leads, Mrs KimRon set up a Facebook page to try and seek out any lost information. The post went viral, and although Mr Bodner has not yet found his twin, "it felt like it was the right thing to do".
On Monday some of the survivors returned to Auschwitz-Birkenau. Mr Shipper said: "There was a whole wall with pictures, couples getting married, babies, and I started crying because I looked at this picture of this little baby - who never got a chance to have a life."
On the question of remembrance, he states: "The question shouldn't be how I can remember it, the question should be how can I forget it?"
Although he has been before, first more than a decade ago, he feels that this year's memorial is different. There are fewer survivors than ever before, and although it has always been important to remember, this year they must combat the "hatred" spreading through Europe.
As fellow survivor Mrs Pollack said: "To remember, to keep their memory alive, we need to act today."
Join our new commenting forum
Join thought-provoking conversations, follow other Independent readers and see their replies