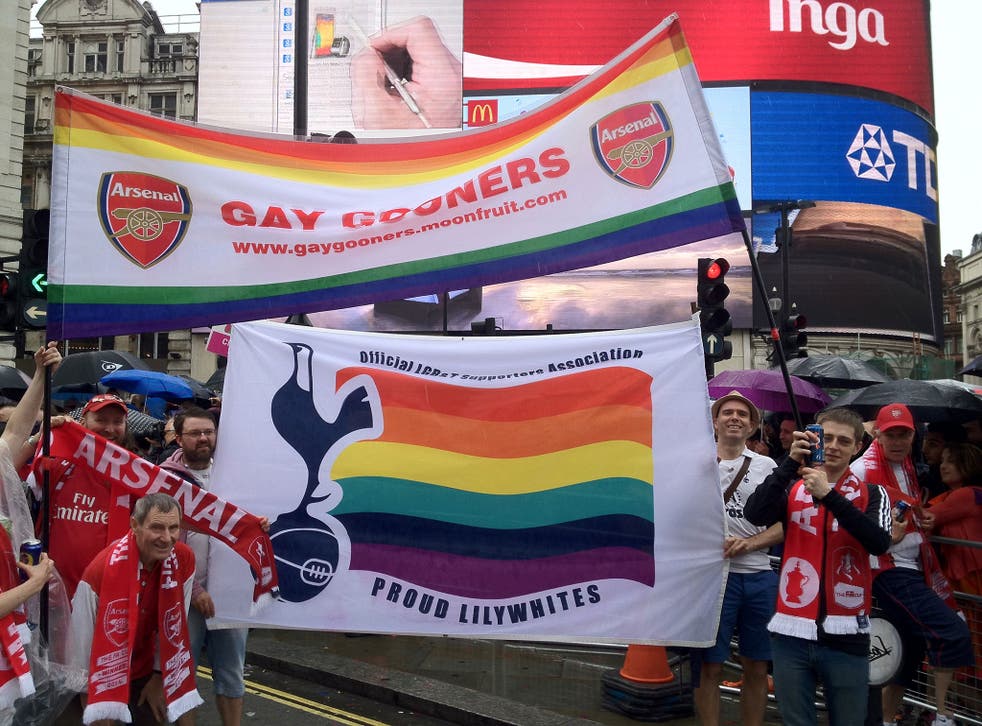 Homophobia remains a depressingly persistent feature of football - but some fans are determined to promote inclusiveness
The Gay Gooners and the Proud Lilywhites LGBT supporter groups transcend the partisan tribalism usually attributed to the clubs
Chris Godfrey
Thursday 14 August 2014 22:11 Comments
When conversations between Arsenal and Tottenham fans take place, the likelihood is that – if they haven't already – they'll descend into petty mudslinging, with recent results, trophy droughts and references to Sol Campbell traded off against each other.
But when the Gay Gooners and the Proud Lilywhites LGBT supporter groups meet up, there's a sense of camaraderie that transcends the partisan tribalism usually attributed to the clubs. The common enemy of homophobia makes everything else just seem trivial.
Despite homophobic chanting at the highest level, the widely publicised lack of an out player and the fact that, according to Stonewall, 50 per cent of fans think that sport needs to do more to tackle LGBT discrimination, in some areas of the "beautiful" game, there's a culture of denial and a reticence to act. FIFA rejected the advice of experts when it cleared Mexico of improper conduct for homophobic chanting at the World Cup and some fans are reluctant to accept that infamous chants such as "Chelsea rent boys" are offensive, with "Is this really necessary?" a regular criticism levelled at LGBT fan groups.
A single incident in July shows that the answer to this question is a resounding "Yes".
When Sky Sports News used Hollyoaks actor Kieron Richardson's photo in place of that of his football-playing namesake, who had just completed a move to Aston Villa, it was an innocent mistake. It resulted, though, in the actor receiving a torrent of homophobic vitriol online from football fans, bemused by the possibility of a "faggot" playing football. Richardson (the actor) came out in 2010; it wasn't until he was inadvertently associated with football that he was subjected to homophobia.
It's an all-too-familiar story, as members of both the Gay Gooners and the Proud Lilywhites can attest. When the official Arsenal Twitter account wished its LGBT supporters group good luck with its participation in the London Pride parade, the message prompted a mixed response across the Arsenal Twittersphere. "When we got that tweet from Arsenal, I spent hours explaining what we're about," says Zitta Lomax, who handles the group's Twitter account. "There was some amazing support from all over the world and we gained a lot of new followers, but also a lot of homophobic abuse. Much of it came from our own fans who told us we were a disgrace to Arsenal.
"At the moment we're seeing a lot [of abuse] from Chelsea fans, so we really need their club to stick their own banner up."
Hopefully, it won't be long before such an entity exists inside Stamford Bridge.
The Gay Gooners was set up by fans in February 2013 and since then the Gay Football Supporters' Network (GFSN), a voluntary organisation established in 1989 as a social network for LGBT football fans, has launched an umbrella group which will help other clubs create up similar models.
Launched a year after their North London rivals, the Proud Lilywhites were among the first to go through this GSFN-led process, along with Norwich's Proud Canaries and Man City's Canal Street Blues.
Darryl Telles was one of the first supporters at Tottenham to receive an invitation from GSFN to attend the meeting which gave birth to the Proud Lilywhites and he was impressed by the club's candour.
"Clubs have a reputation for not caring about their supporters, but Tottenham were very open and honest with us. They told us that like most clubs they've still got a lot to learn when it comes to LGBT issues," he says.
Telles has been going to Tottenham matches since his first match in 1977 against Nottingham Forest, one he remembers as much for Spurs chants of "We all agree Brian Clough is a homosexual", as he does the game itself. Like most fans in that era, he witnessed first-hand football's overtly racist culture and the subsequent movement to try to eradicate it. There's a way to go before racism is truly ousted from the game, but LGBT supporter groups can draw inspiration from the progress made.
The international Football v Homophobia campaign aims to replicate the work done by anti-racism organisations such as Kick It Out, and both Arsenal and Tottenham have partnered with it as a sign of commitment. Since the Proud Lilywhites were launched, the club has provided them with banners and badges, prizes for events and VIP tours. It's also committed to meeting with the group regularly to see where else they can offer support.
"Arsenal have been great too; they've looked us in the eye and said we truly believe in what you're doing in the fight to get homophobia out of football," says Gerard Tomnay, one of the Gay Gooner's founding members.
"They've offered the stadium for conferences, given us a banner for the Pride march, donated prizes for fundraisers and helped us meet up with the LGBT groups from other teams – short of giving us cash, which wouldn't solve anything anyway, they've been brilliant.
"At Pride this year we had one lad come along who said that he'd seen the Gay Gooners on the Arsenal website," says Tomnay. "He had never even been to a gay bar before, but all of a sudden he found himself marching in the parade. He just loved Arsenal and he proved to be one of our reasons for being; football can be a vehicle to help people come out."
While there's inevitable competitiveness between the Gay Gooners and Proud Lilywhites, when it comes to homophobia, both are singing the same chant. At London Pride this year, the groups marched side-by-side.
The battle against homophobia will require governing bodies and charities, clubs and fans, to cooperate to the same degree they did to take on racism, but if Arsenal and Tottenham fans can work together, anyone can.
Register for free to continue reading
Registration is a free and easy way to support our truly independent journalism
By registering, you will also enjoy limited access to Premium articles, exclusive newsletters, commenting, and virtual events with our leading journalists
Already have an account? sign in
Join our new commenting forum
Join thought-provoking conversations, follow other Independent readers and see their replies