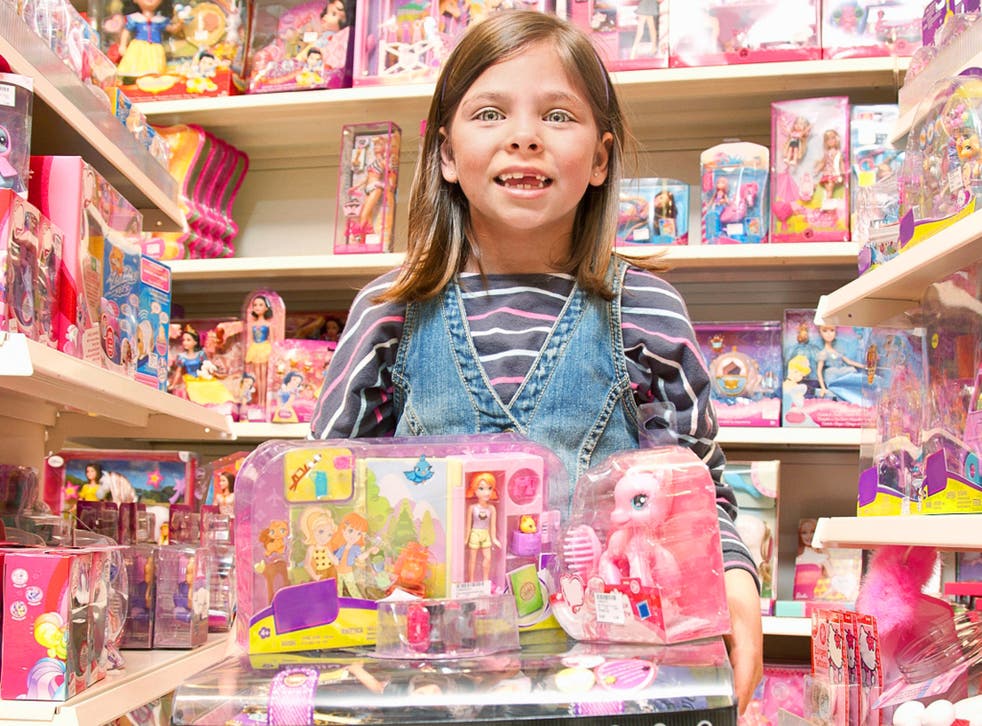 How parents are battling sexism in toy shops
Sexism is alive and well in the world of children's playthings. Katie Grant hears from the parents who are fighting back
Katie Grant Comments
As a child, whenever I visited a toy shop and was confronted with row upon row of pink-lipped, glassy-eyed dolls, I couldn't have been less interested. Aside from the odd token Barbie, I very much eschewed most "girls'" toys, favouring instead model dinosaurs, Lego and building blocks.
While I knew that dolls were readily available, I was never under the impression that I ought to be playing with them or, indeed, that any formal gender divide existed when it came to toys. Nevertheless, such a divide did exist and, over the past couple of decades, it's expanded into a great yawning chasm spilling over with sparkly tiaras, make-up kits and hot pink scooters (which don't go as fast as the blue ones).
Increasingly, though, parents – and children – have been demanding a change in the way toys are marketed, and retailers are paying attention. Last week, after shoppers expressed their anger at the high-street pharmacy chain Boots for using signs to differentiate between girls' and boys' toys, and for putting Science Museum-brand toys in the latter category, the store admitted it was wrong to do so and announced that it would be removing signs designating toys in this manner.
This move follows the launch last summer of Toy Kingdom, Harrods' gender-neutral toy behemoth, where merchandise is organised by theme rather than sex, and comes at a time that a compelling campaign called Let Toys Be Toys (LTBT) is gaining momentum.
The aim is simple: to persuade retailers to stop promoting some toys as only suitable for girls and others only for boys. Children should be free to play with whichever toys interest them most, says the group, which is asking shops nationwide to follow in Harrods' footsteps and display merchandise by theme or function, not gender.
Deborah Saward Arav, a mother who has signed the LTBT petition, says: "My girls love Lego, trains, swords and pirates. Now they hesitate to play with 'boys'' toys as they feel they're doing wrong. I hate having their options limited by retailers and the media."
The group's concerns are backed up by experts: "Ideas of gender are limiting to children," says Lise Eliot, neuro- scientist and author of Pink Brain, Blue Brain: How Small Differences Grow Into Troublesome Gaps – And What We Can About It.
Eliot supports the LTBT movement, explaining: "Children are very black and white in their attitudes. They perceive gender as opposites because we often present it very simplistically as such. This is not the case, though: we are not opposites.
"Psychologically and neurologically there are far more similarities than differences, particularly in children. By imposing these categories on children through the options we present them with, we limit their interests what they might become."
In a recent survey conducted by LTBT, volunteer parents visited shops nationwide, investigating how their toy departments were presented. While chains such as Sainsbury's and the Early Learning Centre implemented little to no gender-specific marketing, the undercover shoppers found that some of the country's most popular retailers, including Marks & Spencer and The Entertainer, employed strong gender divisions.
In some branches of The Entertainer all science and Lego products were targeted solely at boys, all "home play" at girls. This is not unusual. Across the board, toolkits were 10 times more likely to be promoted exclusively to boys, and construction toys three times more likely; it's little wonder that only 8.7 per cent of professional engineers in this country are female.
Meanwhile, chemistry sets were twice as likely to be marketed to boys. A vast array of traditionally "gender-neutral" toys were marked out as exclusively for boys – quite literally, in the case of Marks & Spencer, who appeared to have taken a scattergun approach to toy marketing, plastering everything from walkie-talkies to globes with slogans declaring "Boy stuff". Little girls, it seems, needn't worry their pretty little heads with any- thing so taxing as science, history or geography. Far better to devote playtime to maintaining their beauty regimes (personal grooming kits were six times more likely to be promoted to girls), or clearing up after those messy boys (cleaning sets were four times more likely to be marketed to them), than to enriching their cognitive, physical and social wellbeing.
It's not just girls whose development risks being stunted by gender-specific toy marketing, though: what about boys whose interests don't adhere to prevailing stereotypes?
LTBT advocate Claire Deeming says: "My three-year-old son has a pink toy umbrella stroller that he picked himself and he loves playing with dolls."
When children of either sex play with dolls, they are imitating what they see parents and carers doing: looking after a child.
As well as teaching children how to empathise with and nurture others, dolls are invaluable in enhancing feelings of closeness in a child to his or her parents. Both sexes stand to benefit from this.
However, many parents would be alarmed if their son indicated a preference for dolls over trucks, chiefly because such behaviour isn't in keeping with prevailing heteronormative gender stereotypes. Put simply, couldn't such a transgression of prescribed gender norms be perceived as a little bit (whisper it) gay?
Indeed, it is far more acceptable for girls to pursue stereotypically "masculine" interests than for boys to exhibit curiosity for anything that could be deemed even remotely "feminine". Tricia Lowther, another member of LTBT, suggests that this is because, in many ways, society still values men over women: "It indulges girls who want to be 'like boys' – why wouldn't they? So long as they step back into their rightful place when they grow older. On the other hand, it is seen as demeaning for a boy to want to be anything other than 'male'."
Many children seem to instinctively gravitate toward toys marketed at their specific gender, though, so couldn't it be the case that a child's interests and preferences are just biologically determined?
Eliot rejects this idea: "Once children figure out whether they're a boy or a girl, they are usually avid in matching up to what they believe that particular category dictates." The social conditioning we receive from birth ensures we learn and internalise gender roles exceptionally quickly.
Thus, a baby boy who is showered with toy trucks and sports paraphernalia, applauded for being a "big strong soldier" and encouraged to play assertively is likely to develop in accordance with this "masculine" mindset and continue to select these toys when he is old enough to choose for himself.
Meanwhile, a baby girl who is lauded as a "beautiful little princess" and furnished with dolls, prams and tutus (pink ones, of course), learns to behave more passively and discovers early on that her physical attributes define her worth. She'll probably also develop a fanatical enthusiasm for the colour pink.
For, as we all know, pink is for girls and blue is for boys. Strangely enough, though, until relatively recently the opposite was true. Until shortly before the First World War, no colours were used to signify gender.
Then, the generally accepted rule became that pink was for the boys, blue for the girls, the former being deemed a stronger, more decided colour, the latter, more delicate and dainty, and thus "prettier for a girl".
It was only after the Second World War, at a time when mass marketing was emerging, that the convention was reversed; from a marketing perspective, to advocate strict gender norms which consumers would feel compelled to conform to made good financial sense.
Similarly, toy manufacturers, which rarely used to assign a specific sex best suited to enjoying their merchandise, began to capitalise on gender-specific marketing.
By effectively tapping into the deeply ingrained concern that one's child be considered "gender-normal" and convincing parents that they must purchase a particular product for their child to be deemed so, retailers stand to profit enormously. But, as the LTBT campaign highlights, the social cost of this type of marketing is a high price for us to pay.
"The potency of early learning means that what children learn early on, often through the toys they play with, has a huge impact on what they become capable of later in life", says Eliot. "Why on earth would we want to limit the breadth of possibility?"
Register for free to continue reading
Registration is a free and easy way to support our truly independent journalism
By registering, you will also enjoy limited access to Premium articles, exclusive newsletters, commenting, and virtual events with our leading journalists
Already have an account? sign in
Join our new commenting forum
Join thought-provoking conversations, follow other Independent readers and see their replies