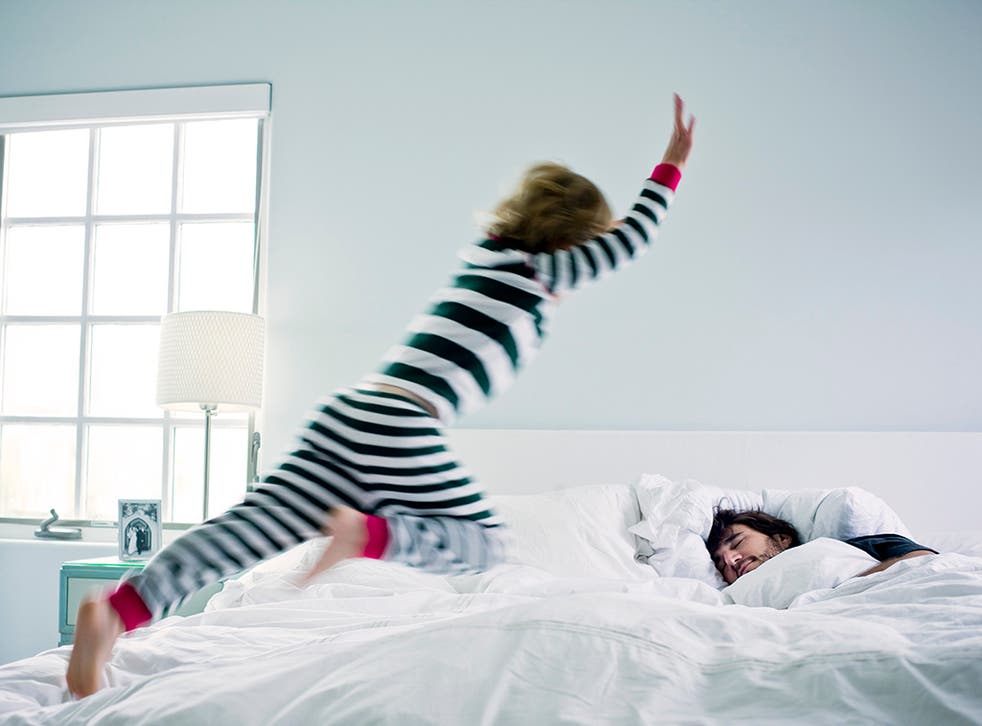 New Year's Eve: How to deal with kids with a hangover
From the early morning wake-up call until bedtime, the hardship of a parental hangover isn't always worth it. But on the odd celebratory occasion, what can help?
Kirsty Grocott
Wednesday 31 December 2014 11:33 Comments
It is nearly upon us, New Year's Eve; the one night in the calendar where it is almost obligatory to get drunk. Whether you think it a bore or the best night of the year, for the vast majority of us tonight will involve alcohol in one way or another.
My guess is that if you are childless and below forty partying until dawn is a viable and enticing option. But what of those of us with children? We might want to get drunk...but know deep down it really isn't a good idea. Something that parenting manuals never say is that children are no respecters of a hangover. They really don't care that you are hollow-eyed with tiredness, clammy skinned and retching inside, if it's time to get up and bounce on your head with glee, that is just what they will do.
My drinking patterns have altered hugely since having children. Early twenties were a time of hangovers; student drinks at 99p a pop meant many a night falling into bed with the room spinning. The cure-all ten hours of sleep was easy to come by.
Susanna Scott, founder of BritMums, concurs: "I've certainly had my fair share of hangovers. But a hangover as a young (childless) adult finding her way in life is nothing compared to having to look after little ones 24/7 with a stonking headache. Sleep is the one thing I find cures a hangover - and unfortunately your two-year-old that wants fish fingers for lunch and then to play Lego all afternoon is not going to give you much down time".
New Year 2015: Celebrations around the world

Show all 42
Pregnancy radically altered my drinking habits. I wouldn't even look at a glass of wine and when breastfeeding became my full-time occupation I was always the designated driver. But eventually the halo started to slip and as babies grew up a little, I would occasionally let myself get drunk, but there was always a caveat. I would and still do, without fail, regret it the next morning. Coping with a baby or toddler whilst hungover is just horrible. From the 6am wake-up call until the time that you get your precious one into bed again, the hardship is almost never worth it.
But there are of course times to celebrate, and if we do decide to have a drink, what can we do? I have devised several coping strategies for days like these. We all know the obvious route of the TV, but when that isn't enough there are plenty of other techniques that can be used.
Let them be creative
Play-Doh (though perhaps not the Play-Doh penis-shaped toy), and other modelling materials are creative, fun and above all with a cracking headache, quiet. Kids love to play with it and if you can't bear to sit at the table and play with them, spread a sheet on the floor and let them play by the sofa offering the occasional squish and squeeze of solidarity.
The less clearing up, the better
Paper, scissors and glue are also winners and will keep small children happy for ages. You may have to do the cutting but that can easily be tackled horizontally. If you are lucky enough to own an Aquadraw, this can be used for ages and as it's drawing with water and the picture eventually fades, there is no mess or cleaning up to do afterwards.
Make a (quiet) game out of it
Another great game for kids is building a den. A few moments of rearranging furniture can result in hours of fun for the kids and respite for you. Perhaps you can be the one who is captured by pirates? Suggesting that as a prisoner you should just lie still inside the tent gives everyone what they want. For other imaginative suggestions look to This Charming Mum who uses games such as 'Don't Poke the Bear' and Cinderella to keep older kids amused.
Older children can sometimes be a little more accommodating of a parent's 'unusual tiredness', often guessing what the problem might be. Susanna Scott says, "Now that my girls are a little bit older (9, 11 and 12) they can often guess when 'mummy has a hangover'. Though that often just results in higher pitches of laughter and perhaps a glass of water. When I've had enough, we often play the 'who can be the quietest the longest' game."
"And I'm not above bribes. Sleep until 8 and I'll let you buy what ever you want at Paperchase always works, too."
The pamper makeover
Desperate times call for desperate measures and sometimes the above may not be enough. Many years ago a good friend shared her techniques for dealing with kids and hangovers and I've used them ever since. Small children love to be with mummy, small children love to touch and climb all over mummy too. Over the years I've let my children do makeovers. A makeover that begins with a light dusting of eyeshadow and ends with a face caked in lipstick, blusher and foundation. When they have grown bored of the make-up I've even suggested face paints. Then comes the inevitable cleanse, tone and moisturise. I've been willing to endure a cold, dripping face flannel just for five more minutes of shut-eyed bliss. I've had hair makeovers too and even played 'Tattoo Parlour' which was a particular hit on a wet afternoon in a caravan in Wales. Of course, there's doctors, dentists and operating theatre to be played too; the possibilities are endless and after all that lying down you may feel up to wrapping up and getting out for a walk; the one thing that might just get rid of the hangover and tire the kids out too.
Be prepared
One other way of dealing with a hangover is making it less spectacular in the first place. The BBC Good Food website suggests following basic tips such as not drinking on an empty stomach, limiting the amount of fizzy alcohol consumed and avoiding a night-cap may help to reduce the severity of symptoms in the first place.
As children get older and become more aware of adult drinking habits, it is important to assess the impact on them. An odd hangover is not the end of the world though, Sue Atkins, author of 'Parenting Made Easy - How to Raise Happy Children' says, "If you do drink too much on an occasion and end up nursing a hangover, don't try to hide the symptoms, instead talk openly about how you're feeling, letting them know that the effects would be worse for them as they're smaller and developing". In fact, your experience of a hangover may serve as a lesson for your child. "Parents shouldn't feel they should hide their own alcohol consumption from their kids. If you are able to demonstrate a moderate approach to drinking, while communicating the harmful effects on children, this is a good approach to alcohol education."
As for me. Do I have a pile of pre-cut doilies, magazines and homemade Play-Doh set aside for New Year's Day? Actually no, I've volunteered to drive so that I can wake up tomorrow with a clear head and a glowing sense of well-being. Don't you just hate smug parents?
Register for free to continue reading
Registration is a free and easy way to support our truly independent journalism
By registering, you will also enjoy limited access to Premium articles, exclusive newsletters, commenting, and virtual events with our leading journalists
Already have an account? sign in
Join our new commenting forum
Join thought-provoking conversations, follow other Independent readers and see their replies