'I may be deaf, but you can still talk to me'
Being a teenager is difficult enough – for young people with hearing loss, it can be even more complicated. Simon Usborne meets one girl who's helping to break down the barriers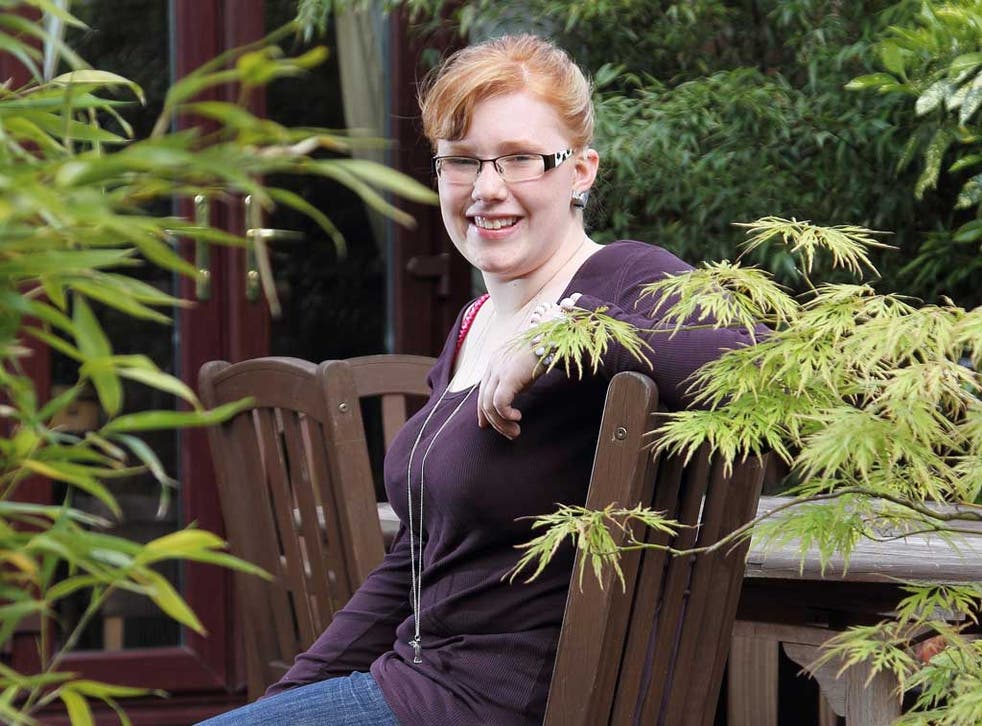 Ellen Arthur's memories of her fifth-birthday party are some of the fondest of her childhood. She was surrounded by family, including her parents, Daren and Rosalind, and her baby sister, Grace, at their modest home in Abingdon near Oxford. What she didn't know as she blew out the candles on her cake was that it would be the last party she would have – or be invited to – for another 10 years, because she is deaf.
Ellen's isolation is alarmingly common among young people in Britain whose hearing is impaired. As a small child, Ellen, who is now 15, did not realise she was different, but as she grew older, she began to feel excluded. Even before she had become a teenager, by which time she had been bullied, there were moments when Ellen says she "hated being deaf". She adds, banging her bracelets on the table: "I just felt I didn't want to be deaf any more. I thought, why was I born like this?"
There are around 45,000 deaf children in Britain. A survey by the National Deaf Children's Society (NDCS) revealed earlier this month the extent to which the teenagers among them feel left out and lonely because their peers don't know how to talk to them. A poll, of 1,000 hearing teenagers, showed that more than three-quarters of young people have no idea how to communicate with someone with hearing loss. More than a quarter of respondents admitted they probably wouldn't even make the effort.
"I think teenagers find it difficult to accept any difference," Ellen says, looking over the table at her mother, Rosalind, for reassurance. "Days out can be very difficult. When you're shopping, or bowling or at the cinema, there's so much background noise and so I find it difficult to be able to hear people talking or to interact. And my hearing friends often don't know how to.
"It's worst when I'm in a restaurant with people around the table. They have to keep repeating themselves and then just say, 'Oh, I'll tell you later,' and it gets very frustrating. In those situations I feel like I don't want to go – I just want to stay at home and be with my family."
At four months old, Ellen failed to react when the family dog suddenly started yapping at a hot-air balloon as she travelled with her parents in their car. She was diagnosed as profoundly deaf and now has a cochlear implant, which sends some of the sound signals to her brain that her ears cannot process. Ellen doesn't use sign language but in a one-on-one conversation in a quiet place, she can hear enough.
Ellen has a close circle of hearing-impaired friends, whom she sees at weekends, but she says fitting in with people who can hear is important to her, not just so that she feels included: "I've got to think of jobs. I've got to be able to learn how to communicate with people. It's very important for me to be with hearing people so I can learn about them, and so they can learn about me."
The NDCS has launched a "Look, Smile, Chat" campaign to raise awareness among hearing people of the ways they can communicate with their deaf friends. It includes a website with short films featuring young people like Ellen. "It's simple things, like getting my attention before you talk," she says. "Don't talk too slow or fast, or exaggerate – just talk normally."
The campaign is targeted at young people but many adults would find it just as useful. Even Rosalind, who's 43, admits to having struggled. "When I was Ellen's age, I would have been terrified to have spoken to a deaf person," she says. "Even when she was first diagnosed, I went to a deaf summer party and I was absolutely petrified. I hated every minute. I just felt it would make me awkward and uncomfortable."
Rosalind quickly became used to raising a child who could not hear her. Soon after Grace, who is now 12, was born, she, too, was diagnosed as deaf. Grace also has memory and language problems, as well as mild Tourette's syndrome. "You soon realise when you meet people with hearing impairments that they aren't any different," Rosalind says. "They're not stupid and come from every walk of life. For me it's been a good thing having Ellen and Grace because I appreciate them, and what they've got to say, more."
Ellen is articulate enough, after years of speech therapy, that many people are surprised to learn that she is deaf. "I like it when people accept me for who I am before they find out what I have," she says. Tellingly, however, the same people often then slow their speech and talk more loudly.
Campaigning to help other deaf young people at her local school, where she will sit her GCSEs next summer, and more widely, including with the NDCS, has helped Ellen to feel more engaged. Her friends know how to communicate with her and so she has also started to feel more included. Earlier this month, after a decade of knock-backs and isolation, Ellen was finally invited to another birthday party.
"I was very pleased and proud," she says. "I just felt accepted and treated the same as everyone else. I was delighted." Ellen, who plans to have her own party when she turns 16, says she spent the evening dancing with her friends. "There was loud music and I couldn't hear a single thing," she says, "but then nor could anyone else."
To find out more about the campaign, or to get your school involved, visit ind.pn/LookSmileChat
Learn to communicate
Ellen was born deaf but can hear a little via her cochlear implant. These are her tips for talking to people with hearing loss.
* Get my attention before you start talking, and then look at me as you speak.
* Don't talk too quickly or too slowly. Speak clearly, just as you would to anyone else.
* Lip-reading helps so don't exaggerate your mouth movements or talk too loudly.
* If it's important, write it down or tell me when we're somewhere quiet.
* There are other ways to communicate. Find me online or through my phone.
* Please be patient. It can be frustrating but we will all benefit if we can communicate well.
Register for free to continue reading
Registration is a free and easy way to support our truly independent journalism
By registering, you will also enjoy limited access to Premium articles, exclusive newsletters, commenting, and virtual events with our leading journalists
Already have an account? sign in
Register for free to continue reading
Registration is a free and easy way to support our truly independent journalism
By registering, you will also enjoy limited access to Premium articles, exclusive newsletters, commenting, and virtual events with our leading journalists
Already have an account? sign in
Join our new commenting forum
Join thought-provoking conversations, follow other Independent readers and see their replies