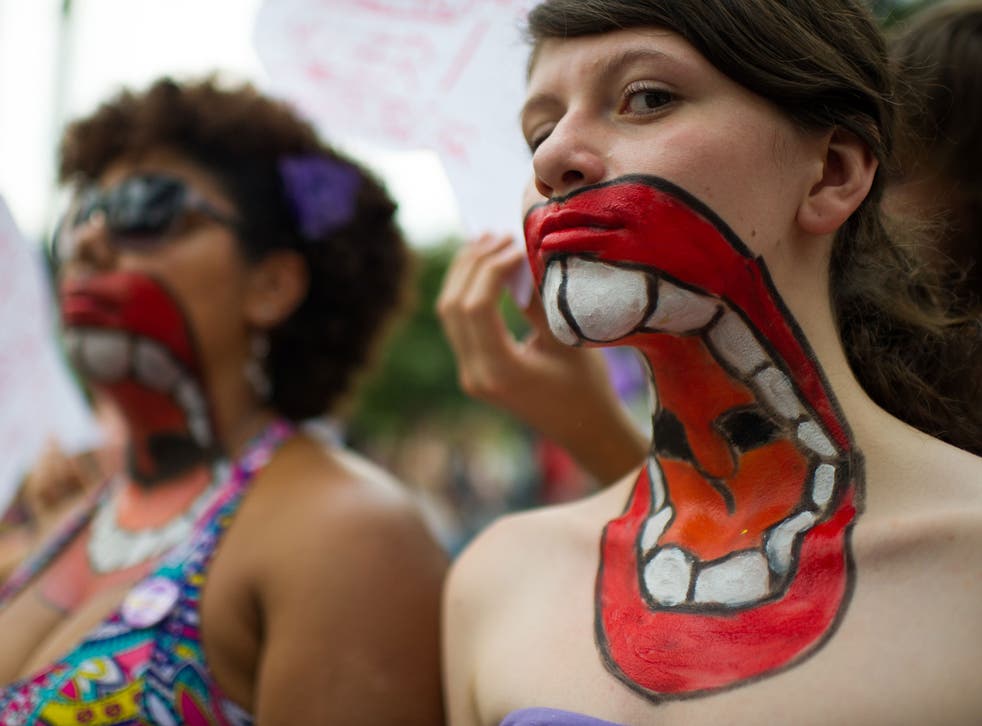 International Women's Day: 6 health issues which prove why the occasion is needed
Including breast cancer and heart disease 
Kashmira Gander
Monday 07 March 2016 18:02 Comments
Alongside the gender pay gap and the "glass ceiling", health is one of the biggest issues facing women the world over.
A recent study stressed that while progress has been made to improve women's health "critical gaps" remain which must be tackled.
The study, involving the World Health Organisation and the UN and published in the BMJ journal, highlighted areas that need to be addressed including mental health and cancer.
To mark International Women's Day, here are six health issues affecting women that need to be addressed.
Cancer
Breast and cervical cancer affect more women than any other forms of the disease. Each year, both of these diseases kill around half a million women each. Most of the women who die live in low and middle income countries where prevention methods are hard to find, and awareness levels are low.
Earlier this year, The Independent spoke to Dr Hania Morsi Fadl, who opened up the Khartoum Breast Cancer Care Centre in the Sudanese capital. The facility is the only breast cancer clinic in the Horn of Africa.
"For developing countries especially, with our customs and traditions, and even more so in the countryside, cancer is a taboo and it is seen as a death sentence."
"I realised there is really urgent need to help, to do something," she said.
Mental health
The study published in the BMJ found that suicide is a leading cause of death between women aged 20 to 59-years-old across the world. Women are also more likely to experience depression and anxiety, due to biological differences but also the pressure of gender roles and responsibilities. For example, women who are abused by their partners are four times more likely to commit suicide than women who don't. A lack of mental health services, particularly in low income countries, exacerbates the situation.
Cardiovascular disease
Heart disease is one of the leading causes of death of women in the world.
Women are three times more likely to die of heart disease than breast cancer, according to the NHS. Women in low and middle-income countries are most at risk.
And despite the worrying rates, women are less likely to be prescribed aspirin to prevent a second attack, receive sophisticated pacemakers or be receive potentially life-saving surgery, according to the Word Heart Federation.
Most women develop heart disease because of preventable factors such as smoking, high cholesterol, diet, obesity or diabetes.
Feminist quotes from the icons to inspire you

Show all 22
Reproductive and maternal health
Many women across the world struggle to protect themselves against STIs, die in childbirth, and are unable to gain access to safe, legal abortions
The latest statistics WHO from 2013 showed that almost 300,000 women died from pregnancy and childbirth that year. And 99 per cent of maternal deaths occur in developing countries.
Most of these deaths could have been prevented if the women had had access to basic family planning services.
A WHO report assessing women's health between 1990 and 2008 found that one in 10 pregnancies worldwide end in an unsafe abortion. Almost all of these take place in developing countries, where safe and legal abortions are not widely available.
The highest rates of unsafe abortion are in Latin America, a predominantly Catholic region where the procedures are highly restricted or banned entirely, including in El Salvador where abortion is illegal in all circumstances. And as the Zika virus - linked to brain damage in newborns - spreads across the region, experts fear women may be be forced to use back-street abortionists.
HIV/AIDs
In 2014, the United Nation's UNAIDS said it hoped to end the AIDs epidemic as a global threat by 2030. This will mean helping women to prevent catching the virus.
For women aged between 15 to 44-years-old, HIV/Aids is the leading cause of death, according to the WHO.
Unsafe sex is the main culprit for spreading the disease, and a lack of education and access to health services, as well as having less power in sexual relationships, also expose women to the condition.
Violence against women
One in three women under the age of 50 has experienced physical or sexual violence from a partner, or someone who they were not with, according to the World Health Organisation.
As many as 38 per cent of women who are murdered are killed by their partner.
Survivors of such violence are more likely to have mental health illnesses - doubling the rate of depression - unplanned pregnancies, seek abortions and experience miscarriages that those who are not abused.
Sexual violence is also used as a weapon of war.
Register for free to continue reading
Registration is a free and easy way to support our truly independent journalism
By registering, you will also enjoy limited access to Premium articles, exclusive newsletters, commenting, and virtual events with our leading journalists
Already have an account? sign in
Join our new commenting forum
Join thought-provoking conversations, follow other Independent readers and see their replies