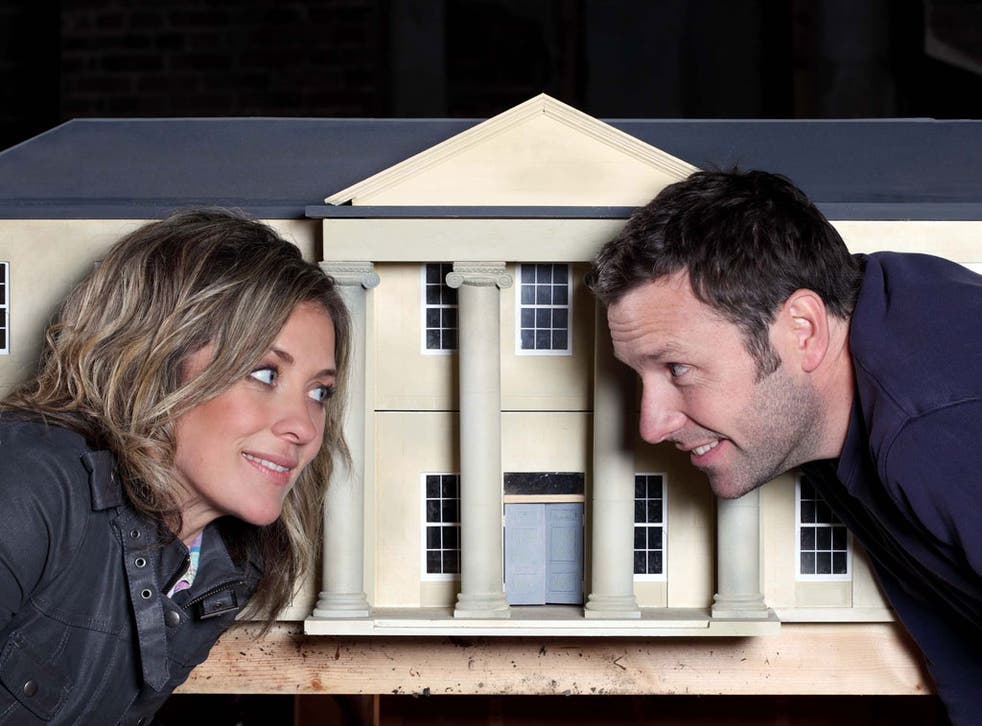 Knowing me, Knowing you: Sarah Beeny and Graham Swift
A relationship under the microscope
SARAH BEENY, 39, is a property developer and television presenter, best known for presenting shows such as Property Ladder and Britain's Best Homes. She married Graham Swift in 2003, with whom she has four children
We met when I was 19 and Graham was 18 and we were kind of set up on a blind date. My brother was going out with his sister and they thought we should meet. I thought, "Yeah right!" I wasn't that impressed with the idea but we ended up getting together. Everyone is still together: we have four kids, so do they. Who'd have thought? We were together for about 10 years before we got married. After all that time together I told him that the relationship needed to move on a bit and he either had to marry me or give me a baby. He proposed a week later. I think he thought it was the lesser of two evils. Quite soon after, I ended up getting pregnant anyway. It's funny, we don't say "I love you" to each other. It started off as a bit of a joke when we were younger but then it stuck and once we'd made a big point about it, we couldn't go back. Secretly I tell the children that I don't mind him but I don't want him to know that. We started the dating website My Single Friend a few years ago. A friend of mine was single and she was really up for being set up with people, which I helped with. Then I thought how great it would be to have a website where you played matchmaker for your friends. Describing yourself on a dating website can be excruciating but you don't have to on our site, your friends do all the work for you. I've been with Graham for my whole adult life and I've never really dated so I am transparently living vicariously through this website.
GRAHAM SWIFT, 38, is an artist as well as being his wife's business partner. Having studied art at the Roehampton Institute, his work has appeared in the Royal Academy Summer Exhibition and the Llewellyn Alexander Gallery
I've painted throughout my life but I also work on the property developing business with Sarah. After we met we lived in each other's pockets so it made sense that we set up the business together. We really enjoyed it but we've certainly had our moments working together and living together. When Sarah started doing the television shows, it wasn't really strange... we'd laugh about the fact that she was on the telly and in newspapers, it didn't have a great impact on how we were. Everybody wants somebody to find their partner attractive and so if people fancy her, I suppose it's an extension of that. I don't get jealous. It was around the same time that I wanted to get back into painting full time so we were able to do our own thing a bit. I think she would like to be the sort of mother who gets to pick her kids up and help with their studies every day but things aren't like that at the moment. We are in a really fortunate position: we get on really well, we have a laugh and we have four healthy children. I'm also a director of My Single Friend. Setting up the business was a great antidote to Sarah trying to set up everybody we ever met. I remember being in a restaurant once and there was quite a handsome fellow on the table behind us. We'd had a bit to drink and Sarah turned around to this bloke and asked him if he was single and if he'd go on a blind date with a friend of hers. At that point I realised we'd have to do something about this obsession.
Register for free to continue reading
Registration is a free and easy way to support our truly independent journalism
By registering, you will also enjoy limited access to Premium articles, exclusive newsletters, commenting, and virtual events with our leading journalists
Already have an account? sign in
Register for free to continue reading
Registration is a free and easy way to support our truly independent journalism
By registering, you will also enjoy limited access to Premium articles, exclusive newsletters, commenting, and virtual events with our leading journalists
Already have an account? sign in
Join our new commenting forum
Join thought-provoking conversations, follow other Independent readers and see their replies