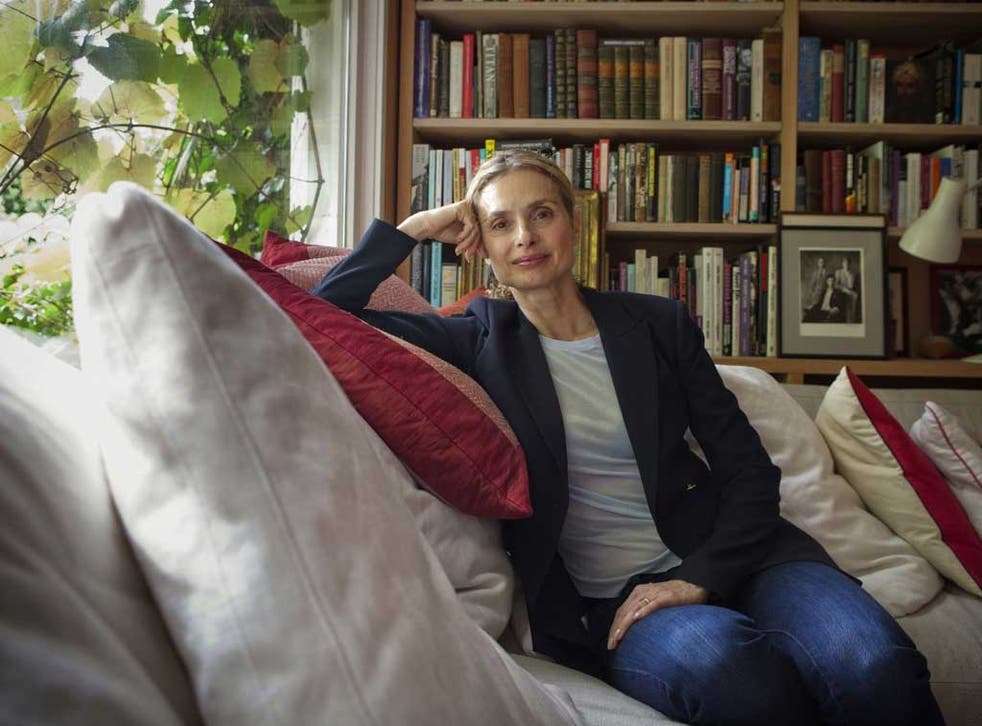 Maryam D'Abo: 'It's like losing a layer of skin – you experience life more intensely'
The actress Maryam D'Abo was lucky to survive when she had a brain aneurysm. Her experience inspired a moving film that she hopes will give voice to other sufferers of brain injuries
Jack Watkins
Wednesday 11 July 2012 00:50 Comments
Maryam D'Abo describes the sensation of having a brain haemorrhage as like "shotguns in my head" – a series of explosions arising from the rupturing of an aneurysm that had formed on one of her blood vessels in the subarachnoid. The London-based actress underwent this harrowing experience five years ago, while she and her film director husband Hugh Hudson were staying with friends in Los Angeles.
"I had been having acute headaches for six months before, which I'd attributed to hormonal changes of a woman in her forties. But when we flew to America, I was suffering terrible headaches from the time we got off the plane. Two weeks later I woke up feeling out of sorts, but thought I'd work it off exercising on our friends' Stairmaster. After about five minutes, I felt dizzy, as if I was going to faint, then this massive heatwave – whoosh! – swept up through my head, followed by the 'explosions'. "
D'Abo says she went from sweating to freezing, and started vomiting violently. "I just remember I had so much pain in my head that I was trying not to move, praying it would go away." At first, she was misdiagnosed as suffering from viral meningitis – its similar symptoms of sweating, headaches, nausea and sensitivity to light and noise can lead to brain aneurysms initially being undetected. But as her condition worsened, after three days she was admitted to the renowned neurosurgery department of Cedar-Sinai Hospital. Lumbar puncture revealed the haemorrhage, and an emergency four-hour operation was carried out to prevent further blood seepage into the brain.
"Luckily, my aneurysm was accessible, whereas some occur in parts of the head that are hard for surgeons to get to," explains D'Abo.
It is estimated that only one in 10 of those who suffer actual brain haemorrhages survive, and of those who do reach neurosurgery, only one-third return to their pre-haemorrhage state, one-third die within a month of operating, and a further third have severe disabilities for the rest of their lives. No one is certain what causes aneurysms, but her own experience prompted D'Abo to make a documentary explaining the ordeal, and giving voice to other sufferers of brain injury.
Rupture: Living With My Broken Brain is at times graphic and disturbing, but at other moments poignant, funny and even uplifting. It was scripted by writer and neurologist Paul Broks, who had access to D'Abo's stream-of-consciousness diaries, was directed by Hudson, and has music specially composed and performed by Hudson's old friend and associate from Chariots of Fire, Vangelis, along with that of Mark Knopfler, performed and donated to the film. It features D'Abo's interviews with people such as Quincy Jones who, like her, suffered a brain haemorrhage in his forties, jazz guitarist Pat Martino, who for several years "forgot" how to play until he underwent surgery to correct an aneurysm, and former literary editor of The Observer, Robert McCrum, who suffered a haermorrhagic stroke that left him partially paralysed.
All these were people who, like D'Abo, "made it back from brain injury", and the intention of the film "is to give hope to others fighting the same problem, and to help their families to understand what their loved ones are going through".
It is clear that it is the sense of isolation and social disconnectedness in the aftermath of brain injury that presents one of the greatest challenges to overcome. Hugh Hudson, having witnessed his wife's plight at close range, describes the brain injured as "existing in a kind of desert of their own, struggling to find a way out". McCrum talks of feelings of "anger and self-bereavement", of being "ashamed", and of experiencing a loss of confidence that even made meeting friends difficult. D'Abo says that for a time she "was frightened of everything, unable to cross a road, or to eat in a restaurant". She felt "stupid" because her short-term memory was damaged. "I can't put things in order now. And for some time afterwards, I could not watch a foreign film and read the subtitles at the same time. If I was at a dinner with several people round a table, I could not assimilate the flow of conversation."
She is keen to highlight the existence of The Silverlining, a charity initiated by American neuro-psychologist Dr Sherrie Baehr. Its members are sufferers of brain trauma who meet each month and who raise money for those needier than themselves. "These are people who have lost their careers, but the charity helps lift this sense of uselessness and of being a burden on society," says D'Abo. "And it provides a long-term aftercare of a type the NHS cannot give." The charity is growing, and alongside its London branch, now has ones in Oxford and Sussex.
And yet convalescence has compensations, argues D'Abo. "Many people say that recovery from an aneurysm is like having a layer of skin ripped off – your experience of life is more intense. I appreciate the physicality of things now, the lushness of greenery, the sight of a robin." She describes herself now as recovered – she drives, swims, does yoga and pilates and, alongside appearing in an upcoming TV episode of a Ruth Rendell crime story, is currently updating a film, Bond Girls Are Forever, which she originally did for American TV, for the 50th anniversary of the film franchise this autumn.
The work of producing Rupture was therapeutic, and stirred a desire to make more documentaries. The film ends with a lyrical scene of her in Hyde Park, finding joy in gazing up into broad-canopied London plane trees in the spring. "The thing is to appreciate the fragile wonder of it all, down to the last breath, down to the dying embers of consciousness," she maintains. "Life is good –we forget that."
Rupture: Living With My Broken Brain is on BBC4 at 10pm on 12 July as part of Flesh, Blood and Bones, The Amazing Human Body season.
thesilverlining.org.uk
The facts about brain aneurysms
* A subarachnoid aneurysm is an abnormal ballooning in a blood vessel that develops in the subarachnoid.
* An aneurysm occurs when the pressure of blood passing through part of a weakened artery forces the vessel to bulge outward. Not all aneurysms are life-threatening, but if the bulging stretches the artery too far, this vessel may burst, causing a person to bleed to death.
* An aneurysm that bleeds into the brain can lead to stroke or death.
* A person with a family history of aneurysm is twice as likely to get one.
* People with high blood pressure are at greatest risk. Women are twice as likely to develop a brain aneurysm haemorrhage as men.
Register for free to continue reading
Registration is a free and easy way to support our truly independent journalism
By registering, you will also enjoy limited access to Premium articles, exclusive newsletters, commenting, and virtual events with our leading journalists
Already have an account? sign in
Join our new commenting forum
Join thought-provoking conversations, follow other Independent readers and see their replies