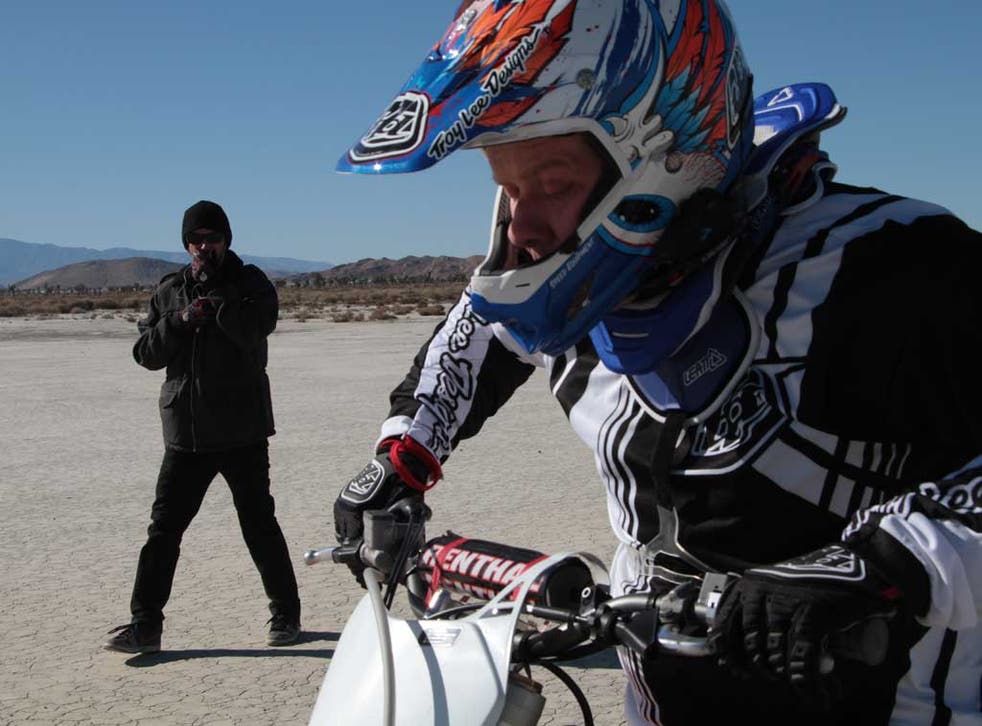 Matthew Wadsworth: Blind ambition
His disability didn't stop Matthew Wadsworth becoming a top musician. And it won't stop him trying to set a world motorbike-jumping record either
Matthew Wadsworth is what a management consultant might call a high achiever. He's a lute virtuoso who has studied at the Royal Academy of Music (RAM), released six classical albums, one recorded live at the Wigmore Hall, and played in operas and orchestras all over the world. His achievements are all the more impressive when you discover that Matt was born blind.
They are even more staggering when you discover that Matt, now 37 and living in east London, was one of the first blind children to attend a mainstream secondary school and was the very first blind student to attend RAM, where he developed his own form of Braille tablature for the lute to allow him to consign three-hour long scores to memory. He's even found time to play with the Paraorchestra, a group of talented disabled musicians who sometimes struggle to find professional orchestras to play with, and set up a successful online business.
Listening to Matt play the basso continuo, few listeners would guess at his other high-octane passion in life, though: jumping dirt bikes.
It all started last year when, presumably feeling that he hadn't quite reached his full potential in life, Matt struck up a conversation with a colleague about what he could do to test himself.
"The idea of a motorbike jump came up and I must confess, I was quite taken aback for about 10 seconds or so," says Matt when we meet to discuss his madcap scheme over coffee. "But the more I imagined going over a jump the more intrigued I became," he continues, smiling.
"I kept thinking about the challenges. How would I know where the ramp was? How would I know when to land or even if I was going in a straight line? And of course, how far could I jump?"
Undeterred by the challenges, Matt set about turning what was a casual conversation into a world-record breaking attempt. He soon discovered that the Guinness World Record for the longest jump by a blind person was 100ft – the length of three London buses – but that it had been set by a professional motocross rider wearing a blindfold.
"The thing that pushed me over the edge was one overriding thought: how would it feel to fly through the air for 100ft?" says Matt. This was early 2011 when Matt was living in Canada and splitting his time between Quebec City and concerts in the United States and around the world. Through a friend he enlisted the help of three-time motocross champion Micky Dymond in California and, by the end of the year, they had set up a specialised track and jump in the scorching-hot Mojave Desert and Matt had ploughed £35,000 of his own money into the project.
"When I was first approached about Matt and his idea to jump 100ft I was pretty shocked by the idea and I think I might have actually thought it was a joke," says Dymond. "I had no idea who he was or why he wanted to do it and I was pretty sceptical. I saw myself getting all the blame if he was injured. I mean, what kind of idiot would coach a blind person to jump a motorbike?" Matt can be persuasive, though. His personality won through and after a trial run Dymond was convinced to join the project.
"Meeting him, seeing how likeable he is and understanding that this was his dream changed my mind," explains the former champion. "I reminded myself of my own dreams and how God let me live out my dreams on a motorcycle. I would have been a terrible person if I didn't allow Matt to share that."
Matt grew up in Manchester in the 1980s, at a time, he explains, when blind children weren't encouraged to be ambitious or dream about their future.
"My parents were really very special and allowed me to get on with what I wanted to do. There was no mollycoddling or special treatment of me. For Christmas when I was six years old, there was a guitar – that's when my love of music started – and something that felt like a crash helmet under the tree. It was a crash helmet and there was a baby dirt bike to go with it hidden in the kitchen. From then on until I went away to school for my music, my dad used to take me to a little field, check nobody was there and let me off on my own to ride. So for the other children in the neighbourhood I was the cool kid with the motorbike, not the blind one."
At the start of the project Matt was confident, but it was by no means certain he'd be able to go anywhere near the distance and Dymond in particular was still unsure. Kai Nagata, a Canadian journalist who happened to meet Matt while the two of them waited for a flight and has since made a three-part online documentary called Renaissance Man about the jump, was more certain: "Matt shapes the world around him as he needs and there was something about his determination and conviction that made me think it was possible. I didn't base this on his motorcycle experience, but his record in the music world, which was clearly impressive."
Matt's earlier biking experience, and his parent's relaxed attitude to danger, obviously stood him in good stead and by November last year he and Dymond had started the first of several two-week-long bouts of intensive training for the record attempt. Using a specially constructed jump – far wider than a normal motocross jump – and a two-way radio link-up the two were able to work up a system of instructions that saw Matt lift 10ft off the ground on the first day and 30ft within a week.
F or Matt is was an "emotional roller-coaster of getting all the complex technical elements right while taking commands from Micky", but soon his musical training and discipline came in more useful that he'd first thought. "Motorcyclists talk a lot about music as they listen to the pitch of the engine so there's common ground there I was able to use," he says. "And just like in music you have frustrating days and mess up but have to battle on. The same core set of fundamentals of focus, determination and discipline apply."
After three sets of jumping practice only a bad fall and some awful weather conditions stopped Matt hitting his target of 100ft. His best effort was just over 70ft, but Matt isn't disappointed.
"The fall was my biggest setback because after I hurt my arm I was never really sure of myself. I believe in calculated risk and it would have been stupid to go on from there by opening the throttle rashly and just racing for the record. I wanted to earn every bit of the distance."
Matt is modest about his achievements and reticent to make much of his ambitions, only admitting when pushed that he hopes to inspire people to believe that hard work pays off no matter what your ability, talent or handicaps in life. And that if he can find sponsorship he'd like "to take another crack at the record back in the UK". Dymond is more certain about his motivations, though: "At first it was the excitement of the record and what he could adapt from music that pushed him forward, but it became something more. He got a feeling on the motorbike that changed everything. He began to enjoy being a motocross rider, and in the end he just became so horny to ride."
The final part of Renaissance Man is out now and available at reelhouse.org. You can support Matt's record-breaking attempt at makingthejump.com.
Register for free to continue reading
Registration is a free and easy way to support our truly independent journalism
By registering, you will also enjoy limited access to Premium articles, exclusive newsletters, commenting, and virtual events with our leading journalists
Already have an account? sign in
Register for free to continue reading
Registration is a free and easy way to support our truly independent journalism
By registering, you will also enjoy limited access to Premium articles, exclusive newsletters, commenting, and virtual events with our leading journalists
Already have an account? sign in
Join our new commenting forum
Join thought-provoking conversations, follow other Independent readers and see their replies