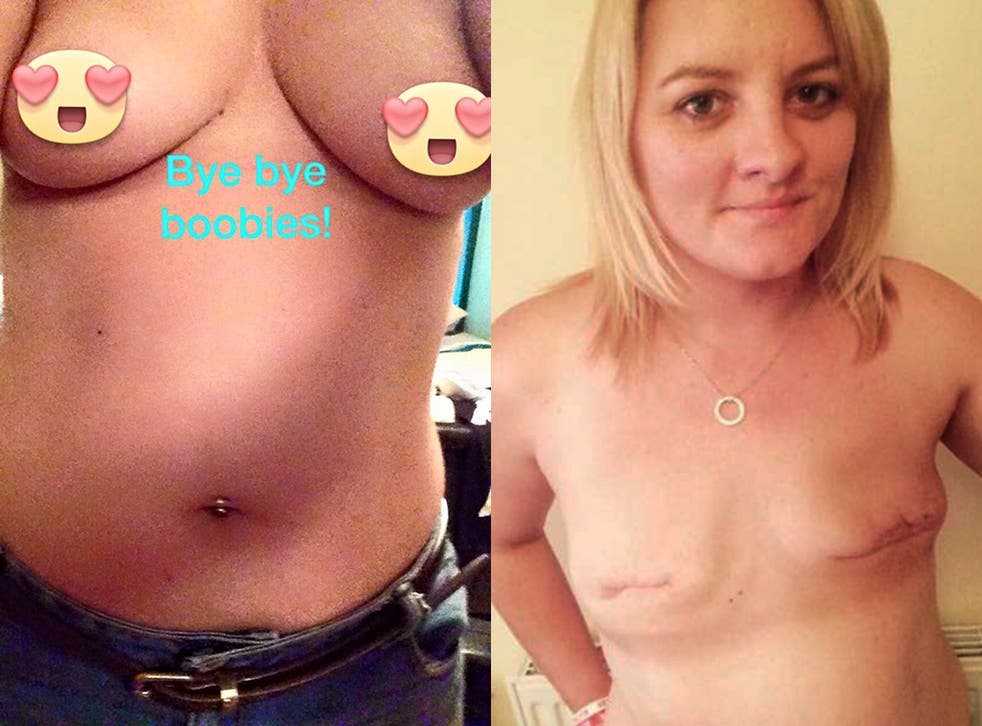 Meet the woman who set up Facebook page 'Cancer. You lose' to share her mastectomy scars in a positive way
Amanda Stewart was one of five women from her family to have preventative surgery. When she couldn't find any post-surgery photos or stories in the lead up to her mastectomy, she wanted to help other women in her position
Katie Grant
Friday 18 September 2015 17:37 Comments
In April this year, five women from the same family had decided to undergo preventative double mastectomies in order to dramatically reduce their chances of getting breast cancer after being told they all had a 97 per cent chance of developing the disease.
Amanda Stewart was one of them.
None of the women carried the faulty BRCA1 or BRCA2 genes that increase the likelihood developing breast cancer but surgeons offered them the operations due to their family's history of the disease - Amanda has lost two aunts to breast cancer and her mother also had it.
Amanda, from Carluke, South Lanarkshire, was the last of the women to undergo the surgery, after her sister and two of her cousins - unfortunately another of her cousins, Suzanne, discovered she might not be able to have the surgery as her diabetes presented complications.
"I had my operation at Glasgow Royal Infirmary six weeks ago," Amanda told The Independent. "I was on a real high afterward."
The 33-year-old, who has two children, aged four and six, said she was excited that she might be able to aid research - doctors plan to examine the breast tissue from her and her sister and cousins and compare it with tissue from the tumours of their relatives in a bid to identify a possible genetic mutation.
Amanda has been fitted with tissue expanders and the reconstruction of her new breasts is now underway. She has found it helpful to see what her relatives' bodies looked like post-surgery as it has given her an idea of what to expect, but she realised most people wouldn't be in the this position.
"I couldn't find any preventative post-surgery photos or stories in the lead up to my operation, only post-cancer ones and they were all very sombre and sad," Amanda told The Independent.
Eager to "reach out and help others", she set up a Facebook page on which she posts photographs and updates. The page, called "Cancer. You lose", has attracted interest from other preventative mastectomy patients and people with breast cancer, as well as members of the public, Amanda said. She has also been participating in an ongoing "before and after" photography project to show her recovery and the development of her new breasts.
"I wanted to share my scars in a positive way," she said.
"I didn't think I'd be this positive afterwards but it's six weeks down the line and I'm getting better instead of facing breast cancer. I'm going to be around for my kids. It's a gift that's been given to me by the NHS and I've grabbed it with both hands."
Images: Katie Tonner Photography
Register for free to continue reading
Registration is a free and easy way to support our truly independent journalism
By registering, you will also enjoy limited access to Premium articles, exclusive newsletters, commenting, and virtual events with our leading journalists
Already have an account? sign in
Join our new commenting forum
Join thought-provoking conversations, follow other Independent readers and see their replies