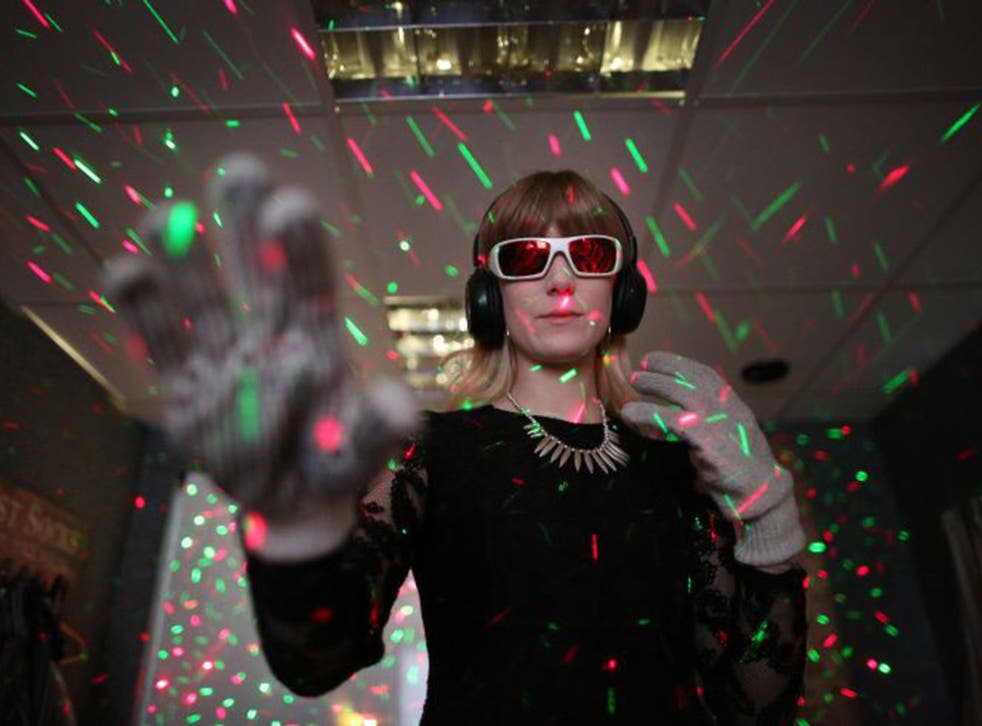 Physical effects of dementia can now be experienced virtually
Dementia attacks the nervous system, as well as the mind. Now an 'immersive experience' can help us understand the painful symptoms. Chloe Hamilton puts it to the test
I'm trying to find a sock. My vision is distorted and my hands are numb. It's dark. I rifle through a pile of what appear to be bedclothes, desperate to find the sock. A man stands next to me barking instructions, but I can't make out any words, only loud noises. He's too close, though, leering over my shoulder, frightening me. I shuffle away but I can't shake him off. Suddenly, I have the sock in my hand, holding it aloft like a prize. Within seconds, it's snatched away from me by the man at my shoulder. I ball my fist, ready to punch him. And then, just like that, he leans in and removes my headphones.
I'm in a lorry parked outside Abbeyfield Care Home in New Malden. For the past eight minutes, I've been taking part in the Mobile Virtual Dementia Tour, an immersive experience run in the UK by the care-training provider Training2Care, which uses props to take away people's primary senses, distorting their surroundings and simulating the physical symptoms of dementia. The lorry is about to go on tour around the UK for the first time, visiting care homes, doctors' surgeries and councils to educate the public about what it's like to live with dementia.
Health news in pictures

Show all 40
Education is essential. Currently, 850,000 people are living with dementia in the UK. The umbrella term covers all degenerative conditions affecting memory loss and difficulties with thinking and talking. Alzheimer's disease is the most common form and the Alzheimer's Society predicts that by 2025, one million people in the UK will be living with the condition.
Before the tour starts, I'm told I won't be able to ask questions while I'm immersed. Then, I'm kitted out in gloves, spiky insoles, dark glasses and headphones, and guided into a lorry that has been dressed up like a person's home. There's a bed, a sofa, a sink, and various other household props.
The gloves remove my sense of touch, while the spiky insoles in my shoes replicate the pins and needles caused by peripheral neuropathy – where nerve endings die in the hands and feet. It's like walking on shards of glass and I inch gingerly around the lorry, inadvertently adopting the shuffling gait of someone who is living with dementia. The dark glasses imitate macular degeneration and presbyopia, which is when a person's vision becomes blurry due to a loss of elasticity in the lens of the eye. I can't make out the faces of anyone in the room, leaving me disoriented and scared. My headphones reproduce the kinds of sounds heard by a person with dementia. Contrary to popular belief, people living with dementia don't lose their hearing. In fact, they hear at a slightly higher volume to those without the condition. What they do lose, however, is the ability to differentiate between sounds. Everything becomes chaotic. With the headphones on, I'm lost in a world of indeterminate noise. The whole experience is terrifying.
The tour's creator, PK Beville, 62, tells me she hopes the tour will help to improve care for people with dementia by giving professional carers – as well as relatives – a glimpse into the world of someone living with the condition.
"People fear things they don't understand," she says. "That's why the Virtual Dementia Tour is so critical. You take the time to see that it's nothing to be fearful of. It's something we can treat and care for."
The Virtual Dementia Tour, which launched in the US more than 10 years ago, is currently in 17 countries and has been up and running in the UK for two years. This is the first time a mobile version will be available to the British public, however. It's not government-funded – an eight-minute experience costs £20 – but it's hoped that the tour will be eye-opening for relatives of anyone who is living with the condition.
The managing director of Training2Care, Glenn Knight, 43, who leads me around the tour, says he hopes to challenge the stereotypes surrounding dementia. "The tour is about changing practices and walking in the shoes of someone with dementia," he says. "We hear so often that people with dementia are challenging. It's not true. People with dementia are only ever doing what we would do in the same situation."
He's right. During the tour, stripped of my senses, I'm afraid and confused. When a man I don't recognise (Glenn, it later transpires) snatches the sock I've worked hard to find, my instinct tells me to lash out. But I'm not being intentionally aggressive. I'm just fearful.
As I climb off the lorry, my final thought is of my grandma, who is currently living with dementia. I think of all the things I could do to make her life a little easier, a little less frightening. Gently touching her shoulder before I speak to her, for example. Or buying memory-foam insoles for her shoes to ease the pins and needles in her feet. I resolve to do them. Which means the tour has worked. My eyes have been well and truly opened.
Join our new commenting forum
Join thought-provoking conversations, follow other Independent readers and see their replies