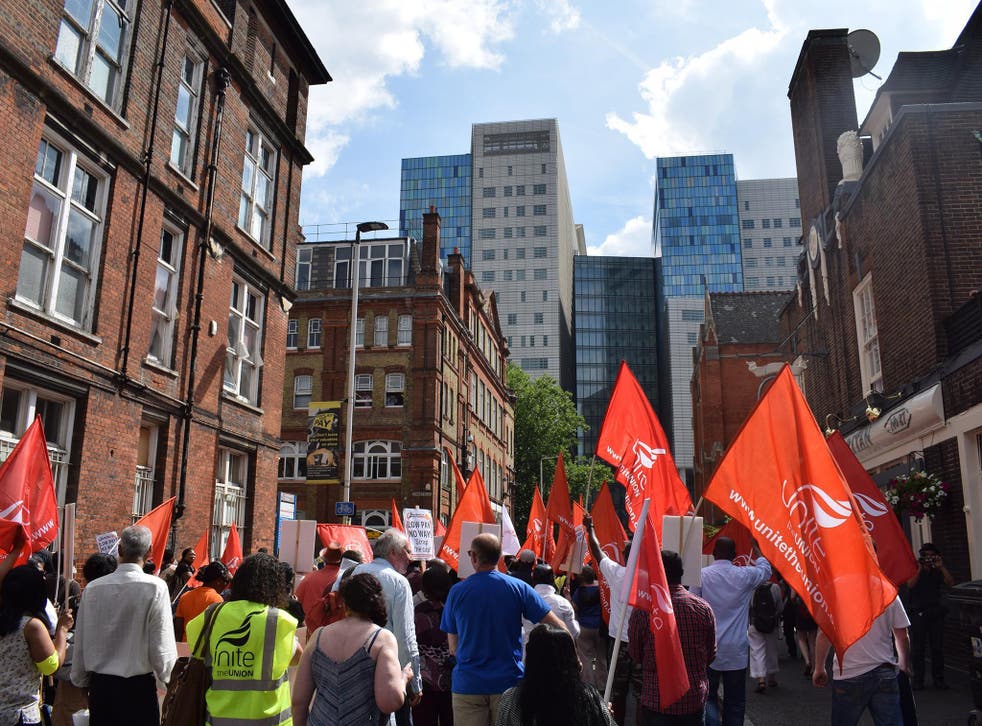 NHS cleaner strike: What has led to one of the biggest hospital walkouts?
Up to 1,000 cleaners from across four of St Barts Trust's hospitals have begun their first period of official industrial action. But, asks Casper Hughes, why have they decided to strike following a pay rise, putting them in line with the London Living Wage?
It only took three days for Serco to provoke the Royal London Hospital's cleaners to go on strike. The company's contract with the hospital had barely begun when the new managers told the workforce that their 10-minute morning tea break was to be scrapped without consultation. The strike happened spontaneously: 120 workers immediately dropped their mops and barricaded themselves in the canteen demanding their break be returned. A wildcat strike and an absent workforce on your third day in the job isn't the best look: Serco reversed the proposed change immediately.
Three months on, in what is the UK's biggest ever cleaners' strike, up to 1,000 cleaners, porters, caterers and security staff from across four of St Barts Trust's hospitals in east London have now just begun their first period of official industrial action. Since the abrupt strike in April, discontentment has rumbled on, prompting 99 per cent of unionised workers across the trust to vote for sustained strike action.
Formerly managed by Carillion, but officially employed by the NHS, the striking workers became employees solely of Serco after St Barts signed off on a seven-year, £600m contract with the outsourcing company. As soon as the contract started – a couple of days before the walkout – the workers received a pay rise to put them in line with the London Living Wage of £9.75 an hour. Serco says permanent staff having their income increased "by an average of 3.5 per cent" is generous, and are "disappointed by the actions of the union", given their steps to improve pay and conditions. So, why have the unionised staff chosen strike action in spite of an increase in their wage?
Working through their union Unite, the hospital staff are demanding a 30p an hour pay rise in line with inflation, an end to proposed job cuts among the porters at Whipps Cross hospital and, perhaps most importantly, a reduction in their overall workload. It is their visceral anger at the way they are being treated that has spurred them to such drastic measures, however.
"Thirty pence isn't the kind of money that's going to grab someone to get on a picket line at 5am in the morning," says Willie Howard, 29, a Unite organiser. "But what will get them there is their sense of dignity and sense of respect."
"One of the biggest complaints is that there's been a hardening of attitudes," says Howard. "They're being talked about, not spoken to, and when they were it was in a really confrontational and aggressive manner."
"Some of the supervisors are so rude. If they ask you to lie on the floor, so be it. That's what they think they can do," says Emilia Oforikumah, a cleaner at the Royal London Hospital. "They treat us like animals."
"The Serco managers never came and introduced themselves," said one worker, who asked to remain anonymous. "I actually knew the managers who were working before with Carillion. I don't know any of the new ones and they've been working there for months."
Everyone the Government blames for the NHS crisis – except themselves

Show all 6
Some staff argue that the management's "hardened attitude" is pushing them to their limits and consequently effecting the quality of their work and therefore patient safety.
"I'm grateful to Serco for putting us on the living wage and bringing in new, good equipment. But if we tell them there's work we can't do, they go, 'Yes you can,'" says Perry Kaye, 55, also a cleaner at the hospital. "If you break down what we have to do day by day, it's not physically possible. Patients can actually die if we don't get the hospital as it should be. It has to be so, so clean. And if you don't, you're risking vulnerable patients' lives."
"If the NHS wants the hospital to be safe and clean, they need to talk to Serco to tell them to employ more people," says Oforikumah. "They give us too much work to do. If you send me to go and clean 60 rooms in a seven-and-a-half-hour shift, what do you expect me to do, drop dead?"
In September of last year, St Barts entered into a sort of Faustian pact with Serco: a relationship they both needed. After the electronic tagging scandal in 2013, Serco's share price plummeted and it began to lose out on contracts as public bodies lost faith in the outsourcing company's capabilities: a miracle-worker CEO, Winston Churchill's grandson Rupert Soames, was parachuted in to save Serco from oblivion. Four relatively lean years later, its £600m contract with St Barts, its largest deal since 2014, was seen as a sign that perhaps its fortunes were changing and it could return to being the outsourcing giant it once was.
The NHS trust had a similarly acrimonious period. In 2006, the redevelopment of both the Royal London Hospital and St Bart's were given the go-ahead, financed under PFI. Ten years later, the hospital was put under financial special measures after recording the biggest financial deficit (£135m) of any UK health trust. The hospital is still expected to pay back £7.25bn under the PFI initiative up to 2048 – £6bn more than the development actually cost to build. As well as providing its hospitals with "better quality of services for patients and better terms and conditions for staff"; according to St Barts, the Serco deal will save the trust "millions of pounds by bringing delivery of a range of patient-facing services together under a single supplier". In recent accounts published this week for the financial year 2016-17, the trust almost halved its deficit to £69.5m. The Serco deal is evidently an effective cost-cutting measure.
Caught in the middle of this, however, are the hospital's outsourced workers. "I'm proud to be a cleaner at this hospital," says Perry Kaye. "I've had lots of jobs before: I worked as a minicab driver and on a market stall for years. But patients can actually die if we don't get the hospital as it should be. The NHS needs me."
With escalated strike action planned throughout July, and Serco insistent that they have treated the St Barts cleaners fairly, the saga is set for many twists and turns yet.
Join our new commenting forum
Join thought-provoking conversations, follow other Independent readers and see their replies