Penelope Leach: 'Face it: babies change your life'
Leaving infants to cry may be convenient – but it's harmful, says 1970s childcare guru Penelope Leach. So are modern parents too selfish? Susie Mesure finds out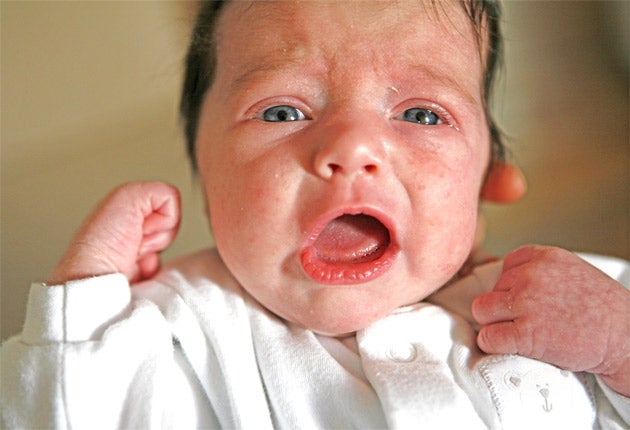 Penelope Leach is struggling to feel sympathetic. The scourge of my mother's generation is at it again: making parents feel bad.
This time it's the turn of all those manicured mums who owe their frazzle-free existence to the fact that they resorted to controlled crying to get their babies sleeping through the night.
They thought they had it all: great baby, great life, and eight hours of sleep a night – thank you Gina Ford. But that was before Leach, a renowned child development expert, claimed in her new book that leaving your baby to sob could damage its brain.
Not that Leach, an academic with more than four decades of parenting and grandparenting experience under her belt, feels bad. "I can't see any possibly good reason for having a baby if you don't want a baby in your life; which is why I'm a little impatient of the, 'I'm desperate to have a baby and I'll go through years of fertility treatment, but I don't want it to change my life.' Because a) it will, and b) I can't quite see what's the point.
We've got an awful lot of babies out there," she says, stating the obvious.
Leach, whose baby-first philosophy is legendary for making parents feel guilty, has always been against leaving babies to cry.
But this time around, she has science on her side to back up her attack on today's mothers, many of whom wait until they are well into their thirties to procreate, but who then can't bear their lives being out of control so resort to the strict routines advocated by the likes of Ford, which hinge on controlled crying. Or "deliberately not responding to your baby", as Leach puts it.
This matters, because neuroscientists' studies show that babies who have unresponsive carers have sky-high levels of cortisol, otherwise known as the stress hormone.
Now, for an adult, cortisol is no bad thing because, like adrenaline, it fires you up and gets you going. But for a baby, who is born with an unformed brain that still needs "hard-wiring", too much cortisol can be "toxic", Leach says, hence those claims of brain damage.
She goes on: "What you're doing at this stage is sculpting the connections in the brain. When someone comes and comforts the baby, the cortisol [which is produced when the baby cries] gives place to the happy hormones, endorphins, which flood in instead. So over time, if the baby is almost always picked up and comforted, then the connections in the brain will teach it that when stress hormones flood the brain, endorphins kick in."
And this is important because, as she adds: "Eventually you reach a point when stress corrects itself, and that's what we talk about self-soothing. If this goes on then with any luck, early in its second year, when a baby wakes up and screams endorphins kick in on their own and baby won't actually need a 'someone' because that's the connection that's been made."
From where we're sitting, in the bar of a boutique hotel in Lewes, East Sussex just down the road from where the 72-year-old psychologist lives, this all sounds fair enough. But our relaxed surroundings are aworld away from the frantic nocturnal despair of a mother who can't take another hour of baby-induced insomnia. What, Iwant to know, should she do?
But Leach won't help. "I'm not an agony aunt," she insists. No, indeed. But as a mother of two and grandmother of four, not to mention a best-selling author and global television personality, surely she owes it to her readers, old and new, to help? "I'm awfully bad at straight advice.
It's not a game I can play. There's awfully little you can generalise, except that unhappiness between a mother, a father, and a baby doesn't do anyone any good.
You have to try and find ways around the particular problem that helps everyone."
If she won't sum up her thinking, then I will: patience, and bucket-loads of it. And try and look on the bright side. There's even a plus to having a non-sleeping baby: all those wakeful hours mean there's a high chance he or she will be welladvanced developmentally. "'I hope you enjoy it', would be about it," Leach adds, her one concession on the advice front.
Apart from revising her seminal Your Baby and Child, which has sold more than 2m copies worldwide, Leach has veered away from parenting 'how-tos' in recent years, focusing instead on analysing childcare.
She was tempted back to the minefield that is writing for parents by the wealth of research that now backs up the opinions that dominated in the liberal Seventies.
Her new book, The Essential First Year, is a 'why' manual, she says; boxes of text are dotted throughout, summarising the latest thinking. As a recent new parent I can vouch for her approach: this is definitely a guide I wish I'd had (rather than one I wish I'd hidden in a box under my bed).
Given that so much time has elapsed since Your Baby and Childwas first published in 1977, I wonder whether she has changed any of her views. Has age softened her? Or is she still as adamantly child-centric as ever? (She even wrote a kids' manifesto, Children First: What Society Must Do – And Is Not Doing – For Children Today, back in the Nineties.) At first she insists that all her earlier opinions hold, such as the importance of breastfeeding and taking your cues from watching your baby. But I sense a slight change of heart.
"Don't start the way you mean to go on, but, heavens, don't go on the way you started," she says. Any parents fearing another generation of toddlers turning up uninvited to dinner parties can breathe out. "I'm not in any way saying that the whole household should dance around a pre-school child," she continues. She explains that if you've "hard-wired" your child's brain correctly, with enough cuddles and love, then your empathetic toddler should be a pleasure to be with.
"People don't like the toddler stage. Quite a lot of grandparents give up childcare at that age because they can't stand it any more. But actually, if I had a favourite age it would be that – because they're so funny, apart from anything else."
And at least by toddlerhood, she is safe from the contentious issue of controlled crying.
Join our commenting forum
Join thought-provoking conversations, follow other Independent readers and see their replies