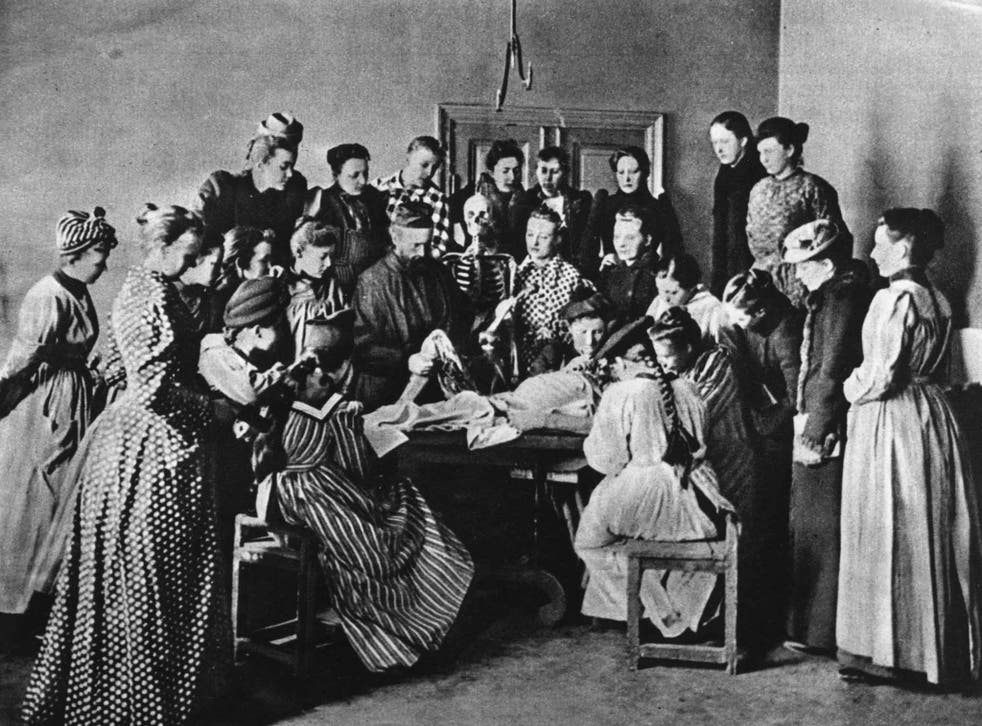 Public anatomy classes return: Can they escape the shadow of the bodysnatchers?
In the 19th century, when dissection was considered public entertainment, demand for bodies was booming with advances in medicine. People used to dig up fresh graves, and some even murdered others to supply corpses
On Saturday, 25 people will file into Edinburgh University's historic anatomy department to learn about the upper limb. A day of study will include lunch, as well as the use of plastic models and X-rays. Nothing remarkable there – but the first of six such workshops will also introduce the public to something that has been kept behind closed doors for almost 200 years: "cadaveric material".
"There will be an isolated upper limb that has been dissected so people can see the muscles, nerves and tendons as they appear in the human arm," says Tom Gillingwater, a professor of neuro-anatomy at the university. "Because the way to really learn anatomy is by handling the complex fabric of the human body."
When news first emerged of the classes, which will end with an examination of the head and neck in November, Gillingwater and his colleagues were troubled by the response. Headlines inevitably recalled Edinburgh's glorious but, at times, grisly association with anatomy. In the early 19th century, when dissection was considered public entertainment, demand for bodies was booming with advances in medicine. But we were also hanging fewer criminals, strangling the leading supply of corpses.
In 1828, William Burke and William Hare tried to close the gap by murdering 16 people in Edinburgh. They sold the bodies to Robert Knox, a doctor whose public lectures were popular and lucrative. "Burkers" across Britain committed the same crime, while "resurrectionists" dug up fresh graves. When the extent of the trade became plain, a nation threw up. The scandal led to the 1832 Anatomy Act, which regulated the discipline and the supply of bodies. Dissection stopped being part of the death penalty, and public lectures soon ceased (not before Burke's own public hanging and dissection, in 1829, a fate that Hare and Knox escaped).
"It led to the end of the use of anatomy departments for education other than for very restricted purposes – mainly, training medical students," Gillingwater says. "Anatomy has in many ways been locked away ever since. And yet the human body and the process of death is the most natural thing. When you lock it away, a mystique develops that breeds curiosity."
Often, that curiosity is ghoulish, and Gillingwater is keen to remove the new workshops from the long, dark shadow of Burke and Hare. Participants, who will be able to observe and handle prepared material – but not dissect it – are being carefully screened. So far, they include nurses, massage therapists, physios, medical artists and prospective doctors. "If someone is just curious and says they really want to learn about the human body in a way that is educational, that's also within the remit of the workshops," Gillingwater adds. "But if they just want to see what a dead body looks like, that would not be appropriate."
Laws governing the treatment of body parts have tightened further since the Burke and Hare scandal. Today, cadavers must be donated in advance, like organs but with much more paperwork. Gillingwater says anatomy departments now receive between 20 and 100 bodies a year. Respect for them guides his work, and belief in anatomy as education for the good of us all. "We do our all to make sure they are looked after properly," he says.
All medical students remember their first encounter with a cadaver, which typically starts a relationship that can last for months. Some give them names, as a way of humanising what Gillingwater calls "the ultimate gift". "We 'met' ours for the first time without performing any dissection," says Meg Anderson, a surgical trainee at Edinburgh, where the first professor of anatomy started work in 1720. "I remember being worried that I wasn't going to do justice to what she had given."
Anderson, who is 27, supports the introduction of respectful public anatomy. At Edinburgh, she and a fellow medic also run Art and Anatomy, a group that uses accurate body painting to peel back the layers between us and our insides, further demystifying the discipline. She has also attended an annual, non-denominational memorial service at Greyfriars Kirk, a church in Edinburgh, to which the university invites donors' families and students. "You see them meeting and realise just how incredible it is to be involved in this," Gillingwater says. "It's a remarkable reminder of the power of people to improve the lives of others."
Register for free to continue reading
Registration is a free and easy way to support our truly independent journalism
By registering, you will also enjoy limited access to Premium articles, exclusive newsletters, commenting, and virtual events with our leading journalists
Already have an account? sign in
Register for free to continue reading
Registration is a free and easy way to support our truly independent journalism
By registering, you will also enjoy limited access to Premium articles, exclusive newsletters, commenting, and virtual events with our leading journalists
Already have an account? sign in
Join our new commenting forum
Join thought-provoking conversations, follow other Independent readers and see their replies