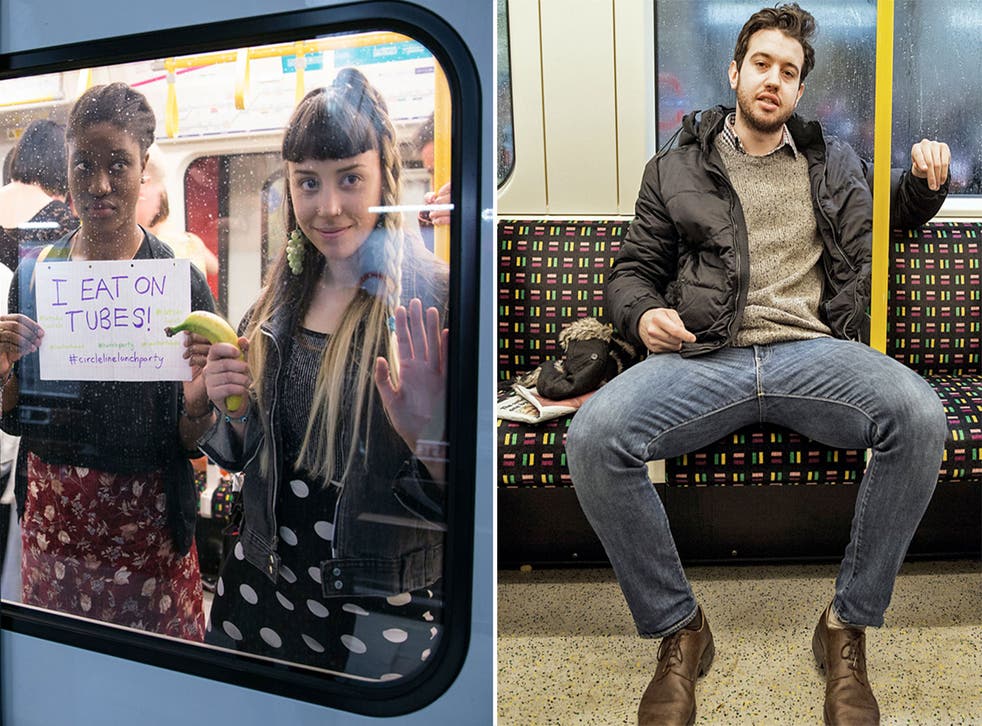 The rise of stranger shaming: How humiliating others became acceptable
The trend of photographing others goes beyond 'manspreading', it also includes people who are overweight, disabled, or 'unfashionable': but what gives us the right to shame a stranger?
Last April, 'stranger shaming' was the phrase on everyone's lips, after a Facebook group entitled 'Women Who Eat on the Tube' was discovered. Created by 39 year old artist Tony Burke, who insisted that covertly snapping women in the act of eating was "the London equivalent of wildlife photography", the group at one stage had more than 15,000 members (it has since been disbanded). Several of the unknowing subjects of photographs posted in the forum came forward to say they felt violated. One such unwilling model, Sophie Wilkinson, claimed to have attracted more than 12,000 abusive comments from online trolls for having committed the fairly innocuous 'crime' of eating a salad on the Metropolitan Line.
The briefest, most perfunctory Google search is all that's required to access thousands of pictures of strangers on public transport, posted to social media sites and blogs, obviously taken without permission. Whilst the desire to capture violence, or anti-social behaviour for evidence purposes would be completely understandable, the vast majority of stranger shaming pics are taken in a bid to document activity which is neither illegal, nor particularly offensive.
The most common reasons for reaching for the camera phone are that the stranger is considered unusually attractive, badly dressed, or engaging in activity which the photographer disapproves of, like looking at Page 3 of The Sun. Website Smoosh, for example, hosts an article entitled "18 Weirdos Caught Taking Public Transport", the first picture featuring a man in a tight fitting purple shell suit minding his own business, clearly unaware he is being snapped.
The latest trend is to record so-called 'manspreading' – the act of sitting with ones legs so far apart on a train, they spill into seats either side. Twitter, Snapchat and Instagram show thousands pictures of men engaging in this behaviour, and New York's transit authority launched a campaign against 'manspreading', with a Tumblr dedicated: Men Taking Up Too Much Space On The Train. Interestingly, the only dedicated Facebook page is actually a forum for men to post pictures of women with their feet and bags on seats.
Whilst the tone of the photographers clearly implies that they believe what they are doing is either for the greater moral good, or a simply an act of harmless lark-aboutery, there can be psychological implications for the subjects of the photos. A recent survey by Slimming World revealed that overweight people cited being photographed without permission as one of three reasons they were ashamed to go out in public and consequently were avoiding exercise, or seeking solace in food.
In pictures: Women take part in a 'Lunch Party' against the Facebook website 'Women Who Eat on Tubes'

Show all 8
Last week, Carlye Wisel wrote for 'Racked' that being 'fashion-shamed' on Snapchat caused her to "critique herself though the sender's eyes" and to question whether her outfit, something she had been casually travelling to her yoga class in, made her look "crazy".
Erin Pritchard, who is a dwarf, can recall being photographed at least ten times in public, although these are only the times when a flash or clicking sound has alerted her and she suspects there have probably been more.
"Being photographed made me feel sub-human" says Erin. "Dwarfs were very common in Victorian freak shows and although those are now practically non-existent it still seems acceptable that people treat those with dwarfism as oddities."
A teacher I interviewed, who wishes to remain anonymous, says she believes a picture of one of her pupils taken on a school bus caused the onset of an eating disorder. The snap, which was taken whilst the twelve year old girl slept, drooling and with her mouth open, was posted to Facebook, causing considerable psychological distress when it was commented on by her classmates.
"I don't think it's as simple as saying that this one incident caused her anorexia" her teacher told me, "she was always an anxious person. But looking back that picture was definitely the trigger. It was the catalyst that set everything off. We were dealing with episodes of starving and bulimia for years afterwards".
Dr Gayle Brewer, who is a Senior Lecturer in Psychology at the University of Central Lancashire agrees that stranger shaming can have serious consequences for the subject:
"Realising that you have been filmed or that your image has been posted to the internet can be extremely upsetting. People can feel that others are judging them, talking about their appearance and behaviour, leaving them feeling vulnerable and anxious", she says.
So, what compels people to stranger shame? Dr Aaron Balick, author of The Psychodynamics of Social Networking says:
"The sharing of the photo is a psychological reflection of the person taking the picture, not the photographed. Individuals may stranger shame to evacuate their own bad feelings. Alternatively, when attractive people are photographed, it may also be a way of expressing the sharer's sexual tastes and desires. In both cases…..the intention is to show up their difference, something they may already be quite sensitive about".
Whilst the European Court of Human Rights declares that we have a right to privacy, there is no law which specifically prohibits stranger shaming, unless the content of the photograph is sexual in nature. Last year, the Metropolitan Police teamed up with TFL and Everyday Sexism to launch 'The Guardian Project', providing an extra 2,000 officers patrolling public transport, a helpline and text number for people to contact if they felt sexually violated by someone else taking photos or footage of them.
For other types of stranger shaming it's at the discretion of the photographer's moral compass. Using mobile phones to record illegal activity could be everyday heroism, but taking photos of strangers for other reasons, as Dr Balick has demonstrated, can reveal something very ugly about the person behind the camera.
Join our new commenting forum
Join thought-provoking conversations, follow other Independent readers and see their replies