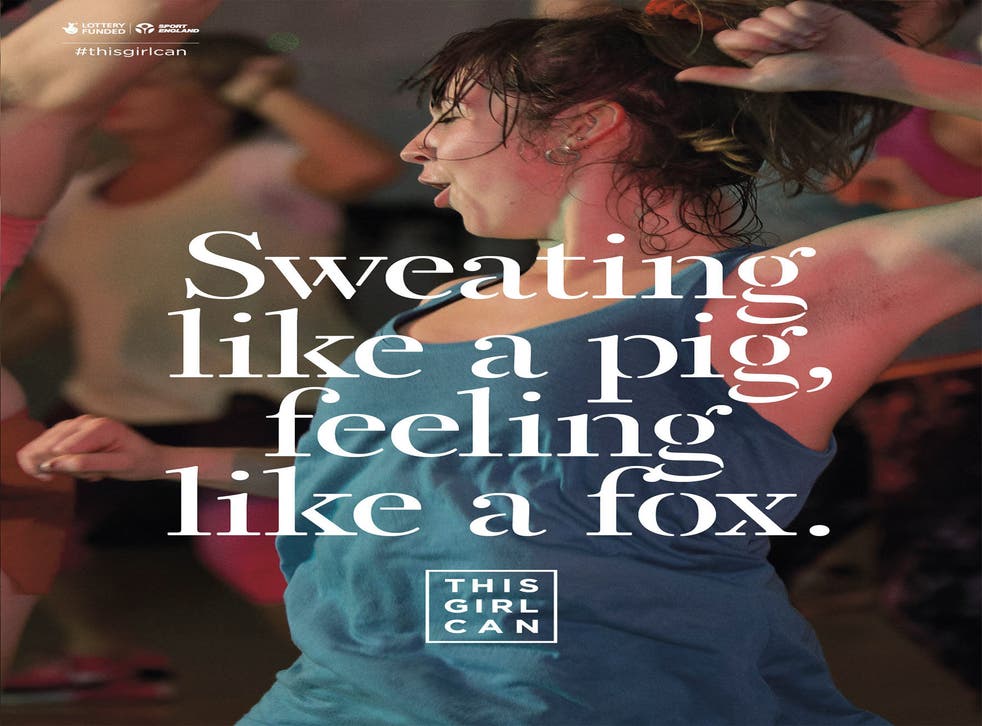 Sport England's new campaign to encourage girls and women to exercise is a triumph
How did they get it right - and will it work, asks Gillian Orr?
Gillian Orr
Wednesday 14 January 2015 23:15 Comments
Perspiration dripping from red faces; jubilant punches in the air; legs caked in mud; falling down in exhaustion. All are classic features of sports highlights and feel-the-burn fitness adverts. Yet we mostly only ever see men in such an unaffected light. Until now.
This Girl Can is a new national campaign developed by Sport England to encourage women of all ages to be more active. At a time when females are subjected to endless stylised images of women with perfect abs exercising while wearing the latest designer gym kit and failing to break a sweat, these ads couldn't be more welcome.
To be shown across television, the internet and as an outdoor advertising campaign, the drive features real women of all ages and sizes exercising and talking about their experiences. With less-than-flattering cycling shorts and plenty of cellulite featured, it is a warts-and-all depiction of fitness. And it's a triumph.
There is a serious reason behind the campaign. Many women, it would seem, are afraid to exercise. Sport England (a body that is mainly funded by the National Lottery under the Department of Culture, Media and Sport) carried out research that indicated two million fewer women than men are active, but 75 per cent want to do more. Such a disparity between the sexes doesn't exist in other European countries. So what exactly is holding them back?
"Before we began this campaign, we looked carefully at what women were saying about why they felt sport and exercise was not for them," says Jennie Price, Sport England's CEO. "Some of the issues, like time and cost, were familiar, but one of the strongest themes was a fear of judgement. Worries about being judged for being the wrong size, not fit enough and not skilled enough came up time and again. Every single woman I have talked to about this campaign has identified with this, and it is that fear of not being 'good enough' in some way, and the fear that you are the only one who feels like that, that we want to address."
The stars of the campaign were picked from the playing field. The casting director travelled around everywhere from London parks to five-a-side pitches in Manchester to find suitable women. They were approached and asked about their attitudes to fitness and what their motivation was. "No actresses, no models, no airbrushing; that's been the rule," says Price.
The 30-second ads don't hold back on their motivational tactics and they're not exactly subtle. Hard-hitting slogans include "Sweating like a pig, feeling like a fox" and "I kick balls, deal with it" burst out of the screen. These lines might be construed as a touch patronising but if they end up boosting women's confidence then perhaps the end justifies the means. Missy Elliott's audacious "Get Ur Freak On" blasts from every spot, further adding to the energy of it all. Watching it drives home just how infrequently we are shown women presented this way: fearless, determined, out of breath, sweaty.
The campaign is already gaining traction and receiving some high-profile support. "Watch this, and prepare to feel AMAZING ABOUT BEING A WOMAN AND HAVING A BODY," tweeted the writer Caitlin Moran. Other celebrities backing the campaign include Clare Balding, Dame Kelly Holmes and Sally Gunnell.
Sport England is taking This Girl Can extremely seriously. The organisation spends around £200m a year on what's known as "sport infrastructure" and includes sports facilities, gyms, sports clubs and playing fields. Advertising is a departure for it.
"We can fund the best facilities in the world," says Price. "But if women and girls think that they don't belong there, that they're not fit enough, that they don't have the right clothes, then it's not going to make a difference."
Leave your inhibitions at the door; it really is the taking part that counts.
Register for free to continue reading
Registration is a free and easy way to support our truly independent journalism
By registering, you will also enjoy limited access to Premium articles, exclusive newsletters, commenting, and virtual events with our leading journalists
Already have an account? sign in
Join our new commenting forum
Join thought-provoking conversations, follow other Independent readers and see their replies