The Independent's journalism is supported by our readers. When you purchase through links on our site, we may earn commission.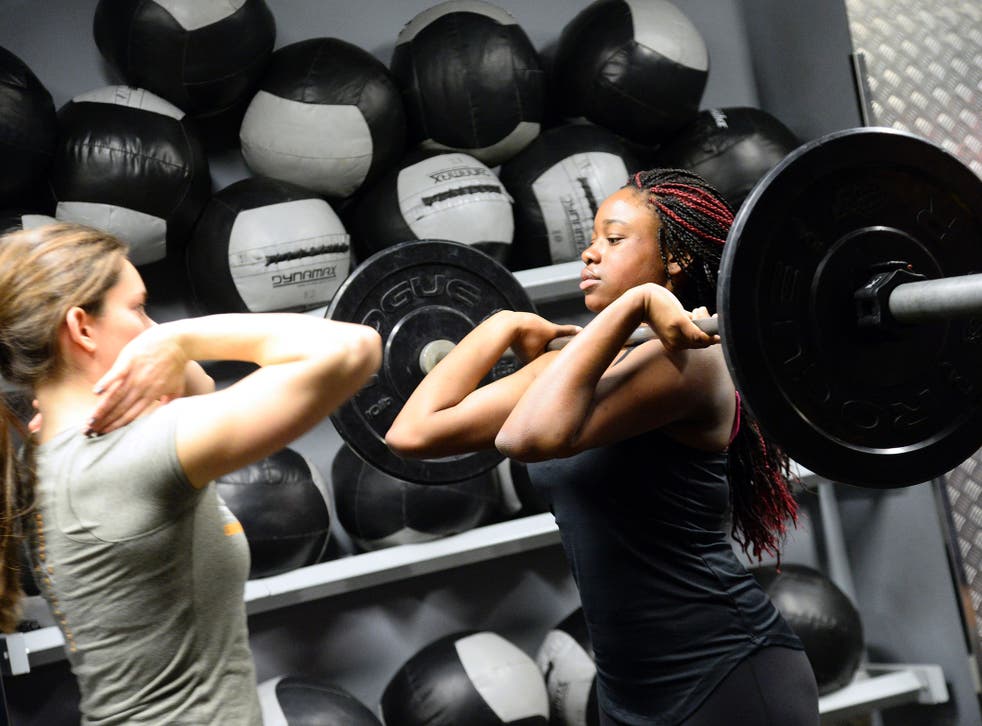 Strength training: Why the time has come to do some heavy lifting
Weight training is everywhere as Jessica Ennis-Hill takes over from Kate Moss as a role model
In my local gym the other day, I watched one gym-goer do 10 chin-ups, just like that. In the corner, someone raised a weighted bag above their head, before slamming it hard against the ground. A third squatted low under a huge barbell. It was a run-of-the-mill day at the gym. And they were all women.
A lot has changed on the gym floor in the last few years. Where once women would have stuck steadfastly to the cross-trainers, and the free-weights room was a men-only zone, now the tables have turned. And more often than not those puny little pink weights are gathering dust in the corner – women are lifting just as heavy as men.
In a survey by the Gym Group of more than 2,000 female members across the UK last month, 93 per cent said they now incorporate resistance training, including free weights and strength equipment, as part of their regular workout routine, while 65 per cent of them lift up to three times a week. Free weights was listed in the top five trends for 2016 in the American College of Sports Medicine's annual fitness report.
10 best running trainers

Show all 10
Women have discovered that weight training will not bulk you up, but lean you out, and the more muscle you build the higher you push your resting metabolism. For every pound of muscle you gain, you will burn 30 to 50 more calories a day. Research has also shown that strength training improves bone density, making it a great choice of exercise for women in their 40s and over to combat osteoporosis.
It can also reduce your risk of heart disease and diabetes, fight depression, improve your posture and, of course, make you physically stronger.
So what finally shattered the myths? It was helped in no small part by the #strongnotskinny movement on social media, with ultra-lean celebs and mere mortals alike showcasing their lifting prowess.
Former Made in Chelsea star Millie Mackintosh transformed from coltish champagne-quaffer to sculpted Women's Health cover star with weight training, while Cameron Diaz and Miranda Kerr make no secret of the fact that they lift heavy – hell, even the Kardashians are at it. The Gym Group's research also showed that more women (32 per cent) now aspire to an athletic physique like Jessica Ennis-Hill's than the waifish look of Kate Moss (10 per cent).
Gyms have reacted accordingly, with chains such as Fitness First making sure the weights room is more open and accessible (they can still be intimidating places for newbies), and freeing up more of the gym floor for free weights, TRX and dynamic exercises.
Personal training gym Six3Nine has introduced Ladies that Lift, small group classes helping women to train heavy while getting the technique spot on. Third Space's Bars and Bells class is dominated by women.
Trainer Ed Loveday at Six3Nine says the benefits of weightlifting for women last a lifetime – and may even extend it. "Lifting weights doesn't just give you a lean, toned physique – it can have a positive impact on mood and can help with symptoms of depression and stress, as well as resistance to health conditions like osteoporosis and sarcopenia."
Nadia Cole, 33, was crowned London's Strongest Woman in 2015, despite only taking up strength training a few years previously. "I was managing a gym but still only did exercise like spin, kettle bells, bootcamps and boxing rather than weight training," she says. "The trainers at the club were big into bodybuilding and weight training and so I started doing some sessions with them and got hooked."
Cole (pictured) says strength training made her feel healthier and happier. "It makes me more confident and whilst my weight hasn't changed, I am now a size 12 rather than 16. I also find I care less what others think about my appearance and train for myself to feel good. There is a great sense of achievement in breaking personal records – far more satisfying than worrying about a number on the scales."
Strength training: What you need
Iron Gym Speed Abs: Use to sculpt shoulders, biceps and triceps as well as your core, while increasing endurance and supercharging your metabolism. £24.95, amazon.com
Adidas gloves: These gloves come with Climacool technology to prevent sweaty palms, with lycra for comfort and ease of movement. 12.99, adidashardware.com
The Louise Parker Method: Strength training will get you lean and lithe but you need the right combination of protein, good fats and a ton of veggies to really see a difference. Louise Parker's body transformation method cuts through the diet-fad nonsense, and is simply the most intelligent weight-loss programme out there. The Louise Parker Method: Lean for Life, £20, is published by Mitchell Beazley and available to pre-order on Amazon.
Register for free to continue reading
Registration is a free and easy way to support our truly independent journalism
By registering, you will also enjoy limited access to Premium articles, exclusive newsletters, commenting, and virtual events with our leading journalists
Already have an account? sign in
Register for free to continue reading
Registration is a free and easy way to support our truly independent journalism
By registering, you will also enjoy limited access to Premium articles, exclusive newsletters, commenting, and virtual events with our leading journalists
Already have an account? sign in
Join our new commenting forum
Join thought-provoking conversations, follow other Independent readers and see their replies