The new ages of man
Adolescence is ever longer, while 'middle age' gets more elastic. Now those in between must grapple with 'emerging adulthood'. It's time to redefine our life stages, says Tim Walker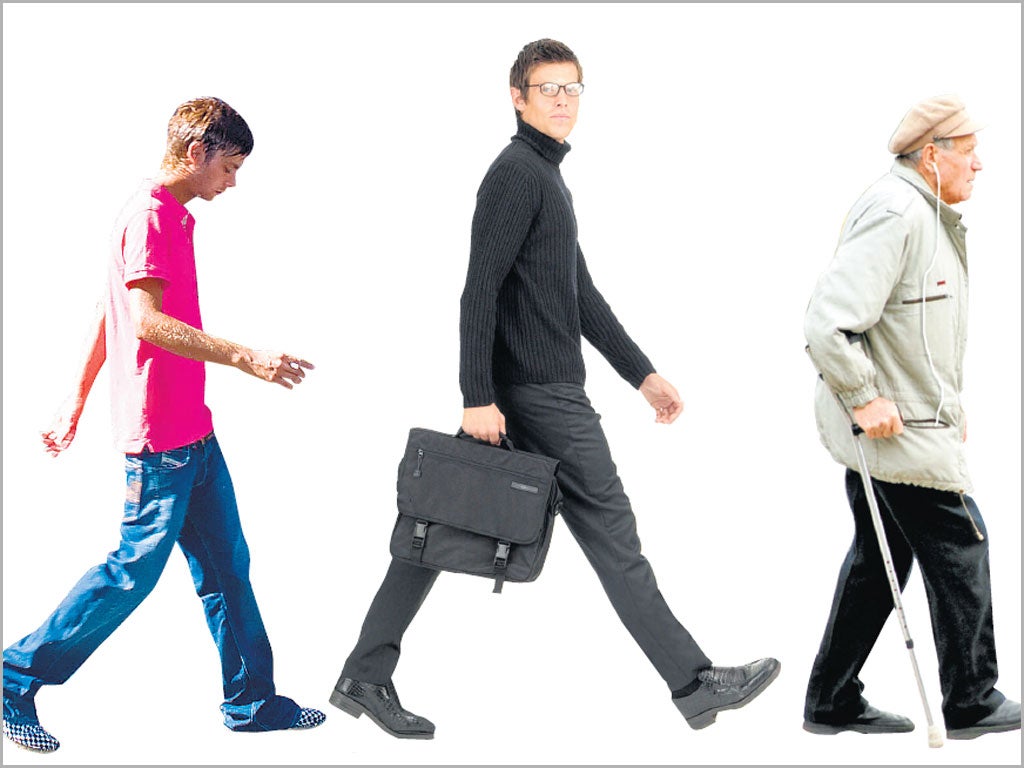 One thing that can be said of "Middle Age" is that it's moving further from the middle. The annual British Social Attitudes Survey suggests just a third of people in their 40s regard themselves as middle-aged, while almost a third of those in their 70s are still clinging to the label, arthritic fingers notwithstanding. In A Shed of One's Own, his very funny new memoir of male midlife crisis and its avoidance, Marcus Berkmann reaches for a number of definitions for his time of life: "Middle age is comedy, and also tragedy," he says. "Other people's middle age is self-evidently ridiculous, while our own represents the collapse of all our hopes and dreams."
He cites Denis Norden, who said: "Middle age is when, wherever you go on holiday, you pack a sweater." And the fictional Frasier Crane, who maintains that the middle-aged "go 'oof' when [they] sit down on a sofa". Shakespeare's famous Seven Ages of Man speech, delivered by the melancholy Jacques in As You Like It, delineated the phases of human development by occupation: the schoolboy, the adolescent lover, the soldier, and the – presumably, middle-aged – legal professional. We have long defined ourselves compulsively by our stages in life; we yearn for maturity, then mourn the passing of youth. But to what extent are these stages socio-cultural (holidays/sweaters) and to what extent are they biological (sofas/"oof")?
Patricia Cohen, New York Times reporter and author of another new study of ageing, In Our Prime: The Invention of Middle Age, might not be overly sympathetic to Berkmann's plight. The mid-life crisis, she suggests, is a marketing trick designed to sell cosmetics, cars and expensive foreign holidays; people in their 20s and 30s are far more vulnerable to such a crisis than their parents. Cohen finds little evidence for so-called "empty nest syndrome", or for the widespread stereotype of the rich man with the young "trophy wife".
She even claims that middle age itself is a "cultural fiction", and that Americans only became neurotic about entering their 40s at the turn of the 20th century, when they started lying to census-takers about their age. Before then, "age was not an essential ingredient of one's identity". Rather, people were classified according to "marker events": marriage, parenthood and so on. In 1800 the average American woman had seven children; by 1900 she had three. They were out of her hair by her early 40s and, thanks to modern medicine, she could look forward to a further 20 years or more of active life.
As Berkmann laments, "one of the most tangible symptoms of middle age is the sensation that you're being cast adrift from mainstream culture." Then again, the baby boomers, and the more mature members of "Generation X", are the most powerful of economic blocs. The over-50s spend far more on consumer goods than their younger counterparts, making them particularly valuable to advertisers – and perpetuating the idea of the middle-aged as a discernible demographic.
David Bainbridge, a vet and evolutionary zoologist, also weighs in on the topic in his latest book, Middle Age: A Natural History. Middle age is an exclusively human phenomenon, Bainbridge explains, and doesn't exist elsewhere in the animal kingdom, where infirmity often follows hot on the heels of parenthood. It is, he argues, "largely the product of millions of years of human evolution... not a 20th-century cultural invention." He urges readers to embrace middle age as "flux, not crisis" – which is probably what he said to his wife, when he bought himself a blue vintage Lotus soon after turning 40.
A similar clash of cultural and biological factors occurs at the other end of adulthood. "Teenager" is a self-defining cultural term, but its corollary, adolescence, is an occasionally painful psychological and physiological process. In Teenagers: A Natural History (2009), Bainbridge explained that we homo sapiens take more time to mature, and are reliant on our parents for longer, than almost any other species. In fact, he argues, the evolutionary insertion of adolescence into the life cycle – 300,000 years ago, give or take – is what helped our brains to make the "great leap forward" into humanity. With adulthood afflicting us only in our second decade, we have more time to learn important skills, to acquire analytic and creative abilities – and to optimise ourselves for reproduction.
In a recent essay for the Wall Street Journal, Alison Gopnik – Professor of psychology at Berkeley, and an expert in the development of infant minds – argued the teenage brain is moulded by the differing circumstances of each generation. Twenty-first-century teenagers are hitting puberty inexplicably early, yet the responsibilities of adulthood are conferred on them far later than their forebears. Shakespeare's Juliet falls for and marries Romeo aged 13. "Our Juliets," writes Gopnik, "may experience the tumult of love for 20 years before they settle down into motherhood."
This puts two crucial neural and psychological stages out of sync: in puberty, chemical changes in the body turn teenagers into intense, restless rebels without a cause. At the same time, they would traditionally take on the skills and experience required for adult life, controlling emotional impulses and focusing them on learning. "For most of our history," Gopnik argues, "children have started their internships when they were seven, not 27." The adolescent brain is perceptibly altered by the delay to such lessons – be it in cooking, driving or machete-wielding.
Teenagers (and their behaviour) might be biologically explicable, but they're also a product of social change. The term "teenager" entered the vernacular in the postwar years, when youth culture and its commercial manifestations began to dominate all popular culture. But, as Jon Savage argued in his 2007 book Teenage, its roots stretch deeper, to the street gangs of the 19th century and the Industrial Revolution, when they were removed from their families and brought together in workhouses and factories. Later, with the advent of child labour laws and universal education, mere adolescents metamorphosed into the modern teenager.
Even childhood is widely considered to be a cultural construct, invented as part of Rousseau's philosophy of education, and popularised by the works of Charles Dickens, before whom the under-12s were thought of simply as small adults. And in the past decade, a whole new developmental category has been identified: twentysomethings, increasingly unstable in their careers and relationships, are now said to be in a distinct life stage labelled "emerging adulthood". In America in 1960, according to the US Census Bureau, 77 per cent of women and 65 per cent of men had completed their educations, left home, achieved financial independence, married and had children by the age of 30. In 2000, fewer than half of 30-year-old women and one-third of men had passed all five markers.
Plainly, this is symptomatic of fluctuating jobs markets and modern medical advances, but some psychologists also see it as a measurable developmental period. The term "emerging adulthood" was coined in the journal American Psychologist in 2000, by Professor Jeffrey Jensen Arnett, who in 2010 told the New York Times that it was "analogous to what happened a century ago, when social and economic changes helped create adolescence – a stage we take for granted but one that had to be recognised by psychologists, accepted by society and accommodated by institutions that served the young".
Meanwhile, those who've survived their middle years may not be allowed to relax and enjoy straightforward "Old Age" just yet. The two decades between 55 and 75, writes Cohen, have started to acquire their own academic titles, which may or may not achieve cultural traction: "the encore generation", "midcourse" and "the third age". Oof, indeed.
'A Shed of One's Own – Midlife Without the Crisis', by Marcus Berkmann (Little, Brown, £12.99); 'In Our Prime', by Patricia Cohen (Scribner, £16); 'Middle Age: A Natural History', by David Bainbridge, will be published by Portobello Books on 8 March, £14.99
Join our commenting forum
Join thought-provoking conversations, follow other Independent readers and see their replies