The Independent's journalism is supported by our readers. When you purchase through links on our site, we may earn commission.
The Saturday Miscellany: How to get a good sleep; Keith Houston's bookshelf; Orla Kiely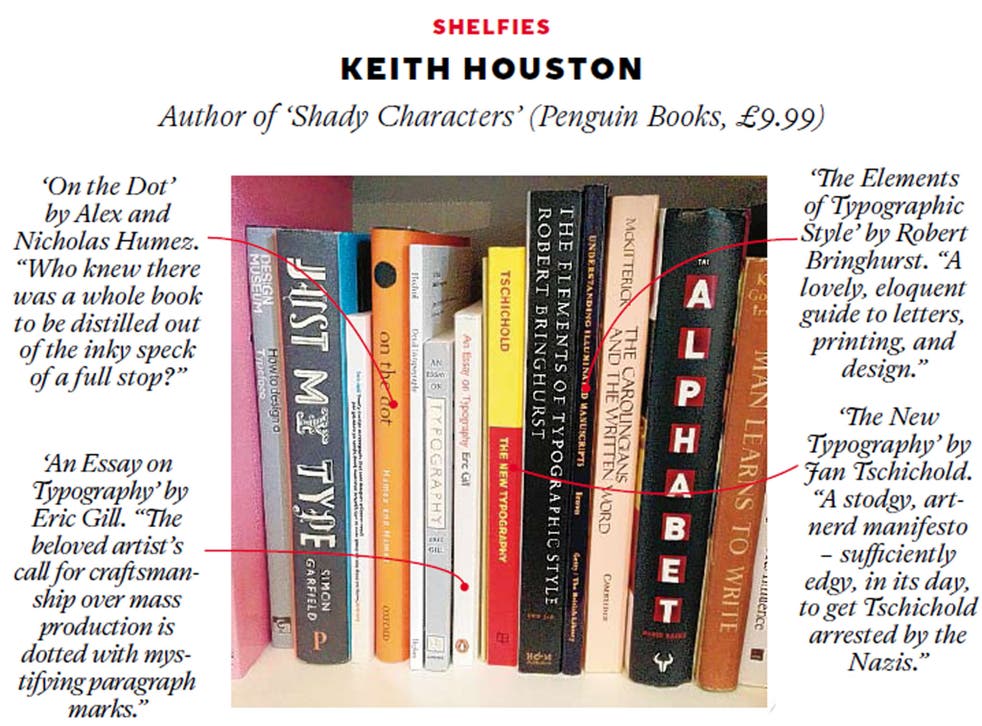 How to: Get a good sleep
By Oscar Quine
As the winter drags on, facing the cold, dark mornings can be a real challenge. Prepare by getting the best night's sleep you can with these tips from Dr Guy Meadows, director of the Sleep School in London...
"Go to bed and get up at roughly the same time every day – this helps you to create a strong link between bedtime and good-quality sleep. Keeping an irregular sleeping pattern creates a jet-lag effect."
"Worrying about the past or catastrophising about the future leads to night-time wakefulness. Keep your mind on objective sensations, like breathing, and distract yourself."
"Let go of struggling with your sleeplessness by resting in your bed awake and allowing sleep to come to you."
Dr Guy Meadows, 'The Sleep Book: How To Sleep Well Every Night', Orion Publishing, £9.99
Rotating column: Wisdom of the cloud
By Joshua Worth
"There's no such thing as a free lunch," my old granddad used to say. Well, what about the Hare Krishnas, eh? Perhaps it's time we updated this old saying. I have a suggestion – "There's no such thing as free WiFi".
From trains to buses, airports to restaurants, those two magical words are writ large, but here's the catch – it never bloody works. It surely won't be long before everything is advertised as having 'free WiFi' – footballs, plumbers, peanut butter – safe in the knowledge that there's no legal obligation engendered by these two meaningless, yet reassuring words. Even when it does work, they often use that curious definition of free, meaning 'for the first 15 minutes, sure, but its £1 a minute after that'.
There's only one potential stumbling block to all this. Apparently the Hare Krishna temple offers free WiFi.
Instant Ethics
By Ellen E Jones
Q. I've started giving someone in my employ regular gifts. Will they be offended if I stop?
A. No, they won't be offended. They'll be relieved that their creepy boss has ceased attempting to win the approval of his/her juniors with blatant bribery. The only 'gifts' your employees want from you is Friday afternoons off and a pay rise.
@MsEllenEJones
Micro extract: Grounds for divorce
"Coffee was introduced to Turkey in the late fifteenth century and became an immensely popular beverage – so much so that Turkish law stated that a woman could divorce her husband if he did not provide her with a daily quota of coffee."
('How To Make Coffee' by Lani Kingston, Ivy Press, £12.99)
Four play: Famous exiles
1. Seneca
2. Casanova
3. Leon Trotsky*
4. The Dalai Lama
*exiled from the USSR today in 1929
All Good Things
By Charlotte Philby
Wooden it be nice
The new collection by Another Country, the craft furniture company, is inspired by the fuss-free design of Japan and Scandinavia "reimagined in the rich natural beauty of walnut wood". Very smart indeed. Another country.com
Sole survivors
Back for their third collaboration, Orla Kiely and Clarks are launching their prettiest collection yet. Inspired by the 60s and 70s, expect muted colours and vintage patterns, in patent and crocodile-effect leather, across heels and flats, shoes and sandals. Yeah, baby. Clarks.co.uk
Neck it
Gawd it's cold for commuting cyclists at the moment. Keep warm – and cool – around the neck with this fleece-lined Lycra warmer from high-end kit makers Le Col. £30, lecol.net
Register for free to continue reading
Registration is a free and easy way to support our truly independent journalism
By registering, you will also enjoy limited access to Premium articles, exclusive newsletters, commenting, and virtual events with our leading journalists
Already have an account? sign in
Register for free to continue reading
Registration is a free and easy way to support our truly independent journalism
By registering, you will also enjoy limited access to Premium articles, exclusive newsletters, commenting, and virtual events with our leading journalists
Already have an account? sign in
Join our new commenting forum
Join thought-provoking conversations, follow other Independent readers and see their replies