The Secret Illness: People affected by OCD are sharing their deepest fears online
"I feel like I'm drowning"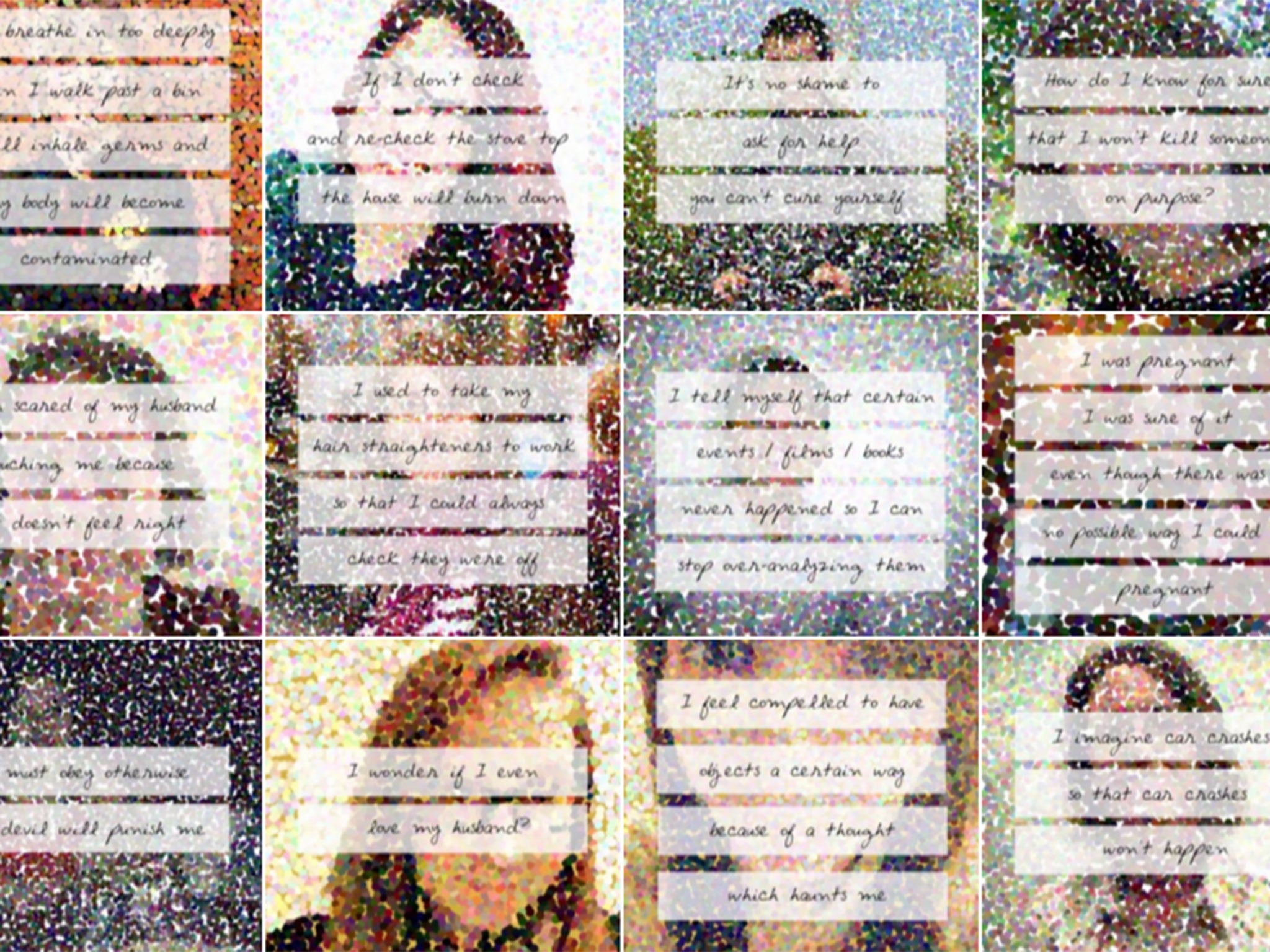 The secret thoughts, fears and hopes of people living with Obsessive Compulsive Disorder (OCD) are being laid bare on a dedicated website.
Admissions of guilt and shame by those with the debilitating condition fill The Wall on The Secret Illness arts project website.
OCD is a mental health condition characterised by unwanted and unpleasant thoughts, images or urges repeatedly entering a person's mind, according to the NHS. An estimated 12 in 1,000 people are affected by OCD.
Filmmaker Liz Smith and actress Becca Laidler started piecing together a documentary on the mental illness in 2015, but were soon inspired to widen the project as a means for those with the condition and professional artists to explore OCD.
People with OCD post their thoughts on The Wall by emailing Ms Smith, who curates the submissions.
"OCD is an often misunderstood and trivialised mental illness. We want to change that," the website reads.
"The response we have had from people living with OCD has been amazing, humbling and heart breaking at times," the filmmaker told The Independent.
"When we started out we had no idea if anyone would interact with The Wall, but it quickly became clear that people needed a place to share their thoughts, secrets, worries and hopes."
She added that she hopes the project will highlight that "OCD" has become a "causal adjective to describe being clean and tidy rather than the often debilitating reality."
"We wanted to provide a voice for people living everyday with OCD, both so they could see that they are not alone but also to educate people who don't know much about OCD."
Laura, 57, from the US state of Idaho wrote on The Wall that she is "haunted" by her obsessions.
"It's like I'm constantly stuck in this mind-game called OCD, and I need to become a skilled player in order to always keep ahead of the game. Sometimes I get so tired of playing, and I feel like I'm drowning."
Health news in pictures
Show all 40
Another woman called Jennifer from North Carolina revealed how she started pulling out her hair when she was 5-years-old.
"This became my pattern. When situations left me feeling helpless and out of control, pulling my hair out gave me a sense of control and comfort."
Ms Smith now plans to make three short films based on poetry by people living with OCD.
"We're just at the beginning of the journey with The Secret Illness so our plans are to carry on just focusing on OCD and see where it takes us as we explore it through the different forms of creative expression."
"The most important thing we have learnt is the large amount of people living with OCD who think they are totally alone. We want to change that."
Join our commenting forum
Join thought-provoking conversations, follow other Independent readers and see their replies