Therapaws: Can animals help to revive memories in the elderly?

Show all 3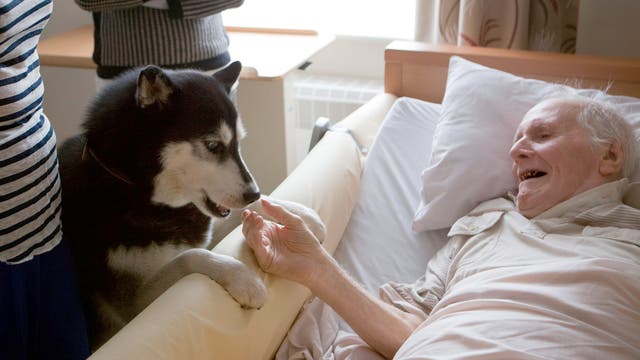 Therapaws: Can animals help to revive memories in the elderly?
First the Mayhew rescues the animals. Then the charity sends them out to help rescue the memories of residents at the capital's care homes. Craig McLean joins them on their rounds.
In the television lounge of a west London home for the elderly, Stan and Ollie are running riot while the Lavender Hill Mob are struggling with their plan to smuggle stolen gold out of the country.
The Ealing classic is playing on the centre's large-screen TV, but the other black-and-white comedians are scampering around the floor and jumping from lap to lap. The two kittens were named after Stan Laurel and Oliver Hardy by the animal-welfare organisation that has brought them here this late summer afternoon.
"We thought Stan and Ollie were names that people here would be able to remember," explains Annie Walker, the volunteer with TheraPaws who is running today's visit to Elgin Close, which houses 36 elderly residents.
Pioneered by London animal-rescue charity the Mayhew, the TheraPaws programme takes animals into care homes, residential facilities and community centres. Sixty-plus volunteers such as Walker make regular visits to mainly elderly groups across London. They are not the first to use animals for therapeutic purposes – national charity Pets as Therapy was established in 1983, there's substantial medical literature on the topic, and in July, specially trained "dementia dogs" started work with patients in Scotland. But TheraPaws deserves credit for rescuing animals while simultaneously helping people.
"It's all about enriching the residents' lives," says Sarah Dickinson, the Mayhew's communications manager, as she keeps one wary eye on Stan and Ollie and the nine (mostly female) Elgin residents who have gathered. "A lot of the people we visit have dementia and Alzheimer's, which can lead to them becoming isolated. But you can see how lively the room becomes, because everyone's excited about the animals coming and about seeing the volunteers. They're not just sitting in their own living areas, or sitting round watching the television."
"They enjoy these little gatherings," confirms Norma Eusebe, a domiciliary care officer at Elgin Close. "It's therapeutic for the ladies. It gets them involved in something together."
One of the Elgin's livelier residents, Jess Haynes, seems particularly fond of the kittens. I ask her how old she is. "Eighteen," she replies with a twinkle. Does she like holding the cat? "We've never had a cat in our house!" she exclaims in her broad London accent. "But now we got this one!"
As well as offering companionship, playing with the cats and dogs can unlock memories for residents such as Haynes. This, says Elgin Close support officer Cleo Wilson, is beneficial. "Seeing the animals and playing with the cats, for example, often triggers recollections. That's good for their social wellbeing."
In residential homes, even ones with the space, privacy and care offered by the bright, cheerful Elgin Close, "people can be prone to depression because they're kind of institutionalised", says Dickinson, "so they can become withdrawn. TheraPaws makes people chat to each other more. And certainly the centre managers report back that the residents will carry on talking about the visits to their families and their relatives. It's a real all-round improvement in their mental faculties."
This month, the Mayhew is expanding TheraPaws into palliative care, at St Luke's Hospice in north London. "We're engaging with people with degenerative diseases such as cancer and Parkinson's," Stephanie Hall, the Mayhew's animal visit coordinator, tells me. "Their disease has progressed so far that they're living in a hospice or a home trying to maintain a standard of life for their last few weeks or months. At St Luke's, the animals will be helping provide patients and visitors with stimulus and, I suppose, something nice to look forward to."
The photographer Olivia Hemingway, whose work can be seen here, has been documenting TheraPaws' work for six months, as part of a book she is planning on human and animal interaction. Cats and dogs are her most regular subjects – kittens especially are naturally curious and confident, so ideally suited to the visits – but the Mayhew also uses rabbits and guinea pigs.
"We had a ferret once, which was interesting," smiles Walker. "We don't get a lot of the men coming down, but a couple of blokes came that day – and one of them had actually used ferrets in his youth to catch rabbits. So that was great, he was able to talk about his childhood. And they all loved the ferret. But it did smell."
Sitting by the door of Elgin Close's TV lounge, Maggie Davis, 82, is trying to cradle a wriggling Stan (or Ollie). She has, she tells me three times, six children, 26 grandchildren, 12 great-grandchildren. I ask if the kittens are well-behaved when they come. No peeing on the carpets? "Not since I've been living here anyway. Can I take these home?" she says to Walker.
Turning back to me, she talks about the deaths of her husband, her son, and her mother. But these animals, I suggest, bring a lot of life into this home. "Oh they do," she beams. "They're not animals to you – they're children."
For more information: themayhew.org; oliviahemingway.com
Register for free to continue reading
Registration is a free and easy way to support our truly independent journalism
By registering, you will also enjoy limited access to Premium articles, exclusive newsletters, commenting, and virtual events with our leading journalists
Already have an account? sign in
Register for free to continue reading
Registration is a free and easy way to support our truly independent journalism
By registering, you will also enjoy limited access to Premium articles, exclusive newsletters, commenting, and virtual events with our leading journalists
Already have an account? sign in
Join our new commenting forum
Join thought-provoking conversations, follow other Independent readers and see their replies